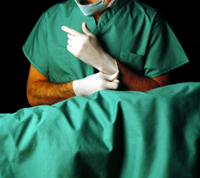 Premier Gordon Campbell launched B.C.'s Health Care Conversation by suggesting that public involvement in health care is no longer sustainable at current levels of funding -- and that we should consider a larger role for private insurers and private providers. But according to B.C.'s finance ministry, public health expenditures increased from 6.1 per cent in 1984 to 6.9 per cent of GDP in 2005. This is hardly evidence of a public spending crisis.
If anything, it is private, not public spending that is out of control. Under the current government, private spending in B.C. has risen sharply, from $871.40 per person in 2000 to an estimated $1312 in 2006, an increase of more than 50 per cent. Public spending, on the other hand, increased from $2433 per person in 2000 to an estimated $3,157 in 2006, an increase of less than 30 per cent (current dollars).
We have long known how unsustainable the cost of prescription drugs is, and now British Columbians are becoming increasingly familiar with the soaring costs of for-profit surgery and the insurance premiums that go along with it. Here is a taste of life in that market -- and what we could expect more of if we sit back and watch it grow.
Private surgery bleeds dollars
Across B.C. there are now 70 surgical clinics, including 23 providing outpatient general surgeries on a for-profit basis.
The owners are required by law to protect and promote the interests of their share- and equity holders, just as any other company must do. Translated into plain English, it means each clinic must yield a satisfactory return on investment to its share/equity holders.
The international experience with private surgical facilities is that they tend to charge higher prices for the same surgery in a publicly-funded hospital. Much higher.
The British Medical Journal reported in 2004, for example, that the National Health Service was charged 47 per cent more for hip replacements performed in private surgical clinics than for the same procedures provided in public hospitals. In 2002/03, a coronary bypass operation cost an extra 91 per cent in a private clinic in England compared to a non-profit hospital.
The experience in Canada is similar. For example, hip replacement surgery in a non-profit hospital in Alberta last year cost a reported $10,000. Hip replacement surgery in a for-profit clinic, according to Timely Medical Alternatives (which facilitates access to the clinics), can cost up to $21,780. In Canada's public hospital system, knee replacement surgery, according to the Canadian Institute for Health Information, averages $8,002 compared to between $14,000 and $18,000 in a private surgical facility.
An estimated 50,000 patients obtained surgery at for-profit clinics in 2005, according to the Vancouver Sun, paying between $700 and $17,000 each in facility fees, which in 1995 were deemed a contravention of the Canada Health Act. Patients paid the whole shot for up to 10 per cent of all surgeries performed.
Publicly funded hospitals more efficient
In Canada, up to half of all surgeries are done on an outpatient basis in large part because of technological advances, while in the United States the figure is 82 per cent. Most of the outpatient surgery in Canada is done in non-profit hospitals, but for-profit clinics are waging an aggressive campaign to capture a larger share of the "market." Most peer-reviewed studies have shown that publicly-funded hospitals are much more efficient and, compared to their for-profit counterparts, provide a higher quality of care at a much lower cost, both in terms of mortality rates and price. In spite of such compelling evidence, some provinces, including our own, are providing space and opportunity to clinic owners.
Publicly-funded hospitals have enabled us to contain the cost of health care. In fact, hospital expenditures as a percentage of total health spending in Canada are declining. In 1975, 45 per cent of all health care expenditures went to hospitals, compared to 30 per cent today. This is in sharp contrast to the already inflated and rapidly rising costs in private surgical clinics, where an hour in the operating room rose from $450 in 1996 to $1,500 in 2006, an increase almost 250 per cent over 10 years.
Zoltan Nagy, the vice-president of the Canadian Independent Medical Clinic Association, has suggested that between $10 billion and $40 billion is invested annually in for-profit surgical clinics. While that figure is probably exaggerated, whatever the amount, it's money that patients will have to pay back -- with a healthy 10 to 20 per cent return on investment on top of it. That's how private markets work.
The problem is that the public health system won't pay -- and isn't paying -- the high fees being charged by clinic operators, fees that, for most patients, are simply unaffordable. These two factors are driving owners to demand a larger role for private health insurers. Health insurance companies have already been paying these high costs in the U.S. market and, if allowed, would gladly sell benefits to those individuals (or their employers) willing to pay between $600 and $1,000 a month in premiums -- a far cry from the $54 a month demanded by the B.C. medical plan. Private insurers offer "faster service" -- not by improving the public system but by enabling those able to pay the premium to jump the queue.
As Nagy says, "There are very few people who can afford to pay out-of-pocket for a $40,000, $50,000, or even $100,000 procedure. But when you have insurance that would cover it, that's a whole different story."
Zooming private health insurance rates
The experience of Canadians with private insurance, however, is precisely what led to the establishment of a universal medicare program. The 1964 Hall Commission recommended public health insurance precisely because it avoided the high administrative costs and gaps in coverage that characterized private insurance at the time. And not much has changed since that historical victory for all Canadians.
Today, just over 30 per cent of all health expenditures are paid for outside of the public health insurance system. Half of that -- 15 per cent -- comes directly out of pocket and another 12.3 per cent is paid for by private health insurers (mainly under workplace health plans). In 2004, the Canadian government gave a $5 billion subsidy to private, employer-sponsored health insurance plans, by exempting premiums from income tax. These plans cover "extended health" services such as de-listed physiotherapy, podiatry and vision care, as well as dental care and private hospital rooms.
Private health insurance eats up more out-of-pocket health care dollars in Canada than even prescription drugs, according to StatsCan. But very few Canadians obtain private insurance on their own because they can't afford the premiums -- and, increasingly, neither can employers. The portion of employees with employer-sponsored extended benefits in Canada decreased between from 63.3 per cent in 1995 to 51.8 per cent in 2001 (last published data).
Premiums for health care are now increasing at more than double the rate of inflation -- far more rapidly than the cost of public expenditures. For workers, these benefits are included in calculations of every employer's total payroll package and are, in effect, wages paid in the form of insurance premiums. The hefty rise in premiums is leading many employers to cancel group health plans, introduce higher co-payments and deductibles or download costs to employees through so-called flexible benefits and health savings accounts.
Sustainable, and not
As many workers already know, private benefits aren't distributed equally to everyone. Private sector workers are less likely than public employees to be covered. Women are less likely than men to have health benefits. The educated get more benefits than the less educated. The young and old receive less coverage than the middle-aged. Workers in small and remote areas receive poorer coverage than those in larger population centres. That's because the private insurance market doesn't offer universal health care.
In addition, the Canadian Human Rights Act allows "certain distinctions" based on age, sex or disability where the basis of discrimination can be justified by actuarial calculations. If, for example, it is more costly to provide coverage to older than to middle-aged employees, the insurer can discriminate against the older worker. Because women live longer, on average, than men, equal benefits may cost more; therefore, insurers can deny equal coverage to women. Since those with a disability may cost the insurance plan more than other people, the insurer can deny equal coverage to people with health conditions.
Private health care, including private health insurance, is unfair and unsustainable. These are some of the reasons we opted for universal medicare in the 1960s. Not only is it a fairer and more just system of providing health care based on need, it is more sustainable.
Related Tyee stories: