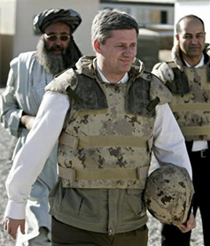 [Editor's note: This is the first of a three-part series.]
It is alarming for many Canadians to watch Stephen Harper, the head of a minority government with the support of fewer than 40 per cent of citizens, turn Canada into a nation of war. But that is what is happening.
The roots of Harper's preference for war go to the core of his view of government: maintaining a strong, war-fighting armed forces is one of the few roles that Harper believes government should have. He is fighting a war against a battle-hardened and determined enemy in one of the most the most fiercely independent nations on earth. The complexity of Afghan society confounds all but a few who would try to understand it. Yet, for Stephen Harper, understanding Afghanistan seems almost irrelevant. But it is relevant because this is a war that Canada and the West cannot win, any more than Britain and the Soviets could before us. And Canada will share disproportionately in its ultimate loss in terms of dead and wounded, billions of dollars wasted and our international reputation sullied for a long time to come. It will go down in history as one of our country's biggest foreign policy disasters.
Stephen Harper: The War Prime Minister
Stephen Harper's contempt for Canada and what it became in the decades following the Second World War is firmly on the record. Most of his comments -- his sneering dismissal of our egalitarianism and sense of community -- relate to social programs like medicare. He once declared Canada "...a second-tier socialistic country, boasting ever more loudly about its...social services to mask its second-rate status."
It was not until recently that he revealed his disdain for Canada's three decades of peacekeeping. In a CBC interview conducted as Parliament resumed sitting this month, Harper showed that he relished the fact that Canadian soldiers were war-fighting, and dismissed Canada's peacekeeping history as virtual cowardice: "For a lot of the last 30 or 40 years, we were the ones hanging back." He even mused that the deaths of Canadian soldiers were a boost for the military -- cathartic after years of not being able to kill or die like real soldiers. "I can tell you it's certainly engaged our military. It's, I think, made them a better military notwithstanding -- and maybe in some way because of -- the casualties."
Utterly blind to how the rest of the world sees the conflict in Afghanistan, Harper told the CBC that Canada's role in Afghanistan is "...certainly raising Canada's leadership role, once again, in the United Nations and in the world community."
You have only to look at Harper's history and his government's "five priorities" to understand why he would get Canada and himself deeper into a conflict he cannot win. For five years in the middle of his political career, Harper was with the National Citizens Coalition, an extreme right-wing organization that was founded by an insurance company millionaire explicitly to fight public medicare. Its slogan is "More freedom through less government." It is virtually impossible for Stephen Harper to recognize Canadian leadership in any field -- such as medicare -- that he believes Canada should not be involved in. For the Conservative prime minister, the Afghanistan conflict may be literally the first time that Canada has shown real leadership in decades.
Dying to be proud
Stephen Harper can finally be proud of Canada, now that we are making war. It does not even matter to him that more question the country's commitment to the increasingly distorted mission in Afghanistan (49 per cent) than support the mission (38 per cent). Embarrassed for years about living in a socialist country, Harper can now hold his head high where it counts: in Calgary and Washington, D.C.
Four of Harper's five priorities following the last election reflect his "less government" imperative. Cutting taxes is critical to creating "less government" because so long as you have robust revenue (even surpluses), citizens will expect you to deliver those things they desire. Combatting crime is one of the "core" activities of Canada for Harper and all neo-cons. While priority number three, cleaning up government, is a noble cause, many experts on the effective running of government say that aspects of his huge Accountability Act will serve to paralyze the federal government. His "child care" grants were transparently designed to ensure that government would not be involved in the provision of child care at all.
In the secretive and tightly controlled world of the Harper government, it isn't always easy to determine who Harper is listening to for advice. But his disdain for government and his enormous intellectual arrogance suggest that bureaucrats, including civilian military officials and the diplomatic corps, are not high on his list. These are the people who would have tried to give Harper an objective analysis of how the Afghanistan conflict was going back in February when he took over as prime minister. But given that they were part of a military establishment that was responsible for the peacekeeping culture he detested, he was unlikely to listen to any cautionary advice.
They were part of the problem, not part of the solution.
'It's never enough'
He was much more likely to listen to those running the U.S. (whom he has admired to the point of worship for many years) and to those Canadian generals who were also rejecting the peacekeeping culture. In fact, Harper's predecessor Paul Martin had already signalled a political change.
Jean Chrétien warned about military demands for money: "It's never enough...They all need more and they all have plans for more." But Martin eagerly listened to the war generals and to Bay Street who also supported a stronger military integrated into the U.S. war machine. Already the seventh-highest spender in NATO at nearly $14 billion, Martin added $12.8 billion over five years. Conservatives will top that by a further $5.3 billion, putting spending much higher than at any time during the Cold War. Both Martin and Harper were bending over backwards to please George Bush.
U.S. Ambassador to Canada Paul Cellucci, in 2002, made a remarkable admission: the only order he received from the White House when he was appointed was to get Canada to dramatically increase military spending.
It isn't just the money, it's how it will be spent. As defence analyst Steven Staples points out: "Without billions of dollars, the military can't afford to buy the high-tech weaponry required for joint operations with the Americans, the most lethal and technologically advanced fighting force in history...Defence spending fuels military integration [with the U.S]." Harper is even more committed to the idea of fully integrated armed forces as part of the Security and Prosperity Partnership, a formal integration agreement between the three NAFTA countries that will see huge areas of government policy "harmonized," including energy, water, drug testing, security, immigration and refugees and more.
But military integration is the key to other areas of continental integration -- such as open borders -- that Canadian corporations want. "Security trumps trade," Paul Cellucci said repeatedly in lobbying other political parties and Bay Street against Chrétien's refusal to increase the military budget. They won the money battle, but that's not enough. As Staples says: "Afghanistan is the proving ground for Canada-U.S. military integration." Which is partly why Harper extended the mission for two years and is so determined -- against history, against logic and in cynical betrayal of Canadian soldiers, to "win."
This the first in a three-part series. Next: How the West destroyed Afghanistan.
Vancouver based journalist Murray Dobbin writes the State of Nation column for The Tyee. Find his previous columns here.