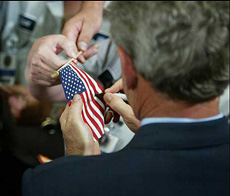 It didn't happen overnight. I have been increasingly uncomfortable with the political and social values of America ever since the ascension of King George the Unelected back in 2000. Somewhere in the wee hours of November 3rd, 2004, I realized that America was no longer the country that I have loved and believed in all my life. I don't know how to explain it. The voters in this country seem to be suffering from sort of mass delusion.
This time, George W. Bush was actually elected by a majority of the voters. Here is a man who has failed miserably at everything he has ever done. That is not my opinion. It is established fact. Here is a man who has lied shamelessly over and over again to the American public. That is not my opinion. It is established fact. Here is a man who has managed to make America hated by half the world and held in contempt by the other half. That is not my opinion. It is established fact.
I don't want to be tarred with that brush. I have consistently opposed the policies that have resulted in this sad state of affairs. It makes me very uncomfortable to call myself an American.
My family came to this country in the early 1600s. My direct ancestor wrote the words to the American national anthem. I am a Vietnam veteran, a member of the American Legion and the Veterans of Foreign Wars. Until this last election, I couldn't imagine anything that would make me leave the land I love so much.
Back to Old Testament
Rather than trying to understand why we were attacked on Sept. 11, 2001, we have sought to exact an Old Testament vengeance. An eye for an eye and a tooth for a tooth will leave us all blind and toothless. Instead of making America safer, the Bush administration has created a whole new generation of terrorists even more bent on the destruction of this country. I don't know of a single American who feels safer today than they did before Sept. 11.
This is the predictable result of an administration that cynically played on the fears of Americans in order to get elected. Manipulating the electorate by using fear is so shamefully un-American that I felt I could no longer live with what we have become.
Anyone who thinks that this decision was taken lightly simply doesn't understand the situation. This isn't about petulance over having been outvoted. This is about being unable to accept what I see as a betrayal of the values America's founders stood for. It is not comfortable for me to be identified with a country that does not reflect my political and social values. Canada reflects those values, so I made my choice.
Going public
When I expressed those sentiments to my Canadian friend Dave Pollard, he encouraged me to post them on the Moving to Canada, Eh? Weblog. Little did I know what an impact that would have.
Somehow, CBC picked up on my comments and contacted me. They asked if I would be willing to go live on The National and explain myself. Knowing that it would not be seen by most Americans, I agreed. So I got my first few minutes of fame on The National on November 29. It was an honor to participate in that program.
As a journalist who got his start in television, I knew that it would not be an in-depth examination of the issues. Television, by its very nature, is superficial. CBC is not as guilty of this as its American counterparts, but it is still guilty. I had about two minutes to explain what is taking me much longer in print. Despite the limitations, I got nothing but positive feedback from my many Canadian friends and from the few Americans who saw the broadcast.
There were other repercussions, however. I live in a very quiet middle American neighborhood. Norman Rockwell would have painted this street if he was still alive. Having a CBC satellite truck parked in my driveway for several hours caused more excitement than this neighborhood was ready to handle. There was a lot of gossip, most of which was unfounded. One of my neighbors, upon seeing Canadians in the 'hood, made a point of hanging out his American flag.
Americans have a notable incapacity for reading and understanding history. When I was growing up, this country discriminated against African Americans. I am proud to have marched for civil rights in my younger days. Now, gays, lesbians and transgenders are the new niggers. Americans seem to have some deep seated need to feel superior to someone. When I was growing up, it was blacks. Now it is those who do not fit into our narrow definitions of gender.
In the recent election, 11 states voted to outlaw gay marriage. Canada's Supreme Court just voted to legalize gay marriage. Which country represents freedom and tolerance? Which country puts human rights above religious belief?
What NBC did with me
Back to the media circus. Some researcher at NBC saw my appearance on CBC and asked if I would be willing to speak my piece on their nightly newscast. This represented a serious dilemma for me. I am editor of a monthly business magazine. Obviously, a wild-eyed radical. I have gone to extreme lengths not to let my political beliefs affect how I report the news.
If you know anything about American business, you will realize that the majority of my readers are conservative Republicans. I explained this to NBC and said that I didn't want to compromise my journalistic credibility by expressing my political beliefs on the air. They said they understood and agreed to call me Charles Key in their piece.
Small favor. I suggested they call me by that name because it is my first name. I hate the name and never use it. I go by Christopher, my middle name. I doubt that it will do much to hide my identity from my readers. So be it. I may have burned my bridges. NBC's piece aired last Friday. They fixated on my relationship to my ancestor who wrote the national anthem. It was even more superficial than the CBC piece.
The NBC correspondent asked me if I somehow felt like a traitor to my nation. I responded that if I am a traitor, so were the founding fathers of America. They left a political system that they could no longer believe in and founded a nation based on different values. They were traitors to the British Empire.
If I am a traitor to the American Empire, I can live with that. Fortunately, I don't have to create another country that reflects my values. There's a perfectly good one just 30 miles away.
Christopher Key is a journalist living in Bellingham, Washington.