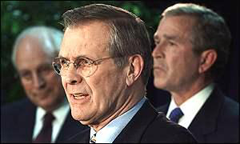 Author's note: Thirteen days after the 9/11 attacks I published this essay in the Vancouver Sun titled "Wars Within: How the terror attack is pulling apart North American culture." I joined with many others in trying to imagine how the catastrophe might play out in America and Canada. I wondered if the terrible wake-up call might prompt us to become more sober societies, more covetous of our civil liberties and more determined to wean ourselves from oil dependence. But I was betting on a darker scenario, and it's interesting now, five years later, to see where I guessed right and wrong. I invite you to read this essay and post your comments about what opportunities have been seized or missed in this new era of endless "war on terror." And how 9/11 and its aftermath have skewed U.S. and Canadian cultures, albeit in different ways.
[First published September 24, 2001]
"Everything has changed," everyone agrees. But how? North Americans find themselves faced with radically differing visions of what this new war footing will mean to their way of life. Sift the media babble and you find no consensus. On the contrary, a war within our own culture appears to be brewing, tearing along fault lines already there before September 11. Among the diametrically opposed paths that now lay before us, are these.
The New Civility vs. The New Jingoism
A tragedy of this magnitude brings with it a new sobriety and chases away the simplistic stuff that used to pass for entertainment. So say experts on the matter, such as Graydon Carter, editor in chief of Vanity Fair and former editor of Spy. "There's going to be a seismic change. I think it's the end of the age of irony," Carter told Inside.com earlier this week, adding, "Things that were considered fringe and frivolous are going to disappear." This came as Hollywood held up the release of suddenly distasteful disaster flicks, video game makers reprogrammed their more gratuitous virtual mayhem, shock jocks censored themselves and Clear Channel Communications, owner of more than 1,000 U.S. radio stations, advised program directors to avoid 162 songs deemed hurtful, including Jerry Lee Lewis's "Great Balls of Fire" and Judas Priest's "Some heads are gonna roll."
In Time magazine, essayist Roger Rosenblatt lashed out against "the vain stupidity" of smart-alecky "ironists," declaring them suddenly obsolete in this "new and chastened time." Wrote Chris Colin of Salon.com: "People talk about the New Civility like they once did about the Internet...The astonishing reports of generosity and kindness drifting out of the rescue efforts have led some to believe a fundamental reinvention of society is around the corner."
Posed against this prediction of a more grown up and nuanced public discourse is the steady barrage of hair-raising jingoism coming from sources high and low. But a few samples:
"There is only one way to begin to deal with people like this, and that is you have to kill some of them even if they are not immediately directly involved in this thing." (Former U.S. Secretary of State Lawrence Eagleburger on CNN.)
"The response to this unimaginable 21st-century Pearl Harbor should be as simple as it is swift -- kill the bastards. A gunshot between the eyes, blow them to smithereens, poison them if you have to. As for cities or countries that host these worms, bomb them into basketball courts." (New York Post columnist Steve Dunleavy.)
"At a bare minimum, tactical nuclear capabilities should be used against the bin Laden camps in the desert of Afghanistan. To do less would be rightly seen by the poisoned minds that orchestrated these attacks as cowardice on the part of the United States and the current administration." (Former Defense Intelligence Agency officer Thomas Woodrow in the Washington Times.)
"Time to take names and nuke Afghanistan." (Caption to cartoon by Gary Brookins, Richmond Times-Dispatch.)
"We should invade their countries, kill their leaders and convert them to Christianity." (Syndicated columnist Ann Coulter, New York Daily News.)
Perhaps it is possible for a kind of heightened niceness to exist here while, as in any war, our designated enemy is demonized and made ever more The Other. There were, for example, those Jimmy Stewart movies during World War II. Except you wouldn't have wanted to be Japanese-American or Japanese-Canadian then. And already in recent days, people of Arab descent dwelling in North America -- even those mistakenly taken for Arabs -- have suffered harassment, assaults and even murder at the hands of inflamed racists. When President Bush appeared on television to urge tolerance towards America's own Muslim citizens he struck a blow on behalf of The New Civility -- even as his "new kind of war" is propelled by The New Jingoism.
My prediction: intelligent irony, needed now more than ever, is a natural defence mechanism against the frantic distractions of celebrity and advertising, and a useful foil against official propaganda. But if terrorist attacks continue, expect the New Jingoism to settle in comfortably in the mainstream media. Think Desert Storm without end.
Beacon of freedom vs. snitch state
Almost as soon as the World Trade Towers collapsed, civil libertarians publicly fretted this would unleash Big Brother upon the American citizenry. If so, it would mean a victory for the Islamic extremists, argued these advocates for free speech and an open society. Indeed, just seven days before the attack, former U.S. senator Gary Hart was in Montreal warning of the terrorist risks -- and ruing the probable backlash of counter-terrorism measures. "We will be spied on, our privacy will be gone; that will have a huge impact on our society."
After the attack, however, an even louder cry could hear from those wanting a fattened, unfettered CIA, advocates for "a golden age of intelligence," as noted global affairs writer Robert Kaplan put it. "The greatest spies are just being born now," opined the author of The Coming Anarchy. "Future wars are going to be based on the size and quality of intelligence services. Because in a world of complex, variegated cultures, understanding intent is more important than satellite photos. We need people who can melt into societies."
Meanwhile, the need to track enemies who've melted into our own society will open the way for more manufacture and use of surveillance and identification technology. The National Security Administration already snoops the net with a system called Trailblazer, and the FBI with one called Carnivore. A bill being hurried before Congress would approve "roving wiretaps" and make it easier for the law enforcement to use information gathered through use of torture.
BusinessWeek heralds a boom in bomb-sniffing and face-recognition equipment, as well as gadgets that capture and save the keystrokes of any unwitting computer user. Here in Vancouver, where a would-be terrorist was nabbed at the border on millennium's eve, and where police cameras downtown fail to cause a stir, such measures are unlikely to meet with revolt. Most of it happens, after all, out of the view and therefore the consciousness of the average person. If the occasional miscreant is caught and fired or jailed, what does it have to do with those of us with nothing to hide, right? (Never mind that security states are built upon just such complacent thinking.)
There is one logical extension of this security push, however, that will directly change the way we view and coexist with even our next-door neighbours. That would be the making of a snitch society. "These weren't people coming over the border just to attack quickly," a federal investigator said of the suicidal terrorists. "They cultivated friends and blended into American society to further their ability to strike." Seen that way, who wants to leave it to the experts to do the spying? Certainly not the experts, who will likely try and enlist us all in the business of rooting out the bad guys.
And many of us will likely comply. Don't we all wish those flight instructors had turned in their students? Students who, after all, had Middle Eastern names and an odd interest in aiming large jets, but not landing or taking off. It seems so obvious in hindsight: why didn't those instructors call the FBI? They didn't because the North American instinct has been to assume the best of any person, certainly any paying customer. That instinct is now all but extinguished. Latest evidence: the Northwest Airlines passengers who on Friday demanded the removal of Arab-American fellow passengers, and were granted their wish.
My bet: if terrorist attacks continue, civil liberties will quickly erode, racial profiling of Arabs by law enforcement will become accepted and a basic optimism about our fellow citizens will be forever lost.
Imperial power vs. Eco-isolationists
This little history lesson was proffered last week by U.S. military scholar Michael Klare in a column for Pacific News Service:
"The United States has, of course, been involved in conflict in the Persian Gulf for a very long time. Ever since the British pulled out of the area in 1972, U.S. forces have been on call to protect friendly governments -- especially Saudi Arabia and the conservative Gulf sheikdoms -- and to resist any threat to the free flow of oil. This was the genesis of the "Carter Doctrine" of 1980, and formed the backdrop for Operation Desert Storm in 1991.
"Since Desert Storm, the United States has amassed sufficient military power in the Gulf area to deter its two leading antagonists, Iran and Iraq, from conducting a direct assault on Saudi Arabia and Kuwait. Some 20,000 to 25,000 U.S. military personnel are in the area at all times, and large quantities and arms and equipment have been "pre-positioned" in the area to permit a rapid expansion of U.S. strength...The anti-American extremists of the Persian Gulf area know they cannot expel the U.S. presence from their midst through conventional military means, so they rely on terrorism."
Thus, George W. Bush's new war on terrorism is also the latest round in an ongoing fight against those who want to end U.S. control of the Persian Gulf, who would cut off Western civilization from its lifeblood of oil. So far, no official voice has had the temerity to suggest that America should perhaps rethink its dependence on oil in order to disentangle itself from the whole mess. Rather, the map of allies is being redrawn along realpolitik lines reminiscent of Cold War logic: if you are against Muslim extremists, you're for us. And military budgets are expected to surge in order to maintain U.S. imperial power.
That, say some, is what a flabby American culture needed to find some spine not just abroad, but at home. "I'm very optimistic," declared the usually dour Kaplan. "For so many decades, we had nothing to struggle for. We became decadent and overly legalistic. But once threatened, that changed...Every few decades we are faced with almost comic-book evil. You are going to see: a lot will change."
Looked at from another perspective, however, the terrorist attack has issued a quite different wake-up call. Now is the time to reorder our values, curb our consumption and lessen our dependence on fossil fuels -- so say ecologists including Michael M'Gonigle, chair of environmental law at the University of Victoria, who made the case in The Globe and Mail last week. Now is the time to calm our ceaseless mobility, to put down roots and work on creating more sustainable communities -- so suggested novelist Douglas Coupland in Saturday's National Post. Now we see clearly the price of brute force, failed policies and cynical alliances made in the Persian Gulf region -- so argue one voice after another on self-styled progressive commentary sites like Alternet.org and Rabble.ca.
My guess: war does not make peace-loving environmentalists of its enlistees. Barring some sort of Waterloo for Bush and his military, America's imagination is likely to become more imperial and less politically correct in the months to come. Tragically, empires under duress tend to "stay the course" (to quote Ronald Reagan). They don't pragmatically reassess the values that took them to the edge of the cliff.
Lest this all seem too much an abstraction for Canadians, it is good to remember that this nation, too, enjoys all the benefits of oil-lubricated global capitalism ensured by America's role in the Middle East. And bear in mind the headline that topped this newspaper's Thursday edition: "Terrorism 'coming to Canada.'"
Canadians are foolish to imagine themselves aloof from the impulses now warring within American culture.
David Beers is founding editor of The Tyee.
Did 9/11 make us better or worse? What opportunities have been seized or missed in its aftermath? Please post your comment below.
(You can register to comment here.)