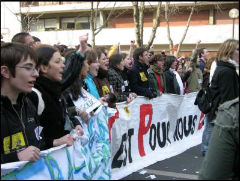 It's time to learn "un peu de francais" and send your kids to immersion. French seems to have become the premier language for shouting "The emperor has no clothes."
In the streets of Paris, Lyons, Toulouse and dozens of other cities, students have led millions of protestors against a new law that would punish young people, in the name of helping them. The French government logic in passing this legislation is that of Orwellian, international corporate culture and goes something like this: young people suffer a higher unemployment rate than the rest of the population. Let's make them suffer a little more by allowing bosses to fire them for no reason. We'll claim that we're doing it in the name of "progress" and "making the economy flexible" so that young people can get jobs. Precarious jobs are the new, inevitable future of capitalism. And there is no alternative to capitalism.
It's similar to the aftermath of hurricane Katrina, which exposed the incredible poverty in New Orleans. Yet, what was one of the first things the Bush administration did? It suspended the federal minimum wage and sold the action as a way of helping poor people.
Or when Gordon Campbell reduced the minimum wage for young people in B.C. in the name of helping them.
Isn't it interesting that the same people who argue the economy would improve if only the poor, young and vulnerable received less, always claim the opposite when it comes to salaries for CEOs or returns on investment? Their version of "democracy' is to toss a coin and say: heads, the rich get richer; tails, the poor get poorer.
'Anglo-American capitalism'
But the vast majority of French students are not buying the arguments or the proposed legislation. They walked out of class and into the streets, shutting down 69 of 84 universities and about 1,000 lycees (senior high schools). They called on unions to support them and last week between one and three million protestors marched. Today's (Tuesday) demonstrations were expected to be bigger, even though President Chirac announced last weekend that new legislation would drop the period young people could be fired without cause from two years to one.
"We're doing this to help you," says the government and their corporate owners. "This is the inevitable future of capitalism. We must compete."
"The corporate oligarchy has no clothes," shout the students in response. "If that's the future of capitalism, we'll choose socialism. We prefer to cooperate than to compete."
It can be wonderfully refreshing to read the French press, where even the mainstream media print articles that point out the flaws in the logic of "Anglo-American capitalism" that claims workers must accept less so that the rich can have more. Of course the same media ignores the French role in overthrowing an elected Haitian government, but that's another story. Perhaps, there's something about the French language that compels people to stick up for themselves, because even Quebecers seem to have a greater willingness to fight back. And like in France, their protest is often successful.
Serious about striking
A year ago in La Belle Province, students went on strike to protest a reduction in provincial bursaries. Over two hundred thousand left classes, some for six weeks. Tens of thousands marched, disrupted traffic, occupied offices and creatively battled the Jean Charest Liberal government. And the Liberals backed down.
In Quebec, the threat of a general strike is real and the government must always consider that before introducing legislation. Charest and the Gordon Campbell Liberals share a common ideology, but the Quebec government didn't dare try to tear up union contracts or chop social services to emulate its counterpart in British Columbia.
Strong public opinion in Quebec against the invasion of Iraq caused Jean Chrétien to back down on his plans to support the U.S. war. The federal government understands it's a bad idea to rile the Quebec left. Perhaps the Fox Network commentators are right. Perhaps the French are at the centre of a huge conspiracy to prevent the Americanization of the world. As a former French immersion student at Hasting Elementary and Kitsilano High School, I can only say I hope so.
Vive le langue francais! Long live the French way of giving the finger to the rich and powerful.
Yves Engler, who grew up in Vancouver, is co-author of Canada in Haiti: Waging War on the Poor Majority. Engler will launch his new book Playing Left Wing - From Rink Rat to Student Radical and show a short film about student activism at SFU Harbour Centre, Fletcher Challenge Theatre, Friday April 7, 7 p.m. He will also be signing books in Vancouver at People's Co-op Bookstore on Saturday April 8 from 1-3 p.m. and at Spartacus Bookstore on Sunday April 9 from 1-3 p.m.