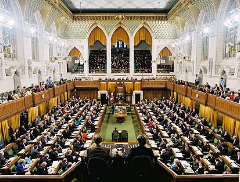 What is the principal concern people have about how our governments are run?
I venture the thought that it's lack of accountability of the MP or MLA to his constituents.
We constantly see our elected representatives, very soon after they're elected, representing the capital to the constituents, not the other way around. We know why that is, of course: party discipline. Because of the enormous powers he has, a leader can force MPs to vote as he dictates.
I'm going to prescribe the medicine that would cure our parliamentary disease. The reforms I propose wouldn't cost a nickel nor would they require any constitutional changes.
Depolarize the building
Let's start with the legislature or House of Commons itself. Churchill once said "First we shape our buildings, then they shape us." And he was right. Our legislative chambers follow the design in Westminster, developed centuries ago where the government sits to the right of the speaker and directly across, at a distance of two sword lengths, sits the opposition. This was because, under the British system, this design amply demonstrated the divisions of the country at large. This has meant that, in a polarized province such as ours, the interior design of the chamber encourages verbal sword-play, not rational debate.
When the United States devised its system, it created a chamber in the manner of a horseshoe; meaning that however much heat there is to an issue, the room is designed to accommodate debate, not barracking, to serve as a deliberative chamber, not a boxing ring. Not that the design of congress eliminates unparliamentary behaviour. But it does encourage good manners and orderly process.
Ours, on the other hand, with government members nose to nose with the opposition, encourages anger and misbehaviour. So I say, redesign our legislative chamber so as to encourage not only "good government" but "peace and order," as well.
Give members a secret ballot
My second proposal is simple. Our legislative chamber seating arrangements are such that each party is in its own cohesive clique and thus has its own cohesive cheering section. I say sit every member alphabetically according to constituency. This would eliminate cheering sections and put members where they would have no choice but to become more independent in thought and deed and, even more important, it would create a sense of comradeship.
For my last recommendation, let me pose this question. If you were to be deprived of one or the other, would you put saving free speech ahead of the right to a secret ballot? An unfair example, perhaps, but I wager you would say that the most important right you have is to be able to vote without pressure or hindrance.
Let's at least acknowledge that the secret ballot is a fundamental tenet of a free country. This right, which we so jealously guard, is denied to the people we send to Victoria or Ottawa. Why? The answer invariably given is along the lines of "we want to see how the bastards have voted". This is very silly when you think about it, since you know precisely how your member will vote in advance, in accordance with the orders given by the premier or prime minister to the Whip to enforce. A secret ballot would eliminate that nuclear bomb-like power possessed by the leader.
Empowered MPs
But wouldn't this mean that the government wouldn't be able to govern, never being sure that they controlled the house? Of course it would be able to govern. It would simply have to take the time to convince members that the policy is good for the people. Those members right now must do as exactly as they are told (or else!) but my proposal would restore their right of independence. This would mean, briefly put, that MPs on the government side especially, would actually have a hand in setting policy, drafting and voting on legislation
It would change government, that's for sure. No longer could the government be certain that parliament will approve their budget with only a token, set piece sort of opposition. The prime minister would have to ask for money instead of telling the house that the government members will support him because he has them by the political testicles. He would have to convince his caucus, not rely upon their sheep-like devotion to leader and party.
MPs should not be "nobodies" as the late Prime Minister Pierre Trudeau called them, but important, dignified and powerful representatives of the constituencies from which they are elected.
I'm not suggesting that every vote be a secret one. Many issues are unopposed or not serious enough to warrant a secret ballot. I would require that a secret ballot would only be ordered upon the wish of, say, 30 percent of the members.
Responsive and responsible
I would also stipulate that except on the budget or a confidence motion, the government wouldn't fall because it lost a vote. That tradition went out with Lester Pearson who lost a vote while on vacation, came home and then held a vote of confidence which passed. British Prime Ministers, especially since Margaret Thatcher, wouldn't dream of calling an election because the government lost a vote other than on the budget or of confidence.
With my three proposals, especially the last one, your MP and MLA would become men and women of importance and an integral part of the system, not trained seals.
Legislation would be more carefully researched.
Money would be spent more judiciously.
This wouldn't make the system perfect. That's impossible. What it would do is make the commons or legislature more responsive, and responsible, to the wishes of their constituents.
Isn't that what we all want?
Rafe Mair writes a Monday column for The Tyee. His website is www.rafeonline.com.