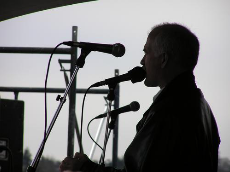 [Editor's note: JOIN TYEE'S DEBATE FORUM TONIGHT. Weigh in before, during and after tonight's leaders' debate. Post comments beneath our cover story, and see what Tyee writers are saying, too. The debate airs on major networks at 5:00 pm PT.]
In a development few thought possible when the federal election campaign began in December, New Democratic Party candidates and operatives in B.C. have been handed an opportunity to turn the tables on Prime Minister Paul Martin and his governing Liberal party.
Eighteen months ago, in the 2004 federal general election, B.C. New Democrats watched helplessly as an undetermined, but sizeable number of left-leaning supporters abandoned their party to vote for Liberal candidates to stop Stephen Harper's Conservatives from winning election to government.
That scenario seemed likely to be repeated in the current campaign, especially after Buzz Hargrove, leader of the Canadian Auto Workers, endorsed the Liberals in public appearances with the prime minister as the campaign got underway. "If you look at the record, then every Canadian should agree," Hargrove said, "this minority government deserves to go back to Ottawa with even bigger numbers."
The CAW leader urged left-leaning voters to support New Democratic Party candidates only in the 20 or so ridings where he estimated they might be victorious. Elsewhere, however, Hargrove said centre-left ballots should go to the Liberals. "For the rest of the country, we're saying to our members, that we should vote to ensure the Tories don't end up heading a minority government, or even worse, a majority government," he told CTV.
Defecting Libs
But in the days following New Year's, several public opinion surveys have shown Harper and the Conservatives surpassing Martin's Liberals, and pundits claim that the Tories have sufficient momentum to form, at minimum, a minority government.
A handful of nationwide polls released this week - EKOS on January 5, Leger on January 5 and SES on January 5 and 6 - have placed support for Harper's Tories in the mid 30s, with the governing Liberals trailing by one to five percentage points.
Regional breakdowns of the EKOS, Leger and CPAC-SES national surveys show that the Tories are in front in British Columbia with 46.5%, 37% and 41% respectively. Because the B.C. sample size in these national polls was about 150 to 200, the results should be used with caution, but the trend favouring Harper's Conservatives is evident.
Liberal support in B.C. ranged from the low 20s to the low 30s, while the NDP was favoured by 22 or 23% of B.C. voters.
Time will tell if the Conservatives can maintain their lead, but it appears that recent Tory gains have primarily (and perhaps exclusively) come from defecting Liberals. In other words, some number of British Columbians who previously backed Martin's government, now apparently want to see the Liberals turfed from office, and they intend to vote for the Tories to accomplish that task.
There is little or no reason to believe, given the minimal change in NDP support in nationwide surveys since the start of the campaign, that the New Democrats are adding or losing a significant number of voters, either from or to the Liberals or Conservatives.
The inescapable conclusion, in B.C. at any rate, is that the Hargrove strategem has been rendered inoperative. Simply, it makes little sense for New Democrats to abandon their party to vote for Liberal candidates when it appears that more than a few Liberal supporters are fleeing to the Conservatives so as to defeat Martin.
NDP the stopper?
Instead, B.C. New Democrats may now credibly claim that their party is at least as well-positioned as the Liberals to prevent a Harper government from being elected; or, at a minimum, stop the Tories from obtaining a majority.
Currently, the New Democrats hold five B.C. seats, and it seems unlikely at this point that the party will see any of its incumbents defeated. The NDP also has a reasonable chance to pick up six ridings currently or previously won by the Conservatives - Vancouver Island North, Nanaimo-Alberni, Surrey North, Newton-North Delta, New Westminster-Coquitlam, and British Columbia Southern Interior - as well as three from the Liberals - Victoria, Esquimalt-Juan de Fuca and Vancouver-Kingsway.
Electoral history and current polls do not support the notion that the Liberals, who now have eight B.C. seats, are poised to make gains on January 23. Indeed, in addition to the three Liberal ridings which are vulnerable to the NDP, two more - North Vancouver and Richmond - might be within the grasp of the resurgent Tories.
The New Democrats, therefore, have a chance to 'turn the tables' on the Liberals by claiming that their party is best able to stop Stephen Harper from becoming prime minister.
Carrot and stick
Two approaches may be used, or a combination thereof.
First (the carrot), the B.C. NDP could make an overt appeal to left-leaning Liberals to vote strategically by abandoning Martin and backing Layton's candidates.
Second (the stick), B.C. New Democrats can focus their negative attacks on Martin and his government and thereby attempt to suppress the Grit vote and drive weak Liberal supporters into NDP arms.
Regardless of which approach they choose - and given the New Democratic Party's proclivity for passivity in recent years, they may decide to do nothing - it is an opportunity that few people envisioned a bare four weeks ago.
Will McMartin is a political consultant and writes a column for The Tyee.
Please join Tyee journalists in posting comments on tonight's debate below: