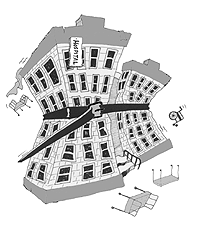 It's difficult and perhaps pointless to try to pick the most dangerous threat to public Medicare in Canada - the drug companies' profit margins, Alberta's ideologically-addled Ralph Klein, the Canadian Medical Association's endorsement of more privatization, the shockingly misinformed decision by the Supreme Court allowing for competing private services within the public system. All of these endanger public health care. But, perhaps, the most immediate threat is the de-facto privatization of our hospitals through the use of public private partnerships known as P3s.
I recently spent a week in Ontario speaking on this topic to audiences of concerned citizens because the Ontario Premier Dalton McGuinty recently announced that the Liberal government was planning fourteen P3 hospitals around the province - and possibly more. This, after he explicitly attacked this very model during the last Ontario provincial election; denouncing the previous Tory government and saying P3 hospitals were too expensive, had excessively long contracts and would lead to US-style health care. He was right on all counts. The fact that he has blatantly broken his promise demonstrates just how determined private health corporations are to get their greedy mitts on billions of health care dollars.
The fourteen hospital plan in Ontario is a massive commitment to P3s that is being vigorously opposed by the Ontario Health Coalition. If successful, it could open the P3 hospital flood gates across the country. There is already one P3 hospital being built in Abbotsford and another planned for St Paul's Hospital in Vancouver.
'Paying with your money and your life'
Most hospital P3s involve contracting a private consortium to design, build, finance and operate the hospital, usually based on extremely long contracts of 25 or 30 years. They "bundle" all the services not directly involving medical staff into a single contract with guaranteed revenue streams to a host of private service providers; from cleaning and maintenance to food, records and laundry. It is virtually impossible to terminate any individual contract without terminating the whole; at a potential cost of hundreds of millions.
The mix of profits and hospitals is deadly and costly, as revealed by McMaster University studies published in the Canadian Medical Association Journal. "Canadian governments would pay an extra $7.2 billion in annual health care costs if Canada switched to investor-owned private for-profit hospitals," reported the study. According to Dr. P.J. Devereaux, the lead author of the study, "With for-profit care, you end up paying with your money, and your life." He based his statement on a previous study by the group that showed the switch to for-profit hospitals would result in an additional 2,200 unnecessary deaths every year.
It could also result in massive fraud, as it has in the US. In the mid-1990s, health-care fraud by U.S. corporate giants was estimated as high as $100 billion annually. Washington actually started catching up with some of these crooks by 1994 -- the year that National Medical Enterprises paid a then-record $379 million in fines and restitution for fraud in psychiatric services. In 1997, the mega-giant Tenet Healthcare Corp. agreed to pay $100 million to settle claims that patients were kept in psychiatric hospitals simply to maximize insurance payments. Columbia/HCA Health Corp., America's largest hospital company, agreed to pay $745 million to settle civil fraud charges for systematically ripping off Medicare.
Pressures cause staff cuts
The record of P3 hospitals in Britain is so appalling that the Labour government (still inexplicably committed to the model) has said it may have to raise taxes to pay for the huge additional costs attributed to the P3s. The P3 promise of cost-saving has been debunked so thoroughly that most advocates no longer even make the claim. The P3 contractor not only pays a higher interest rate for financing but also extracts a return on investment averaging 16 percent. Add to that the astronomical executive pay packages and you can see why costs skyrocket. The only course left to "save" money is to decrease staff and downgrade their qualifications. In Britain, after almost fifteen years of P3s, the number of nurse managers was down 35 percent, registered nurses down 14 percent and untrained staff was up 24 percent.
The P3 hospital in Brampton, Ontario provides a good example of how costs get out of control. The original price was set at $350 million. But then the government sat down and negotiated with the overall contractor and all the individual service providers. By the end of this process the price was $550 million. The Abbotsford example is just as telling. Before the 35-year contract was even signed, the payments to lawyers and consultants were a staggering $24 million. The total cost went from $210 to $355 million; the cost of the yearly operating contract went from $20 million to $41 million.
Why would governments pursue such a patently idiotic path that is designed to create ever more debt, while claiming at the same time, the government can't give teachers a raise, fund child care, or reduce tuition fees? Simple. Creating debt to enrich your friends is fine; spending on the needs of ordinary citizens is not.
Murray Dobbin's 'State of the Nation' column appears twice monthly on The Tyee.