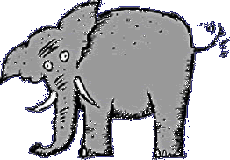 Both the Liberal and NDP caucuses have an elephant in the room which, like most elephants in the room, will soon become a bit of a nuisance. Though not named Jumbo, an appropriate name, we'll call it STV for Single Transferable Vote. I support this reform and indeed had a small role to play in its achieving referendum status.
For those who've been on Mars the last bit, to the surprise of opponents, STV obtained 57.4 percent of the vote and carried 77 of 79 ridings. But, say the opponents, since it didn't achieve the 60 percent threshold that would have mandated its passage by the government, it failed. Well, didn't it?
The old boys who love the inner political sanctums created by the first past the post system are insisting that it has been defeated and that, dear ladies and gentlemen, is that.
Far from dead, STV is more alive than ever and David Schreck, a left wing guru who opposed STV, put it simply – no government or political party can ignore 57.4 percent and 97 percent of the constituencies. Schreck has an advantage over the likes of Bill Tieleman and Bud Smith – he's a democrat who actually believes that when the people speak you obey, even when you don't much like what they said.
The pro STV forces are being marshaled and the problem is not lethargy but quite the opposite – the Yes people have to bring some order out of the chaos that people falling all over themselves to fight usually cause.
Foes serving thin gruel
The 60 percent argument is – and opponents know this – pretty thin gruel for an argument. The theory was that for such a change in our system, more than a bare majority is needed. This does not accord with Canadians custom. In 1944, a bare majority in a national referendum was sufficient to draft young men and women into the army and send them into harms way. The 1980 Referendum in Quebec, which would have set the stage for Quebec separation, needed only a bare majority. The Charlottetown Accord, which would have completely revamped the way we govern ourselves, needed 50 percent + 1. The 1995 Quebec referendum on separation had as all clinging to our perches watching the result see-saw around the 50-50 range ending up with less than a percentage point separating the yesses and noes.
No one suggested that if the Yes side had got over 50 percent that Quebec could have been stopped. In fact 57 percent + is a very large measure of support.
The option to do nothing does not exist. The only option is not "if" but "when". At this writing, both Premier Campbell and Opposition leader James have agreed with that. The danger is not in facing the issue and dealing with it, but tinkering. On my show last week, Carole James backed off her support for the New Zealand MMP system and supported STV, sort of. She would make a few changes.
Nothing's perfect
The only substantive issue is that remote areas do not benefit as much as larger ones. What we must understand is that this is true no matter what system you put in. Remote areas pay for their privacy in many other ways including medical services. What can be said is that "remote representation" would certainly be no worse than it is now and I would argue marginally better.
I have said it before and it bears repeating – do not let "best" become the enemy of "better". There is no perfect system, but STV is the best. But be warned, it will take some time and usage of this system before we get rid of the raw polarization of our politics and become a civilized political culture, a culture that permits lots of debate, some of it heavy hitting, but resolves controversy in an aura of civility.
It will take time – but it will never happen if we continue with a system that fails utterly the test of democracy – one person, one vote that counts.
Rafe Mair, a regular columnist for The Tyee, can be heard every weekday morning from 8:30-10:30 on 600AM, His website is www.rafeonline.com