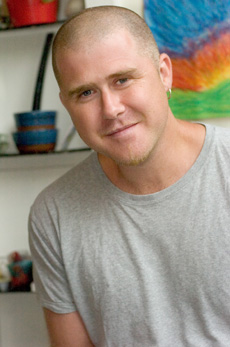 At first glance, the Purple Thistle Centre on Commercial Drive seems an unlikely environment for a Ph.D and father of two. 3-D paper-mâché figures emerge from the wildly painted walls. Young adults, mostly east-side punk-rock types, run around energetically, hard at work on a self-directed magazine publishing course. Someone complains about spilled curry on the arm of one of the chairs.
At 3:30, a well-tattooed Matt Hern comes out of the office and tells everyone it's time to leave. "No overtime!" he jokes. Another group will be coming in soon to take up one of the many programs the centre offers: from basics like French, art and drama to more esoteric subjects like gentrification and zines.
Hern is, in his own always-colourful words, "a pig in shit" here. The Purple Thistle is one of the most recent incarnations of more than a decade of work as an educator, student and observer of alternative schooling models. In his recently published book, Field Day: Getting Society Out of School, Hern says there are cracks in formal education systems that aren't likely to be fixed from within. He advocates that schools decentralize and follow an institutional model closer to that of the venerable library.
In a freewheeling interview with The Tyee last spring, Hern talked, among other things, about how the Purple Thistle avoids "assholism," what's to be done with our over-Ritalined children, and how the British Columbia Teachers Federation slows progress in education.
On the Purple Thistle's mandate
We take everybody between the age of 15 and 25 whether they're in school or not. The idea is to answer to kids' needs. To ask the question as broadly as possible, "What will it take for you to thrive?" and begin to interpret that. Most of the kids I come in contact with have the same set of answers. They want to be creative, and they want to find a way to make money that's not too hideous, and they want to meet other cool kids.
We take groups of kids that are interested in similar ideas and we hook them up with a community mentor. So there's a photo group that meets twice a week, there's a writing group that meets once a week, there's a songwriting group, there's French-English classes. For example, the songwriting group, there's an old friend of mine, Kinney [Starr] and she comes down every Tuesday night for two, two and half hours.
Some kids come to five different things a week, others come for one. It's all free, but even though it's a drop-in, it's not really a drop-in in a lot of ways. I've worked at some of the youth centres, and their overwhelming ideal is to get kids off the streets. And my ideal is the reverse of that. Get the kids back on the street, get them back involved in the community, get them back involved in their lives, and get them back thinking that they can actually give the world a push, instead of just, "Stay out of the way while adults do what they do." Most of these youth centres have got foosball, and ping-pong, but mostly they're just trying to waste time and keep kids busy.
We have a couple of rules that run this place. No drinking, and no drugs, and no coming in fucked up. Two, no sleeping overnight. And three, no "assholism"?which means no racism, no sexism, no homophobia, no intimidation. We've never had to invoke it. People just tend to come in and be cool. There aren't a whole lot of choir kids here, but people seem to be able to support the idea of other people trying to figure their lives out and who they want to be.
On educating children for employment
People always ask that about deschooling. They say "Does it work?" I think there's value to the question. In some ways there's value to [deschooling] in and of itself. Like nobody would ask "Does your parenting work?" because it would assume a standard end to it. If someone came to me and said "Is your parenting working?" [I'd say] "Well, what do you mean? Is my kid getting good grades? Is she on track to get a job?" It's more like "Do I like my kid? Do I think she's thriving?"
I try to ask the same questions of this place. So not, "Is it working?" in terms of are they getting jobs or going to school, but more "How are they doing? Are kids taking care of each other, are they progressing, are they being able to live the kind of lives that they wanted to?"
On deschooling's impact on technical skills
One of the first kids in my school, she's 19 years old. She's bright as hell, never been to a class for anything?homeschooled, deschooled her whole life. She wants to go into kinesiology and human biomechanics at Langara.
She started a new round of courses this semester and she's doing fantastic. It's a big commitment to go to college. She [didn't] want to screw it up, so she went and got the course textbooks and started reading them and did all the background because she wanted to do it…. And whatever she needed to do to make it happen, she did. Easily and simply.
Everybody wants to be grow up to be capable people. Everybody wants knowledge, everybody wants skills, everybody wants to be respected, everybody wants to be able to do things. The idea that somehow unless we jam kids and force them into a curriculum day after day after day they'll grow up to be stupid and lazy is just not true…. People have desires, people have dreams for the world, and it's not just to sit around and play banjo in a corner.
On the lie of "learning disabilities"
The guy who invented Ritalin called it the "sit down and shut up" drug. What you see parents and teachers who are so stuck institutionally, that when kids don't adapt or don't thrive in the school system, they have to disease-ify it. So you've got Oppositional Defiance Disorder. So what it that? Is it a disorder? No, it's naming a certain number of behaviours and disease-ifying them, which is absurd. People don't have Oppositional Defiance Disorder. That means they're pissy or they're obnoxious.
It doesn't mean that everybody's a beautiful little flower. People are pains in the asses and they're slow and they're weird and they're hyper. But to disease-ify it and then to pharmaceutically treat it or professionally treat it, I just think is absurdity….
There's always one little guy who's rolling around, fidgeting, picking and throwing stuff and bugging people. Has he got ADHD [Attention Deficit and Hyperactivity Disorder]? No, he hasn't got that. He's just hyper…. You've got to figure out what the hell is going on with that kid and figure out what circumstances are going to cause him to thrive. And that's complicated. And you can't do it when you've got 30 other kids.
On providing structure for the world's Lisa Simpsons
There are two things that are happening here: one is political. Right now, schooling is dominated by central authority. So it's really difficult to start an alternative school. There's a reason that alternative schools, even hippie ones like Waldorf schools, are $600 a month. The Ministry of Education provides approximately $5,500 per kid per year. So if you take your kid and go enroll him over at Britannia, Britannia gets $5,500. If you take your kid and enroll at an independent school, the most that school can get is half that….
I would ideally like to see a world where in every community there's a vast array of options. I don't really have anything against traditional schooling, suit-and-tie British-style education, back-to-basics. In a political sense, we live in a divergent world, and so I would like to see a whole range of options.
I know a freeschooling model, a deschooling model like the one that I'm interested in, is only cool for a certain number of kids. Politically speaking, I'd like to see a whole range of stuff available, and available not only to elite families. Pedagogically or philosophically speaking, I'm going to argue for what I believe in. And I agree that it's only for a small slice of the world but I'm going to argue for it hard, because I think discourse about educational methods has been incredibly restricted.
On countering conservatives' "back to basics" mantra
One of the primary things about public schooling in my opinion is that it's intellectually gruesome. The kids in fact don't know shit because they're spending their days doing things they're not interested in…. Anybody who works with kids knows that. You can drill them and drill them, and if they don't care, it's just gone the next day.
What is it that people need to know? I don't think you can answer that for this whole swath of Canadian population…. I think that institutions that answer their needs and fit with their philosophical makeup should be possible and available and able to be built.
Right now I do a geography class with kids [aged 10 to 14] from Windsor House. I've got them memorizing every single country of the world on a blank map. I'm not an innovative teacher at all - we're just memorizing. I've got blank maps, they fill them in, they colour them, and I drill them…. Now those kids are not intellectually more capable than anyone else, but they do it because they like doing it and they're really good at it. But the difference between jamming shit down people's throats who aren't interested and doing stuff with people who are genuinely interested and engaged with people they like, they're just two whole different qualities of activity.
The fact that 99 percent of the Canadian population couldn't place Côte d'Ivoire on a map drives me out of my mind. But that's just me. I mean, it probably drives other people nuts that most people couldn't change a brake if they had to. Different people have whole different ideas about what's important to know, and that changes remarkably from the Northwest Territories to Newfoundland to Saskatchewan to Montreal. I think you could make a canon for yourself and people you know, but to try to enforce it across Canada or western culture, it's madness.
On shared curriculum and shared culture
As an anarchist, I'm not interested in national identity. I think national identity is a joke. I think we can talk about local identity, or regional identity. But national identity, it's outrageous.… We can argue that there are certain fundamental things people need to know to grow up right, but I don't think they're the same things in the Northwest Territories as they are in Louisiana as they are in Vancouver. I think that's a discourse that has to happen locally….
You cannot enforce a global curriculum on everybody. People will resist that. Because those shared epistemologies, local epistemologies - ways of knowing about the world, of learning about the world - are what make the world a diverse, interesting place. Trying to turn the whole world into a one-world, 24/7 Wal-mart where everybody shops, everybody buys the same stuff and everybody knows the same things is dystopic. We live in a complicated world and that's the way it should be.
On teachers as a force for reform in B.C.
The B.C. Teachers Federation is so powerful, so incredibly strong, it's difficult to get around them. Every year they pass a resolution to bar independent school funding. Asking the B.C. Teachers' Federation about education is like asking Enron about energy policy. They have so much vested interest. The BCTF is fundamentally conservative because their primary job, which they do unbelievably well, is to protect their members, their working conditions, [and] their wages. But they're so entrenched and so completely resistant to any kind of change that might affect the well-being of their members.
To think of teachers' unions as a progressive force runs counter to everything we know about what they've become now. The biggest [investor] in Canada now [is] the Ontario Teachers Pension Fund! The BCTF, like every other teachers' federation, are increasingly about centralization of power, particularly in their hands. So to speak about things like homeschooling, deschooling, independent schools, they want no part of that stuff.
On growing cracks in the system
There's so much pressure being put on the system from all different directions that things are going to slowly crack, and compulsory education is not going to be able to sustain itself…. I think it's going to be a bit of a free-for-all. People of all stripes are saying "Fuck it." On a very visceral level, the idea of sending your kids to a place that she doesn't like every day makes you sick to your stomach. A lot of parents are willing to try almost anything.
Right now, homeschooling is growing in leaps and bounds. In the United States alone, there are 1.5 million homeschoolers. And they're not simply conservative Christians who don't want their kids to learn about evolution. I don't think homeschooling is an answer per se, I think it's a potential part of an answer to contemporary schooling.
Colin Ward [had] this great quote: "We don't need a mass answer, we need a mass of answers." Somebody like the BCTF, they want to see systemic answers. "Let's do this and we'll change it all it once." What perplexes organizations like the BCTF is that fundamental social changes, in particular around schools, are going to happen incrementally. They're going to happen messily, they're going to happen from all over the place, from all different quarters. It's not going to be something you can control. There'll be people pulling away from all over the place and the BCTF is just going to have to get what they can get. Every [year] I homeschool my kid, that's $5,500 [the school doesn't get]. And that's why teachers and school people and administrators are so antagonistic to homeschoolers.
Jeremy Keehn is a recent graduate of UBC's journalism program who has contributed extensively to The Tyee and now works at The Walrus. For an excerpt of Matt Hern's book Field Day (New Star Books), see the Tyee article "At Play in the Field of School."