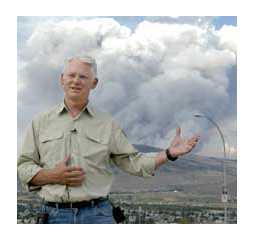 Whichever party is in power, whatever policies it implements, the government of British Columbia has less influence on the province's economy than most voters believe. Although interest groups and editorial writers often act as if every nuance of government policy will doom or save the B.C. economy, the reality is that many factors and events that affect the economy are beyond government control--or even influence.
In spite of that reality, governments take credit for positive economic news and blame bad news on others. Right now the Campbell government is seeking credit for modest improvements in B.C.'s economy.
Except for parts of the Interior and the North, the unemployment rate is finally falling--though it remains higher than when Campbell took office. Average economic growth per year since the 2001 election still lags behind yearly economic growth during the 1990s. But there are some positive signs, and Mr. Campbell will run for re-election predicting even better economic news in the future.
A brief history of hype
He should, however, be cautious about such predictions.

Look, for example, at 2001 when most forecasters--both government and private--had predicted that B.C.'s economy would expand by 2 or 3 percent. The new provincial government slashed personal and corporate income taxes in June, 2001, and then brashly raised its growth forecast to 3.5 percent.
Then came the stock market meltdown in the tech sector and the September 11 attacks in the US. Economic growth in B.C. came to a halt. In fact, in 2001 British Columbia slipped into recession for the first time since the 1980s.
In this case, as in the many other peaks and valleys of economic history, B.C. was not sole determiner of its fate, nor is it likely to be in the future. B.C. is a small, open economy of four million people. We sell our resource products on world markets. When those markets are strong, our economy improves. But government should be cautious about claiming all the credit.
Caution to the wind
The Campbell government, though, is anything but cautious. For example, it claims the spurt in mining exploration over the last couple of years is entirely due to its "mining-friendly" policies. Before swallowing that claim, consider recent trends in the price of metals on world markets. In 1999 the price of an ounce of gold was about $278 US; today it's over $400 US. In 1999 copper sold for $0.78 US a pound; today the same pound will fetch $1.30 US.
Just as the positive markets in metals have been very good news for the mining sector, the international price of $40 a barrel for oil has driven exploration for oil and gas to record high levels in B.C. Since 1999, the B.C. government has worked hard to stimulate oil patch activity, but without high prices for natural gas and oil, changes in government policy would have had less effect.
Interest rates beyond Victoria
Another economic factor that the B.C. government has no control over is interest rates. They're set nationally, not provincially. Low interest rates in Canada have stoked B.C.'s red-hot housing market. Even lower rates in the US have kept markets for lumber strong, and B.C. producers are making a profit--in spite of countervailing duties and dumping penalties.
But B.C. government policies had little to do with that. Similarly, when the rates rise and the housing markets cool and the demand for lumber falls, the provincial government can do little to halt the slide.
Even in areas where the provincial government has clear authority, the effect of government's actions is often minor. For instance, to buffer B.C. from the Asian economic meltdown of 1997, the government embarked on major public building programs--schools, the Island Highway, the Millennium Sky-Train line. Yet the economy still sagged.
Olympic forecasts on steroids
The Campbell government is hyping the 2010 Olympics as B.C.'s economic salvation. While the Games will be great, cool-headed analysts estimate the economic impact at perhaps one percent a year for a few years. And there will be virtually no impact outside the Vancouver-Whistler corridor.
As the campaign for 2005 gears up, the Campbell government will increasingly seek to gather credit for any good economic news. Voters should be cautious about believing such bragging.
Paul Ramsey is a former NDP MLA and Cabinet Minister. He now teaches at CNC and is a Visiting Professor in the Political Science Program at UNBC.