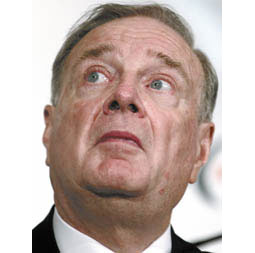 TheTyee.ca

A friend in Toronto said a Liberal campaigner came to his door and told him he should vote for Paul Martin because the other two leaders are really scary. That was the pitch. The campaigner didn't talk about Martin's vision or the local candidate's community connections, she just tried to convince my friend that Stephen Harper and Jack Layton are two scary dudes.
My friend was appalled. I was impressed. At least the campaigner didn't have the gall to take the official line from all our would-be leaders and claim the election is about trust.
Does anybody trust Paul Martin? When the Liberals turned Kim Campbell from Prime Minister to punchline, they waved a little red book of promises that should have picked up that year's Governor General's Award for fiction.
So even forgetting the sponsorship scandal, which the Liberals are praying we'll do, I get why nobody trusts Martin.
What I don't get is why anybody's willing to trust the Reform Party. Sorry, I mean the Alliance Party. Nope, I mean the Reform Party.
Batman and Stephen
If Preston Manning was the Reform Party's Batman, Stephen Harper was the boy wonder. Harper was the type of brilliant young policy wonk who'd be the lead character in a Republican version of The West Wing. He wasn't just in on the ground floor of Reform, Harper helped design the floor, the walls and the ceiling.
And the plan was that once he and Preston finished their blueprints, they'd build their new party on top of all that prime Tory real estate and replace the Progressive Conservatives as the party of the right with their party of the further right.
Remember Brian Mulroney? The most hated PM in Canadian history? You know, the guy with the chin? His son's on Canadian Idol?
Reformers thought Mulroney was a pinko.
Now Harper's dream has come true. He took the Progressive out of the Conservative and turned those pesky lefties like Joe Clark into Liberals.
Once the Alliance took over the Tories, the media began treating them like contenders with a viable brand name. But these aren't your daddy's Conservatives. They aren't Mulroney's Conservatives either. They're Reform 2.0. They're faster, slicker and better designed but if you get past the Reformatting, these are the same folks who were fixated on replacing Trudeau's Canada with Bush's America.
Be afraid
Bye bye bilingualism, multiculturalism and the Charter of Rights and welcome the government back to the bedrooms of the nation - as long as it's not bringing birth control. The focus of the ReformaTory platform is cutting taxes, increasing military spending, dumping gun control laws and over-riding the Supreme Court to prohibit gay marriage. That's not Canadian Conservative, that's U.S. Republican with a Health Care plan - albeit a two-tier health care plan.
Harper claims his opponents are fear-mongering by accusing his party of having hidden agendas on issues like abortion, capital punishment, immigration, human rights and culture. Hidden? This was the stuff Reformers used to be proud of.
Didn't Harper ever attend a Reform or Alliance convention? Hasn't he met his candidates? Of course they're going to bring up these issues - aside from "the west wants in," they were the issues that got this party started.
And Harper's said he's open to free votes.
So, Mr. Harper, not accusing you of a hidden agenda or anything but how free would these votes be? And how would you expect your members to vote on them? While we're at it, how would you vote on them?
Layton hasn't a chance
I don't mean to dismiss Jack Layton - he's already done that himself. Layton pretty much admitted he's just running to hold the balance of power and show off that nifty moustache. So that means we're only looking at two possible P.M.s and two very different countries. Maybe I'm wrong, but I don't think most people are as interested in electing the UltraConservatives as punishing the Liberals.
Do most Canadians really want this country's social programs, human rights and justice system to depend on how much clout the Bloc Quebecois carries in a coalition government? I looked up "culture" in the official Conservative platform and unless there's something wrong with my search engine, the only mention I found was "agriculture."
Every time I picture replacing Martin with Harper I keep hearing that David Bowie song about putting out a fire with gasoline. Scary.
Yep, there are a dozen different reasons the Liberals deserve to lose this election.
But… do you really want them to?
Mark Leiren-Young is co-author of The Little Book of Reform.