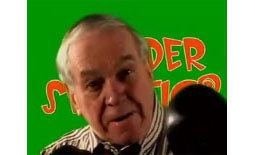 Ten years ago I published an article on the political impact of the Internet in future elections. As prophecy it's so-so, but it's a reminder of how quickly the Web has changed the world. I'm not sure, though, that the Web's really changed politics…yet.
Even in 1994, we understood that this is a different medium. Text was hard to read online, so extended arguments didn't work. Computers delivered jolts just by opening a window or displaying a graphic. Unless text was also jolt-rich, full of invective or obscenity, " 'Netters" wouldn't bother with it.
So political argument would have to yield to political thrills and shocks. Back then, politicians like Bill Clinton were firing off electronic news releases to anyone naïve enough to ask for them. But such items were ineffective because they didn't exploit the nature of the new medium.
When Clinton tried to imitate TV, I complained, he limited his audience to those few with big new computers and fast modems. Otherwise, the colour graphics were unavailable--and once you got over the jolt of seeing the White House on your screen, what exactly was the point?
The Internet users of 1994, I argued, were also too young and too few to be politically influential. A handful of geeks on university computers weren't going to change election outcomes.
Not much has changed
The drawbacks of the 1994 Internet are still with us. The medium discourages reasoned argument because text is still hard to read online. Computers still deliver jolts: the photos from Abu Ghraib are far more powerful than all the online commentary about them, even Sy Hersh's.
Now the computer has become a near-universal appliance, and most computer users have high-speed connections. So migrants from other media can revel in audio, video, and book-length texts if they like. Yet the impact of the Web on our politics is still uncertain.
In part this is due precisely to the modern Web's ability to imitate other media. Ed Broadbent's rap act is comfortingly like what music-channel fans would expect. Newspapers have adapted their basic inverted-pyramid structure: headline, blurb, graphic and first paragraph on the front page, the rest of the story in a long column on another page.
For corporate Web sponsors-- companies, political parties, and newspapers -- this means they feel no compelling need to change their habits. It also means their websites fail to exploit the medium's real potential. I've earlier discussed the "Web wimps" whose political sites are deeply ineffective. At best, such corporate sites seem to reinforce the message going out through print, TV, and radio. But they're not directly influencing voters.
On an individual scale, however, political advocates are beginning to use the Web in ways that may portend real change within the next few years.
The blog gets the 'Net
The Web log, or blog, is the most likely agent of change. That's because it usually reflects an individual viewpoint, or at most that of a small group; corporate sites speak for too many, and therefore too blandly. Blogs are also highly interactive, ideally provoking extensive conversations between bloggers and visitors. Thirdly, good blogs function almost like search engines, gathering relevant information from wildly varied sources: governments, newspapers, TV, movies, books, and other bloggers.
Very few voters, however, go out on the Web looking for information that will make them change their mind. Most blogs tend to gather news favourable to their position, and to link to sympathetic sites. If you find a site with links to, say, "Little Green Footballs" or "Heart of Canada", chances are the blogger supports George W. Bush and Stephen Harper. If you don't agree, chances are you'll visit such a site only to enjoy the thrill of despising its creator and supporters.
The effect, then, is not to change opinions and find common ground, but to strengthen opinions already held and to distance infidels from believers.
As well as the individual blogger, we've seen the recent rise of other types of blog: the pundit, the politico, and the media blog, which are effectively gathered together at blogscanada.ca
The pundit blog's purpose is to expand the audience of some commentator beyond the usual audience. Norman Spector, for example, offers Norman's Spectator, which includes links to all his recent columns and articles as well as a survey of recent stories. Warren Kinsella has a similar blog, Latest Musings, though it's more personal than Spector's.
The politico blog is ostensibly written by the politico himself, or is at least about the politico's daily activities. The Conservatives' campaign blog is a painfully bad example; on the last weekend of the campaign, its most recent post was dated June 19. The NDP, Greens, and Liberals offer only electronic scrapbooks with links to recent news stories and press releases. That's part of what a blog can do, but the personal touch is missing.
The media blog is run by a newspaper or TV network. David Olive has run a lively campaign blog for the Toronto Star, thereby reaching many readers who never see the paper. The Globe and Mail has a kind of multiple blog, permitting its reporters to post items from wherever they happen to be on the campaign. And the Western Standard, the latest publication from the Byfields, includes a blog, The Shotgun.
U.S. political blogs way ahead
Canadian political blogs of all stripes tend to be less advanced than their American counterparts. The blog for George W. Bush is a slick mix of text and graphics with a lot offered, including ways to contribute items and to receive a feed to one's own blog from the president's.
While we can all learn a lot from Bush's blog, the official White House site has at least one embarrassing boo-boo: When you visit the Spanish-language version of the site, the links remain stubbornly in English. This error has gone unrepaired for two years.
American pundit blogs are far more interactive than ours. "Billmon," the host of the left-wing Whiskey Bar can post a comment about Michael Moore at 8:15 on a Saturday night, and get 150 replies in 90 minutes. I know of no comparable response rate for any Canadian pundit. The Canadian and US media blogs I've seen can't compare with the one run by The Guardian, which has also awarded prizes for the best political blogs in the UK.
So I don't expect Canadian websites to exert much influence on the outcome of the federal election. Canadian Web publishers still don't understand the medium well enough, and Canadian Web surfers are using the Web to strengthen views formed by other media. Even the Americans' greater sophistication may not pay off in November. The Web as a mass medium is about where U.S. TV was in the summer of 1952--exciting, new, offering unexpected insights--but far less relied upon than older media.
Eight years later, of course, U.S. TV made a critical difference in the Kennedy-Nixon debates. A similar turning point for political use of the Web is likely to arrive much sooner.

Crawford Kilian is a frequent contributor to The Tyee. His own political blog, The View from Seymour is widely ignored.