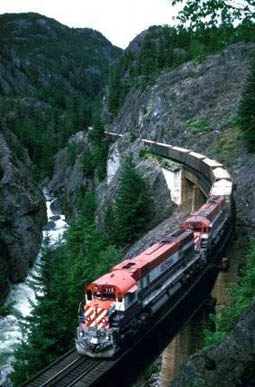 Government contracts with the private sector are often fraught with concerns about secrecy. On the one hand, commercial interests can be compromised if too much information is revealed. On the other, the voters rightly expect full disclosure of what government is doing in their name.
We've been promised that all the details of the privatization of BC Rail will be made public- after the Federal Competition Bureau finishes its examination of CN's takeover. In the last week, however, new details about the deal have leaked out.
The whole CN agreement is starting to smell like week-old sushi. Unless government releases the full agreement with CN, and releases it soon, it will lose what little credibility it has left on the issue.
990 years on the wall
The leak that contained the most spectacular numbers was actually the least significant. Government had announced that the term of its "partnership" agreement with CN was 60 years, with an option for CN to renew it for another thirty. Government denied that a 90-year deal amounted to privatization. That was hard enough to swallow.
But now we know that, unless the B.C. government wants to buy back BC Rail in 2094, the deal will be renewed for another sixty years, and then for another sixty years, and another sixty years… The total length of the "partnership" could reach 990 years. Even the Roman Empire didn't last that long!
Yet all the additional centuries really make no difference. The chances that any government will ever buy back BC Rail are remote. Privatizations of crown corporations aren't reversed; it costs too much. Face it: whether this deal is for 90 for 990 years, BC Rail is gone.
Much more significant was new information about government's attempts to finagle its way around land claims consultations. BC Rail right-of-ways are, like almost all crown land in the province, the subject of unresolved land claims.
First Nations sidestepped
The government wanted to avoid time-consuming consultations with First Nations, so it sold CN only BC Rail's freight operations, not the tracks and right-of-way. Since land was not changing hands, the government hoped that no consultations would be necessary.
Government also did its best to buy First Nations' acceptance of the deal with a $15 million trust fund. If a band had tracks running through its traditional territories, it could sign on as a trustee and get a piece of the action.
Neither strategy is working well. Lawyers for at least one First Nation are convinced that the change from a government operator (BC Rail) to a private operator (CN) will trigger lengthy and expensive consultations. And some First Nations have called the trust fund nothing but a fancy version of hush money, and won't sign on.
Government subsidizes rates
The most surprising leak about the deal was the revelation that major customers of BC Rail will get a seven percent cut in shipping rates when CN takes over - a rate reduction that is being paid for by our government!
The silence of large forest corporations about the privatization of BC Rail had been a mystery. Why would an industry that relies on rail transportation be happy about eliminating the competition between BC Rail and CN for its business? A seven percent cut in transportation costs is, apparently, enough for forest companies to keep their concerns about the BC Rail deal to themselves.
The revelation of this government-paid rate cut is very damaging. The use of tax money to pay off big corporations will heighten public suspicions. And U.S. lumber interests, who are already convinced that the B.C. government subsidizes its forest industry, have just been handed a new weapon in the decades-long softwood lumber dispute.
What other startling details about this deal are still hidden from public scrutiny? The government can no longer hide its contract with CN behind the curtain of commercial secrecy. It's our railroad; we need to know what's going on.
Paul Ramsey is a former NDP MLA and cabinet minister, whose column appears weekly at TheTyee.ca. He now teaches at the University of Northern B.C.