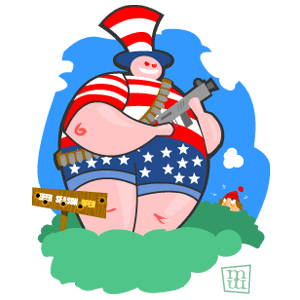 Since the official end of hostilities in Iraq on May 1, one or two coalition soldiers (mostly American) have died each day as a result of sniper fire, rocket-propelled grenades, or other weapons. Defenders of the war point out that at this rate, Iraq will eventually cost as many American lives as Vietnam did--58,000--but not until 2074.
Even so, these daily deaths are having a political impact in the US. Apparently Americans don't agree with the Roman poet Virgil that it is sweet and proper for soldiers to die for their country. But they do seem to think that it's okay for civilians to die in their country, for no particular reason.
Enough American civilians have died by firearms injuries in the last 40 years to equal at least 20 Vietnams. By midnight today in the US, about 85 Americans will die of gunshot wounds--and at least one of them will be a child under the age of 15. Yet except for occasional workplace mass killings, or school murders like Columbine, these deaths go ignored.
Here, the ongoing debate over gun control was kicked up a notch as Prime Minister Martin promised major changes to the $1 billion gun registry. It's an easy political target given the program's cost overruns and Canada's prickly population of gun owners. But notice that Martin, a highly political animal, isn't about to kill the registry outright. That could be read as an embrace of the American gun ethos, and Canadians are right to run for cover at that notion.
Thirty-two years, a near million dead
Consider the cumulative impact of widespread gun ownership on Americans' public health.
In 1997 the Centers for Disease Control published a detailed analysis of fatal firearms injuries in the US from 1962 to 1994. In that 32-year span, 992,388 people in the US died by firearms. Later figures in the National Vital Statistics Reports for 1995-2001 indicate that a total of one and quarter million people have died on American soil in the past 40 years as a result of gunshots. The yearly average has been 31,000, so the US suffers a domestic Vietnam every 22 months.
In 1962, the total number of US firearms deaths was 16,720; that number rose 130 percent by 1994, to 38,505. By then, firearms were used in 70 percent of all homicides and 60 percent of all suicides. In 2000, 313 children aged 14 or younger died of gunshots; only 86 of them were accidental deaths.
The contrast with Canada and other industrialized nations is striking. The Violence Policy Center estimates that the firearms death rate of US children under 15 is almost 12 times higher than the combined total firearms death rate of children in 25 other industrial nations. The firearms homicide rate in the US is 16 times higher than in the combined 25 nations, and the unintentional firearms death rate in the US is 9 times higher.
We're 'more efficient' killing with guns
The Canadian Firearms Centre in 1998 estimated that the US has 30 times more firearms than Canada does--222 million compared to 7.4 million. Americans own 76 million handguns, compared to about 1.2 million in Canada. Two-thirds of US homicides involve firearms; only a third of Canadian homicides do. And US handgun homicide rates are 15 times higher than Canada's.
The CFC estimates an average of 1,385 Canadian firearms deaths each year between 1970 and 1996. Given the size of our population, that average is less than half what it would be if our rate were equal to the Americans'.
Given the huge numbers of guns in the US, only about one in 7,000 is ever involved in a fatal shooting. (Ironically, we're more "efficient"-- one Canadian gun in 5,300 is so involved.) But the sheer availability of guns in the US makes them attractive for use in robberies and suicides as well as homicides.
This is not to argue for Canadian-style gun control in the US. It would be politically and administratively impossible to register and control the use of a quarter-billion firearms, especially in a country that makes a fetish of them. So for the foreseeable future, Americans are stuck with their gun culture.
But it ought to give us, as the Americans' closest neighbours, something to ponder: Why does the US wince at every GI's death in Iraq, while ignoring every child's gunshot death at home? Why do Americans tolerate 31,000 such deaths a year? Perhaps the poet with the answer is not Virgil, but Dylan Thomas, who told us: "After the first death, there is no other."
Crawford Kilian teaches at Capilano College in North Vancouver, and spends too much time online debating with American gun lovers.