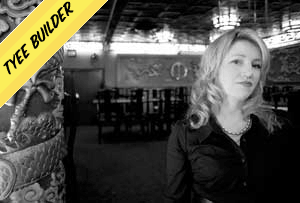 We asked Susan and a few other Tyee Builders what "hooks" them (besides The Tyee, of course.) Here's what she said: "What hooks me? Usually the tail end of every unfortunate trend." -- Susan Juby
But today, Susan is ahead of the curve: she's supporting The Tyee's independent journalism at the outset of our new Tyee Builder program. Susan values independent, in-depth reporting, and thinks you should, too.
If you want to be as trendy as Susan and the rest of the Tyee Builders, click on the yellow button below to learn more and to subscribe. If you can support The Tyee's journalism with $15 a month or more, you'll receive a signed copy of a book by one of our high-profile Builders.

About this Tyee Builder: Susan Juby was raised in Smithers, BC, and currently lives on Vancouver Island. She's the author of several wonderful, award-winning books, including The Woefield Poultry Collective, Alice, I Think (reviewed here by The Tyee), and Nice Recovery You can learn more about Susan on her website.
About the Tyee Builder Program: Want to give independent Canadian journalism a boost? You've come to the right place. The Tyee is trying to become fully sustainable. In order to do so, we've launched the Tyee Builders program to allows readers who love The Tyee's work to help fund more of it. Every penny you support us with will go directly to pay Tyee writers and editors. And besides the warm, fuzzy feelings you'll get knowing you're helping dial up the volume on an independent voice in Canadian media, we've come up with a few other ways to thank you. Click on "Hammertime" above to learn more and start Building!