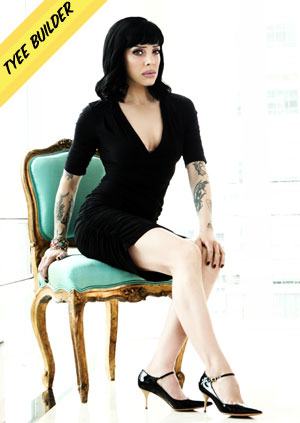 "What hooks me is filling the bathtub at bedtime and leaving the lukewarm water to cool until morning, so that it's waiting to greet me as I plunge in with happiness in my heart and Antonín Dvořák blasting through the speakers." -- Bif Naked
We hear you, Bif. This fish is a big fan of spending extended periods of time submersed. We've got a few other things in common, too. Bif is an ardent supporter of independent Canadian media, and had this to say about The Tyee's journalism:
"I'm completely stimulated by The Tyee's thought-provoking work. It's like an intellectual brain-massage. I love the honesty and, sometimes, unconventionality of their genius writers and contributors. From them I learn so much."
Bif is such a fan that she has become a Tyee Builder. If you'd like to join her and help make sure The Tyee's independent voice is heard loud and clear, just click on the yellow button below. It will take you to a page with more information where you can also sign up. If you sign up and support Tyee reporting with just $15 a month and up, we'll send you a signed copy of a book by one of our famous Builders. Check out your options here, and then sign up quick - we have limited numbers of books available!

Want to see who else is supporting the Tyee Builder program, along with Bif? Click here.
About this Tyee Builder: Bif Naked was born in New Delhi, India. She is a poet, a vegan, a punk rocker, a comic artist, a human canvas, and a breast cancer survivor. Bif is consistently outspoken about living a healthy, happy life (as you'll see if you follow her on Twitter). She is currently working on a book.
About the Tyee Builder Program: Want to give independent Canadian journalism a boost? You've come to the right place. The Tyee is trying to become fully sustainable. In order to do so, we've launched the Tyee Builders program to allow readers who love The Tyee's work to help fund more of it.
Every penny you support us with will go directly to pay Tyee writers and editors. And besides the warm, fuzzy feelings you'll get knowing you're helping dial up the volume on an independent voice in Canadian media, we've come up with a few other ways to thank you. Click on "Hammertime" above to learn more and start Building!