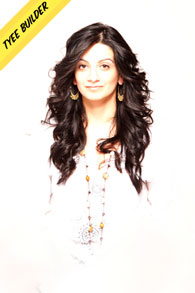 "What hooks me are my children. Their creativity and curiosity has toppled all of my self-imposed limitations and cleared the way for a beautiful life that could not have existed without them." -- Gurjinder Basran
What else hooks this B.C. Book Prize-winner? The Tyee's independent journalism. Gurjinder believes The Tyee is an important part of Canadian media, which is why she's supporting our Tyee Builder program.
If you feel the same way, you can visit our Become a Tyee Builder page and sign up to be a monthly supporter of The Tyee's hard-hitting, investigative journalism.



If you commit to supporting us with $15 a month or more, you'll be eligible to receive a signed copy of Gurjinder's award-winning novel, Everything Was Goodbye. Click on the yellow button to learn more about how to join Gurjinder and the rest of the celebrity Builders who support The Tyee.
About this Tyee Builder: Gurjinder Basran is an award-winning British Columbian writer. In 2011, her first novel, Everything Was Goodbye, won the BC Book Prize for Best Fiction. Gurjinder's success has made her "one to watch" in the Canadian literary scene. You can read The Tyee's interview with her here, and find out more on her website.
About the Tyee Builder Program: Want to give independent Canadian journalism a boost? You've come to the right place. The Tyee is trying to become fully sustainable. In order to do so, we've launched the Tyee Builders program to allows readers who love The Tyee's work to help fund more of it. Every penny you support us with will go directly to pay Tyee writers and editors. And besides the warm, fuzzy feelings you'll get knowing you're helping dial up the volume on an independent voice in Canadian media, we've come up with a few other ways to thank you. Click on "Hammertime" above to learn more and start Building!