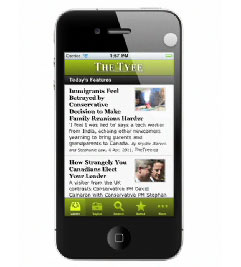 When we launched our new mobile app last week, we asked for your feedback. And you gave it to us. Many thanks to everyone who took the time to do so.
The majority of the email and comments were positive, which is always appreciated. But as important and useful is the critical feedback. We consider this your app. And if it doesn't work for you, it doesn't work. So, please continue to tell us what works and what doesn't.
In fact, we've set up a new email address to collect your notes, here. So, please don't hold back.
To address some specific comments we've already received...
One of the most cutting pieces of feedback was this from "MarlonBrando" in the comment thread after last week's announcement:
…I am shocked that you didn't integrate with BB [Blackberry phones] first, no matter what your reasoning (excuse).
How anti-Canadian.
Ah, the patriotism card.
But look at it from our perspective. Near as we can tell, a lot more people are using iOS devices (iPhone, iPad, iTouch) to try and read The Tyee than are using Blackberry phones –- at least so far.
Which put us in a quandary. Do we start with something Apple users can use? Or do we spend our rather, ahem, constricted, tech budget first to show our patriotic support for RIM, a multi-gajillion dollar, publicly traded Canadian company that has likely never heard of us?
Or, as our tech strategist Phillip Smith responded to "MarlonBrando" in the same comment thread:
"You're hilarious."
Kidding and patriotism aside, we hope to support all touchscreen phones at some point, Blackberry Torches included. But our tests showed some significant performance issues. As we mentioned before, because the technology we chose, HTML5, adheres to the open standards of the web, it has the potential to work across platforms. But we want to make sure every experience is a good one, so we're tackling one phone at a time, starting with the one used by significantly more readers than the second most-used phone.
As we said previously, next on the list (and hopefully a mere few weeks away) is support for Android-powered phones.
Other feedback?
"Oh, that. Yeah. You know, I haven't had time to install, actually," said the intrepid Monte Paulsen, The Tyee's investigative editor and resident early adopter who just spent two weeks on a train.
31.5 seconds, Monte.
That's how long it just took me to install it. No searching through the app store. No downloading. No fees. No fuss.
It's as simple as navigating to this website on your phone: app.thetyee.ca.
Speaking of app stores, another reader said:
"But it's not in the app store."
No, you're very much right about that; it's not in the app store. Let us repeat: our app is not in the app store. That means it's available through your browser, which is pretty amazing in and of itself. At some point in the future, we may package the app and put it in the app store. But for now, we're going this route.
All right then. Monte, and everyone else who has 31.5 seconds right now to download the Tyee app that's not in the app store, let's walk through this together:
1. Open your phone's browser and go to app.thetyee.ca and follow the instructions.
2. There's no step two.
So, go now. Get the app. And very, very soon you'll reading this story in the palm of your hand.
Is it really an app?
In a thoughtful vein, "gerard," later in that same comment thread after last week's story, gave us two much-appreciated bits of feedback.
First he asked if we would at some point display and allow readers to contribute comments to our stories at some point, saying that the power of the smart phone comes from the fact that it is a social tool.
To be honest, gerard, adding comments to the app has been very low on our list of priorities up to now. We wanted to get this first iteration into reader hands as soon as possible and adding comments would have added a significant number of complexities.
That said, if we hear from a crush of users that this is an important feature, we'll happily reconsider. Again, if anyone wants to give us some feedback, send an email) or add a comment after this story. We'd love to hear more from all of you.
Later in the same comment gerard suggested we not call this an "app" because it doesn't perform as nimbly as native apps and, as we've mentioned a few times also, it's really just a webpage that acts like an app. In other words, calling it an "app" sets up performance expectations that aren't being met.
On the performance issue, we are continually concerned with the speed of our distribution channels, be it our original website (http://thetyee.ca) or our mobile web app. And we will continue to refine our technology to make the experience as zippy as possible. So, hopefully at some point soon the performance of the app will rival a native app.
On the naming issue, that's an interesting point. As far as we were aware, "web app" is the standard term for what we've built. It's a webpage that behaves like a native app -- a "web" "app." For example, websites don't have Saved screens that act like clippings files for offline reading. And at some point in the future we could add the ability for each reader to customize the bottom navigation bar (as many other apps already do).
The point here is that the experience more an app-like experience than a webpage experience. To brand it otherwise would likely create some other unintended expectations, like that it works on every phone with a browser, which it doesn't.
Speaking of which, we still have to create a simplified mobile website for readers who visit our site on non-touchscreen phones. So, to us, that's what we consider our "mobile site."
Again, many thanks for this insightful feedback, gerard. We'd love to hear what you think of our reasoning.
And that goes for the rest of you, too. If you haven't already, please download our web app, take it for a spin and let us know what you think. If you've already done so, please send us your thoughts.
And for all you handy web developers, don't forget that the source code is in Github. Feel free to have a look and even submit patches or enhancements.