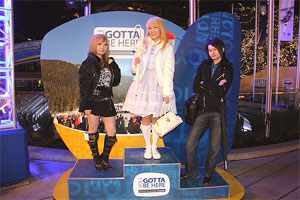 When we first launched our photo pool, little did we imagine just how compelling, evocative, heartbreaking, fun and surprising your pictures would be. But they are. And we're proud to showcase them on our home page and as the art that accompanies some of our stories.
Now we want to turn that collective lens onto the Olympic spectacle that's about to unfold.
Here's what we're thinking: Show in pictures how you experience the Games -- the frustrating traffic jams, the provocative and defiant public art, the watchful men in uniforms with flashlights and black utility belts, the cheering, happy-wobbly drinkers at your local pub, the rebellious snowboarders in their $500 jackets... whatever. In short, show us the thrill of your victories and (yes, I'm going to say it...) the agony of your defeats.
Submit those photos to our photo pool and we'll compile the most engaging ones into photo essays -- something like this -- that will run at regular intervals for the duration of the Games.
Sounds great! How do I do it?
It's easy. Here's how:
1. Get a camera. (Sorry, perhaps that's obvious).
2. Take compelling pictures. (Actually, don't even worry about the "compelling" part. Just show what you see and how you experience the Games.)
3. Upload the pictures to Flickr and add them to our photo pool.
OK, that third step has a few extra parts to it, but it's still pretty easy. Flickr is free but is part of the Yahoo organization. You may have heard of it. So, you need what they call a Yahoo ID to upload your photos. Don't get scared. It's easy and requires no commitments of any kind.
Just go here and fill out the form and follow their instructions. Then you're ready to log into Flickr, upload your photos, and add them to our pool.
For those who've been submitting Olympic pictures already, thank you -- they're fantastic. We've been happily highlighting them on the home page for a while now. For those who haven't, this is a call to encourage you to do so. Show the world and each other the Games through your eyes, not through the slickly packaged nightly product aired in (eastern standard) primetime from a kajillion-dollar convention centre.
B.C. is more than that. Your pictures prove it.