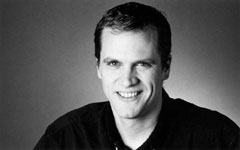 Monte Paulsen has been investigating homelessness in Vancouver -- its causes and its cures -- for nearly three years. We at The Tyee know Monte to be smart, tenacious, and a person who deeply cares. Which is why he finds out so much, and has so many good ideas to share.
On Friday, October 9, members of the public can gain the benefit of Paulsen's insights when he gives a talk at the Museum of Vancouver marking Homeless Action Week. Titled Ending Homelessness: What Works, the illustrated presentation will survey the state of homelessness in B.C., review the history of homelessness in Vancouver, and explore strategies to end street homelessness across the province.
"Homelessness is not like cancer or climate change. Homelessness is something we actually know how to cure," Paulsen says.
"We can end homelessness in British Columbia, with measurable benefit to our public health and collective dignity, for less money that we are currently spending to maintain the homeless."
Paulsen's talk will be followed by a brainstorming exercise facilitated by the Museum of Vancouver.
There are few people in Vancouver better positioned to lead such a discussion.
In 2007, Monte's groundbreaking ten-part series asked the prescient question "2010: More Homeless than Athletes?" and documented the alarming trends: declining numbers of SRO hotel rooms, meager access to addiction and mental health treatment, growing numbers of people sleeping on the streets of Vancouver and B.C.'s other towns.
He has gone on to publish a number of stories exploring pragmatic, workable approaches to reducing homelessness, including How to End Homelessness", "50 Ways to Help the Homeless", and (one of The Tyee's all time most read stories) "Seven Solutions to Homelessness".
Most recently, he catalogued creative approaches to making homes affordable for working British Columbians in a series called "A Home for All", nominated this year for a Webster Award. And just last week he published this story about civil liberties issues for those with no address but a park bench.
Come hear a hopeful presentation by an award-winning journalist committed not just to covering homelessness, but to seeing an end to it.