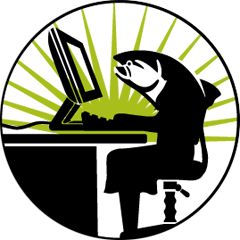 We at The Tyee consider the comments of our readers an important interactive element of our site. We are making some minor changes to the look and functionality of the comment system and apologize for any glitches along the way as we implement some new software. Here are some answers to questions we've been getting from you as we tinker.
Why are we doing this? What is the scope of the changes?
As you may have noticed, the format of The Tyee's comment section has changed some. Over the past few months the Tyee's Web Director, Dawn Buie, and independent programmer, Alan Dixon, have been working on a way to merge the best features of two open source programs, Drupal and Bricolage. This week, we launched the first phase of this project, using Drupal for the new comment/interactive elements, while continuing to use Bricolage for the content management (like a library, Bricolage keeps our stories and pictures well organized behind the scenes).
Our previous commenting program had been hastily patched together when we launched the revised Tyee site back in March 2005 and was becoming difficult to maintain.
The new comment profile page is a significant improvement over the old one, and makes it easier for users to retrieve lost passwords and change their personal information. The next innovation will be a system where users can manage their commenting identities and e-newsletter subscriptions in one handy place.
In addition to creating a comment system that's easier for Tyee staff to maintain, the Drupal integration will also make it easier for us to offer other interactive features to Tyee readers in the future.
What is the extent of the changes to the commenting system?
We asked readers for their opinions on various aspects of our publication, including comments, in our 2005 fall survey. Based on this feedback and the experiences of other online forum providers, we have developed some ideas about how we want the comment system to evolve over the next few months. As we get closer to our launch dates, we will be letting you know what's coming up and asking for your feedback. So stay tuned.
Are we looking for feedback now?
For the remainder of this week we will continue to make design and functionality tweaks to our new commenting system. We hope you'll form your opinion of the new system when you see the finished product on Monday. However, we do welcome constructive general feedback about the comment section below. For instance, are there features you have seen in other comment forums that you wish we had? How do you find the culture of our comment forum? Is it a welcoming place? If not, how can we change that? What would make you more likely to comment if you never have before?
And if you would like to give feedback directly to the Web Director, Dawn Buie, or are having trouble signing up to comment please e-mail info AT thetyee.ca.