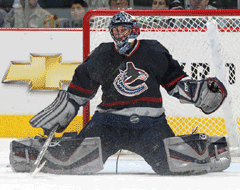 How strong is Canucks Fever? This week the courageous politicians of Vancouver city council came together to unanimously salute the city's NHL heroes, passing a motion that temporarily set aside all existing death threats between council members. Vancouver police and firefighters have been seen holding hands. Just before being rescued by the SPCA, the lizards, scorpions, and tarantulas in that controversial Vancouver Art Gallery exhibit were gathered around a tiny TV screen, pouring extra cheese on their cricket nachos. Only the Green party has failed to join the cheering. Instead, the Greens have attempted to cut a side deal with the Dallas Stars -- we don't score on you, you don't score on us, and then we work together to beat Detroit.
When it comes to playoff fever, Vancouver is a hypochondriac. We've barely done anything and already the town is starting to break out in hives. Fun, isn't it? So far, anyway.
Roberto Almighty
At 5 p.m. Tuesday by English Bay, some fools were out enjoying an unexpectedly beautiful evening. Feh. We've had plenty of that in years past. Time to close the drapes, folks. Let's watch us some hockey.
Times are good, Canucks fans. By God, we even have Jim Hughson doing CBC play-by-play. Back in the day, local fans would be treated to the game's sharpest and most entertaining game caller during the regular season on Sportsnet, then be forced to settle for the likes of Don Whitman or, God forbid, Bob Cole during the playoffs. CBC finally got wise and got Hughson. And for extra fun, we get to chuckle along as genial colour man Harry Neale wages a losing battle with the pronunciation of "Kevin Bieksa." (Harry always gets the "Kevin" part right.)
Good times on ice, too. We have the most talented goaltender in team history. Kirk McLean was a fine goaltender who ascended to godhood in 1994, but the deification was temporary. Even sitting at home in his jammies, Roberto Luongo is Zeus.
Mass hysteria
For the serious fan, following the Canucks at this time of year is entirely different. Suddenly it's not a private hobby anymore. The bandwagon swells with people who may not be passionate about hockey but know a good party when they see it. Popular as the team is all winter, it is still possible to keep tabs on the boys in relative peace and quiet. One can safely record a regular season game and then head home to watch it at leisure, blissfully unaware of the results. Not so in a playoff run. Trying to remain ignorant of the final score is futile -- you can usually keep an accurate tally just by listening to the street noise. Cheers, groans, and of course the final cacophony of horn-honking; or conversely the absence of same. It's as reliable as a TSN scoreboard.
Good news on the scoreboard so far. The Canucks have a 3-1 lead on Dallas in the opening series and, frankly, they don't even look like they've found their game yet, unless their game is to let Louie do it. Luongo looked iffy in game one -- true to form, he was coming off a rest day on the final game of the season, something that always throws him. But in game 1.5 (which began with the first overtime period) Louie was back. The rest of the team, unable to fill the Stars' net, has offered up some gritty, inspiring play. Even Jan Bulis is blocking shots. He scored a big goal, too. At this rate Canuck fans are going to start adding the second syllable to Bulis's name.
Of course, most of the time Canuck fans aren't booing; they're saying "Looo." (However, if they are saying "boo," it's generally directed at either the ref or Bulis.)
Law of attraction
It's almost enough to make you believe in The Secret. Sure, Oprah's favourite book about making dreams come true is snake oil. But gosh, think about it -- all these Vancouver fans wishing and hoping for Canucks success, whereas the average Dallas fan is just marking time until high school football season starts. We're making it happen with the power of our minds, aren't we? Someday we'll be rich, too. It will start with Roberto Luongo and then trickle down.
This series should already be over. Considering the fact that the Canucks won a seven-period game on opening night, we should have been awarded a 2-0 series lead. Well, no matter. We'll finish off the Stars and move on to play, if current trends hold, the Ducks. No longer called Mighty yet mightier than ever, Anaheim will definitely be favoured in a match-up against Vancouver. We may get a chance to appreciate this spring weather after all.
But maybe not. Do you want it, Canucks fans? Do you really, really want it? Close your eyes, click your heels together, and repeat after me: "Auntie Oprah… Auntie Oprah… there's no place like the Stanley Cup finals…."
Related Tyee stories: