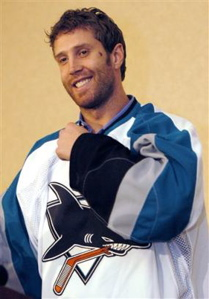 After a two-year drought, NHL fans finally get the chance to see 16 teams spill their blood and pour their souls onto the ice in an epic battle to decide who will . . . end up winning their office playoff hockey pool.
Ask any hardcore poolie and they'll tell you that hockey pools rarely work out as planned. In regular season pools, you draft a team of players that you think will rack up the most points. But in a playoff pool, you not only have to guess which players will do well, but also which teams will likely last deep into the playoffs, thereby allowing your players to rack up the most points.
That added layer of complexity means that even the most knowledgeable hockey fans, despite spending hours analyzing statistics to come up with a pool of players, often end up losing to an officemate picked his or her team on the basis of which players had the coolest sounding last name ("Jagr? That's a fun name. I think I'll take him").
Scientific hockey
But Amy Summers, a former student in SFU's Department of Statistics and Actuarial Science has devised a method that could provide some relief for hockey pool fanatics. Last year, Summers completed her thesis on how to develop an optimal team for a common playoff hockey pool. Summers' method tries to remove the excessive number crunching and gut feelings that most sports fans rely on, and instead selects players by applying appropriate statistical models.
As part of her method, Summers assesses the value of each player by dividing the number of points he scored during the regular season by the number of games played. She then combines that number with the odds of a players' team winning their series.
Her program also allows for some modifications depending on the rules of the particular hockey pool. "She is looking at the most important things and those are the player's ability to accumulate points and how many games that they will play," says SFU professor Tim Swartz, who supervised Summers' thesis.
'Moj' magic Local sports radio talk show host Bob Marjanovich is a bit skeptical of any computer program that claims to help give you an edge over your buddies. Marjanovich, known to his listeners as "The Moj", has been playing in fantasy sports leagues since high school, and points out that in the world of fantasy baseball, the most statistically driven of all sports, there are countless websites that offer computer-generated player projections. And these range widely in quality.
Instead of computer programs, Marjanovich relies on his knowledge of the game, as well as strategies he's developed since he started playing pools back in high school. "You look at teams and their philosophies," he says while driving to his job as the host of The Sports Zone on Mojo 730. "A lot depends on a team's match-up because so many times in the playoffs, it's defensive hockey, grinding hockey. You also look at guys who are playoff performers, guys like Jarome Ignila whose games are better suited for the playoffs. Trevor Linden in his heyday was a classic example. Those are some of the things that you have to look for and do a lot of research on."
Marjanovich sometimes chooses to focus on a team or two that he thinks is going to go far and then loads up on their players. He also takes into account teams that are on winning streaks as they enter the playoffs. For instance, a team like the fifth-seeded San Jose Sharks, winners of their last eight games, might garner more attention during hockey pool drafts than the fourth-ranked Nashville Predators, who limped into the playoffs after losing their starting goaltender.
Basic winning
Summers' method discounts those strategies. Her numbers tend to focus on a team's record over the entire season rather than giving extra weight to end-of-season results. Also, Summers found that rather than picking a large number of players from one team, her program usually played the odds and drafted players over several teams. "We're basing it more on points rather than taking into consideration everything that obsessive people would look into," she says.
Summers conclusions may sound obvious, but it's amazing how often poolies forget to stick to the basics. It's easy for hockey fans to drown in statistics -- plus-minus, home winning percentages, road winning percentages and countless other numbers that may or may not be relevant.
While hockey fans would be unable to produce Summers' results without an in-depth knowledge of statistical analysis and many hours to kill, the one take-away they can get from her is to keep things simple. Instead of overanalyzing things, it might just be best to just pick the players with the best stats on the best teams, and not worry about all the countless variables that could come into play.
Summers' program also succeeds in taking the emotion out of player selection. Too often, poolies rely on gut instincts and hunches to draft their team. Usually, correct guesses are cancelled out by incorrect guesses and betters end up back where they started. Other times, those hunches can sink their pools entirely.
Diamond players
Of course, finding the occasional diamond in the rough may make your hunches seem worthwhile. "I think that's one of the neat things about pools," says Marjanovich. "If you find that Chris Kontos or that John Druce or that guy who becomes an unexpected performer in the playoffs, now all of a sudden, that's what you remember and that's what you have a lot of fun with. Drafting one of those guys is almost as much fun as winning the pool."
Summers could argue that winning is what really matters and her results show that their may be some merit to her approach. Summers tested her hockey pool scheme through computer simulations, and her team of players either won or finished second or third more than 50 percent of the time: results that most poolies only dream about.
Summers was unable to test her thesis in a real-life hockey pool due to last year's NHL labour strife, and was hoping to join a pool this year, but is too busy with her new job to take part. But she and Swartz believe that her process would eventually pay dividends. "Her approach is a long run approach," says Swartz. "If this pool were done again and again, she may not win one year, but in the long run, she'd do very well."
Still, Marjanovich has a point. Simply picking players off a list or computer screen takes some of the joy out of the game. Having your selection process reduced to a series of algorithms would make it kind of hard to trash talk one of the reasons people get into pools in the first place. What's the point of winning if you can't gloat about it to that guy in Accounts Receivable who thinks he, if not for a few twists of fate, could have been the next Glen Sather. Keeping it simple may mean that you will taste victory more often, but it may not be as sweet.
Besides, imagine what a playoff pool would look like if everyone used a computer program. Hockey pool drafts would be nothing more than a bunch of people sitting around a boardroom exchanging data that they've collected. In other words, hockey pools would start to feel like work.
Jon Azpiri is a freelance writer and editorial assistant at Shared Vision. This season, the top scorer on his fantasy hockey team was Jonathan Cheechoo, who was selected because he had a cool sounding last name.