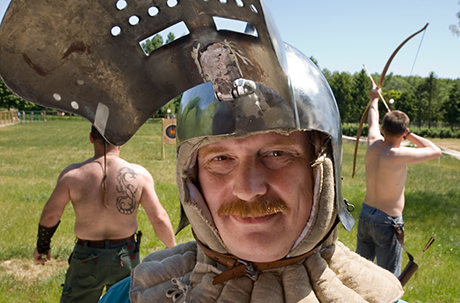 The public library of the Polish provincial town of Slupsk is located in a former 13th century church of St. Nicholas. It was destroyed several times in different armed conflicts and always rebuilt on the same spot. Its massive, red brick walls promised a cool interior, an attractive prospect in a very hot summer day in June 2008. When I walked into the vestibule, I found that somebody set there a little commemorative exhibition to George Orwell featuring his pictures, drawings and early editions of his books in several languages.
One of Orwell's highlighted quotes said: "Every war when it comes, or before it comes, is represented not as a war but as an act of self-defense against a homicidal maniac."
By the door, a stack of local magazines provided ironic context to the exhibit. Their covers showed hundreds of locals with open umbrellas and a banner saying: "Away with the shield. If not for your politics we would be fine with just umbrellas."
They were protesting against the building of an American missile base at the outskirts of Slupsk, one link in a chain of "shields" the administration of President George W. Bush sought to erect in a supposed effort to protect Europe and the U.S. from a nuclear attack by Iran.
Now, even this early into the Obama era, Washington seems receptive to voices of protest against the missile shield plan. Voices that include not just umbrella toting Polish townsfolk, but also the leader of Russia, Vladimir Putin, who had threatened to retaliate against the missile shield project by deploying his own nuclear-capable missiles near the Polish border. For the moment, at least, Russia and the United States are speaking in calm and even conciliatory tones as they decide where to aim their weapons of mass destruction.
Offered here, then, are a few snapshots from a recent visit to a town caught between troubled empires that seem to be running out of money. Empires fueled, as always, by fear of enemies, real or imagined. Empires now struggling to maintain the Orwellian dream of technological superiority purchased by unlimited wealth.
Under the bridge
About two hundred metres from the library, I stumbled upon Marian Grodzinski, an obviously unemployed man in his forties. He was drinking beer, hiding under the bridge spanning the small river Slupia. He said that he has chosen this spot to avoid the police surveillance cameras located at the adjoining crossroad and numerous other locations around the town. He asked me for a donation for his next beer. In return, I asked if he believed in the Persian nuclear menace. He shrugged. "I think they [Americans] are in reality more worried about the Pakistanis." I raised another issue that I thought should interest him. Would in his opinion the missile base construction help Slupsk's economy? Grodzinski shrugged again: "I think even the local hookers would be disappointed."
Bulldozers vs. history
Slupsk, with the population of about 100,000, is one of main towns of Pomerania, a historical region covering the south coast of the Baltic Sea. In the Middle Ages, Pomerania comprised several small domains populated by folks speaking languages of the Western Slavic family. It was gradually absorbed into the German realm and, by the 18th century, almost completely Germanized. That process was rapidly reversed in the 1940s and '50s, following the changes in European borders after Germany's defeat in World War II.
In Slupsk's main square, there is a billboard featuring a historic photograph of the same spot. Of the houses in the picture, only two still exist. The rest was burned in 1945 by marauding units of the Soviet army. Under that billboard, I met a young history professor of the local university, Kacper Pencarski. He told me that one of the early post-war initiatives of the Polish-communist administration was to bulldoze the Slupsk's cemetery in order to root out reminders of the German historical presence.
Pencarski often journeys through the region in pursuit of scattered documents and books of possible historical value. I asked to join him on a trip to the small village of Lupawa, some 15 kilometres east of Slupsk, past the planned American base. Next morning, we went to see an old farmer, Stanislaw Grodzien, who was rumored to be using some old books for fuel in his stove.
Memories of an old farmer
When we got out of the car, Grodzien was expecting us at the gate in the low wooden fence in front of his white painted house. His hunting dog, a young dachshund, darted through the gate and ran circles around our small group. From the garden shack behind the house, Grodzien dragged out several tattered suitcases and boxes filled with water-damaged German books and documents. When Pencarski began sorting through the materials, Grodzien sat in a wobbly chair under a cherry tree. Without much prompting, he told us stories about the war, about his late wife and about the village.
Grodzien was 15 when his family relocated to Pomerania from eastern Poland, in 1947. They became neighbours with two German women, Elfrida Reddel and her mother. He married Elfrida in 1950. Together they witnessed the expulsion of ethnic Germans that lasted until the late 1950s. Grodzen recalled the story he learned from his German mother-in-law: In 1945, sometime after the Wehrmaht units withdrew to the west, a passing Soviet patrol stopped a woman carrying food to her husband, a German officer, hiding in a gully on his own farm in Lupawa. The officer, his wife and their daughter were shot dead by the patrol's commander. All three are buried in an unmarked grave in the garden they used to tend.
Most of the current residents of Slupsk and the whole Polish Pomerania have their roots in pre-World War II eastern Poland, somewhere in what is now Ukraine and Belarus. During the war, their homeland changed hands a number of times: from Polish to Soviet, then to German, and back to Soviet. Their families endured persecution and slave labor and many were killed for reasons like having secondary education. The survivors were given the choice of becoming citizens of the Soviet Union or relocating west, to settle on former German territories. Most decided to move.
A knight and a fighter
Such was the family story of another faculty member of the local university, a medievalist, Boguslaw Nowak. I met him in one of Slupsk's public parks, where he practiced swordplay with friends from the Knights' Brotherhood. He was trying on a helmet weighing about 5 kilograms, which he told me would cost the actual knight a small village to obtain. Nowak's PhD thesis is on the genealogy of medieval knights.
Before starting a career as a historian, Nowak served for 12 years as a fighter pilot in the Slupsk Fighter Regiment, at that time an important element of the Warsaw Pact air forces. In the 1980s, Nowak and his partner's jets were scrambled at times when a NATO AWACS plane, flying over the Baltic, infringed on Polish territorial waters. At the same time, farther east, Russians would activate their ground-to-air missile-guiding radars. It is in the nature of the game, for each move there is a countermove. Nowak was convinced that the American military installation at Slupsk would prompt Russians to program a bunch of nuclear-tipped cruise missiles with the coordinates of his hometown.
I recalled a short animation that somebody posted on YouTube. The Polish president Kaczynski, a strong proponent of the missile shield, explains how the salvo of ballistic missiles from "China or some other Mongolia" heading for the U.S. is intercepted over Poland. You see, America is safe, says Kaczynski. The next volley of missiles eradicates Poland from the yellow tinted map of Europe. You see, America is still safe, concludes the Polish president.
Nowak didn't laugh. But he found a nuclear attack on Europe or U.S. by Mongolia about as likely as one by Iran.
Lessons from history
Nowak noticed that peculiar political phraseology, often used today in relation to Iran, was used against Poland already in the Middle Ages. In 1410, in a daylong battle at Grunwald, the combined Polish-Lithuanian forces routed heavily armored cavalry of a crusading military order of Teutonic Knights. The order's Grand Master Ulrich von Jungingen was killed in that battle. His successor, Heinrich von Plauen the Elder, in the letter to Western monarchs, described the Battle of Grunwald as a war against the "forces of evil."
Nowak pointed out that, particularly among younger people in Pomerania, there is more enthusiasm for learning from history than for replaying it, but then, there is no mechanism for the locals to have any say in these matters, except for parading with their umbrellas on a clear day, like they did during the recent manifestation. As the Polish president stated in his reply, there won't be any referendums on matters of national security.
Under the Zeppelin
The last historical anecdote Nowak told me that day was about Zeppelins. During World War I, Germans build in the proximity of Slupsk an airstrip equipped to handle Zeppelins. From there, the giant airships went on bombing raids and intelligence missions over continental Europe. In the reversal of the sailing ships crow's nest concept, the observers were sometimes lowered on cables in a basket to direct the bombing through the clouds. These early Zeppelins were notoriously unstable and one of them fell from the high heavens into the pine forest near Slupsk. Mushroom pickers occasionally express surprise, stumbling on a commemorative monument to the victims of this catastrophe partially sunken in the sandy earth in the middle of nowhere.
I had a brief vision of the town of Slupsk, with all its residents and landmarks, dangling on a cable under the belly of an enormous Zeppelin obscured by dark clouds, its course set by the strangers bound to the eternal crusade against the forces of evil of their preference.
Related Tyee photoessays: