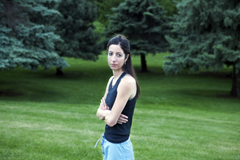 One in 15 young Canadian women suffers from anorexia or bulimia. More than one in 10 of those women will die as a result of their condition. That makes eating disorders not only one of the most prevalent mental illnesses in this part of the world, but also the most deadly.
In Thin, her chilling documentary and book, Lauren Greenfield tracks women at a Florida eating disorder treatment centre. For the film, she follows four main characters as they complete treatment. For the book, she follows about 15, and includes photographs, interviews and excerpts from their journals.
Possibly the most frightening thing about the photographs is that the women mostly look normal, even attractive. In addition to being thin and toned, they dress well, and pay attention to their hair and makeup. In the film, by and large, they come across as compelling -- they're people pleasers of one variety or another and are predominantly well educated and articulate. With the exception of a few who are visibly skeletal, complete with protruding collarbones, even the women under a hundred pounds resemble the women in magazines and on the street.
It's a kind of wake-up call to the audience, it seems. Underneath the photo of a thin but fairly normal looking woman, is a caption stating that Shelly, 25, a psychiatric nurse, has a feeding tube in her stomach. When Shelly entered treatment, she was 82 pounds and hadn't eaten a meal in five years. This round cost almost $100,000. Her family has spent over half a million dollars on treatment to date.
It was my own initial non-reaction to Shelly that made me feel the most sick.
From fashion to fear
Mainstream talk about of eating disorders has been around for a long time, now. Most women, me included, can jadedly list off symptoms and supposed causes. As a high-school teacher, looking for signs of eating disorders in my female students was a daily task: preoccupation with food and calories, rapid weight loss, baggy or bulky clothing too warm for the weather, combined with perfectionism and so on.
Greenfield says she chose the topic after completing Girl Culture, her previous book, because she wanted to look more in depth at the consequences of something called the body project -- the fact that for most women, their bodies are their central preoccupation. More than friends, school, jobs, or relationships, women currently aspire and work to be beautiful and perfect -- paying attention to their bodies, hair, clothes, nails and so on. The amount of time women spend on their bodies continually increases according to Greenfield and also to Joan Jacobs Brumberg, a professor from Cornell University who writes the introduction. And the requirements of "normal" continue to increase -- more toned muscles, a six pack, Brazilian waxing, and so on.
While one out of seven American women suffer from eating disorders, six out of seven women are affected by it. Mea culpa, it seems. Or I would have been more immediately struck by the illness, instead of its normalcy.
"Do I look thin?" a friend asked recently.
"Very thin." I said. "Skeletal," I joked. She smiled.
"Anorexic?" she asked, hopeful, laughing.
"Oh yes," I replied.
"Don't I wish," she said.
The morality of size
"To be thin is to be beautiful, disciplined, and even moral," writes Greenfield in the introduction. "Fat is equated with laziness, slovenliness, a lack of regard for oneself, and a deficiency of self control."
"Our bodies are an extension of the American Dream," she continues, "blank canvases of a meritocracy where we can paint our own dreams and achieve our goals if we devote enough hard work, money and time to get the job done -- the Puritan ethic interpreted within the culture of narcissism."
The film premieres on HBO on Nov. 14. It's toured film festivals around North America, winning awards. Greenfield will be on American talk shows this week discussing it, along with the upcoming exhibition at the Women's Museum in Dallas. And the new website, where people can go to find out more about eating disorders.
The Tyee sat down with Lauren Greenfield when she was here for the Vancouver International Film Festival. Here is what she had to say...
On how beauty kills
When I did Girl Culture, I was looking at how girls turn their bodies into projects. And I went from the most innocuous and everyday body projects like makeup and fashion, to the most self destructive and pathological body projects like eating disorders and self-harm and promiscuity. And I was interested in eating disorders from that perspective as the most pathological, most self-destructive body project, and this very extreme example of how girls use their bodies as their voices.
And I thought it would be interesting as a film because, for one, it was something I struggled to show with photography -- I think it's a hard story to tell in photography, especially the story about treatment, because you kind of need to tell it over time. It's also such a psychological illness you really need the "backstory," the verbal elements.
I went in thinking it was this pathological, marginal piece of the body project story, and when I came out I felt like it is an epidemic illness that affects one in seven American women. Almost everyone I have met -- from the film crew to friends -- is affected or knows someone who is.
On 'anorexic head'
I think you're always surprised by the insanity of eating disorders. I mean, the women who are in treatment and the women who are in this film are smart, capable, articulate women, and I think that that's one of the things that's really shocking about this illness. The sufferers are high-achieving, perfectionistic, seemingly successful women. And then they're in the middle of something that is completely irrational; it's a form of slow suicide, and that never ceases to surprise you.
Shelly and I have now been friends for a long time, and you know, I talk to her like I would talk to any of my friends, and then I realize that she's relapsed again or you know she's in her anorexic mindset, her anorexic head, and I think it's always a shocker.
On the treatment 'magic bullet'
At the end of the film, three out of the four people are still sick.
Shelly seemed great. She had an almost perfect linear rise in treatment, then six months later she was back to the weight she started at. But you know, when I see her now, even though she's at a low weight, she has some tools that can help her. She's not back where she started even thought weight-wise she's back where she started.
But you can see how frustrating it would be for families and for insurance companies. Not only is it not an exact science, there are really no good statistics that show it's effective. That said, people need to get treatment. If you're sick, you need professional treatment. But it's certainly no magic bullet.
On thin dreams
I'm still in touch with all four of the main subjects. I think they're really proud of their participation in the film. Three of the women, the adults, came with me to the Sundance film festival and did "Q & A" and I think it was stunning for them to see the impact they had on other people, you know, to see people crying at the end, and thanking them for their courage. I think that they feel really proud. It doesn't mean it's not hard sometimes to look at yourself. And sometimes the hardest part is looking at the book or the film and thinking, "I wish I was as thin as when I started," or, "I'm not as thin as this other person," because that's how people with eating disorders think. But I think they are very proud of the contribution they made.
On filming secrets
Usually the way it went was, first of all, everyone there could choose whether or not to be in the film. And even if they'd chosen to be in the film, they could say I don't want to be filmed right now, or filmed with my mom or filmed at this meal, or I don't want the name of my job in this film. And we just worked with them and their concerns. And often, we'd just have to stop filming and say, "OK, what are your concerns right now?" then we'd work though those. I think relationships with my subjects are one of my strengths as a photographer. That's what I do.
Related Tyee stories: