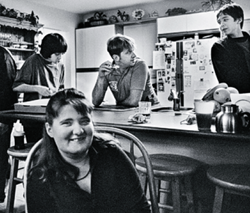 [Editor's note: The Company of Others traces the lives of five Canadians. The attached gallery shows one: Erin.
In the gallery, the photos are by David Campion, and the text is by Sandra Shields. The foreward is by John Ralston Saul.]
There is no society more ancient than a circle of friends. And there is nothing more predictable than the discovery by such a circle, who have come together to support one among them, that the one in need is somehow helping the others.
Why does almost every philosopher since the beginning of recorded time come back to this idea of mutual support, of the emotional sustenance needed and found in organized friendship? The answer simply is that life has several essential components. And one of these -- one which can be seen as a metaphor for civilization -- is that we live through the mirror of the other. We can see this in the literature of our past. Gilgamesh, hero of the very first Western dramatic story -- the perfect leader, handsome, rich, surrounded by admirers -- discovers that he cannot live without his friend Enkidu; he discovers his own mortality through his friend's death. More to the point, he discovers his own mortality because he has discovered a sense to his life through friendship. This same discovery is repeated throughout Homer, the Greek legends and plays, the Anglo-Saxon myths, and so on through story after story.
'The unexamined life is not worth living'
What did Socrates mean: "The unexamined life is not worth living?" One interpretation is that we become conscious of both the potential and the limitations of our existence through the mirror of those around us. And that was what Adam Smith meant when he focused all of his philosophy on our need to imagine the other. We are not the other; we cannot be the other. Our destiny is to be ourselves. The readers of this book will not become Margaret, Betty, Jeff, Rick, or Erin. But the people who have joined the circles around these five individuals have in a sense examined themselves. And you, the reader, will perhaps get a hint of how you might better imagine the other and examine yourselves.
What of Margaret, Betty, Jeff, Rick, and Erin? Well, they'd be the first to know what their disabilities are. They also want friends. And they also want to be part of a community, just the way we all do. Forty or fifty years ago, their disabilities probably would have led them to being treated by society in an unacceptable way. In fact, many with disabilities still are marginalized in unacceptable ways.
Think of the well-intentioned but foolish decision thirty odd years ago to shut down old-style hospital facilities for Canadians with mental illnesses under the naïve delusion that their needs could be handled with drugs. How those drugs would be administered in the real world was never addressed. To address that need, you would have had to imagine the other, which would have led to the organization of circles of friends, assisted and group housing, and so on. Instead, we got a falsely rational, administrative solution, resulting in the sad fact that today over half the homeless on Canadian streets suffer from mental illnesses.
Disarming friendship
The five people around whom this book is written convey a message about the essential role that friendship plays in their lives, each of them, as well as in the lives of the individuals who make up each of their circles. What makes these five people so special? The answer is disarmingly simple.
If you have a disability, you have to try harder to make your life work; to make a place for yourself, to get through the practical challenges that you face on a daily basis. You have to examine yourself as best you can, and make a constant effort as best you can. In other words, you have to be far more conscious than we "able" people who float along in life, lost in the illusion that we are OK and therefore in control of our lives and therefore with little to examine.
Margaret, Betty, Jeff, Rick, and Erin are the centre of their circles, but not simply because they are the reason for their circles' existence. They are at the centre because they bring their example of consciousness and effort to the lives of their friends. I have said it before, but it bears repeating: our society has come to confuse speed with intelligence. We are wrong. There are many kinds of intelligence. And the most interesting kinds of intelligence turn around consciousness, consideration and care.
PLAN is an organization centred on this understanding of multiple intelligences and of citizenship as a much richer and more complex engagement than we often imagine. Above all, it is an organization centred on the reality of building friendships to support people with disabilities. Everyone involved in PLAN has quickly discovered that this business of building friendships is a two-way street on which everyone must be a beneficiary.
Circles of others
I began by pointing out how circles of friends have always been at the heart of our idea of society. If the convenor, so to speak, is someone with a disability, this idea of shared multiple friendships becomes all that more clear. It also becomes more clear as a model for society. Why? Because the price of each person's entry into the circle is their -- your -- willingness to imagine the other, and thus become more conscious of themselves.
This book is about the core idea of any society. It is also a reminder of how careful we must be when we expand our notion of society to hundreds, thousands, even millions of people. People massed in great numbers have a false sense of certainty; sometimes frighteningly so. It is important to protect ourselves from ourselves by being able to hear the voice of someone like Margaret, with her sense of this unconscious reliance on reassurance, who asks her friends whenever she feels it is necessary: "You okay? …You sure?"
Copyright 2005 by the authors, the photographer, and the PLAN Institute for Caring Citizenship. Published November, 2005 by Arsenal Pulp Press. Royalties from the sale of the book go to the PLAN Institute for Caring Citizenship.
The husband-and-wife team of Sandra Shields and David Campion have collaborated on many projects, including the book Where Fire Speaks: A Visit with the Himba (Arsenal Pulp Press), winner of a BC Book prize (the Hubert Evans Non-Fiction Prize) in 2003, as well as photo-based essay in publications including The Globe & Mail, Canadian Geographic, and Geist. Their story about the relationship Sandra shares with her severely disabled younger brother received a National Media Award from the Canadian Association for Community Living. They live in Deroche, BC.
John Ralston Saul is the author of numerous books, including Voltaire's Bastards: The Dictatorship of Reason in the West, Reflections on a Siamese Twin: Canada at the End of the Twentieth Century, and The Unconscious Civilization, which won the Governor General's Award in 1996.
The Vancouver Public Library in partnership with PLAN Institute for Caring Citizenship are hosting a slide show and panel discussion about a made-in-Canada cure for loneliness that is changing the lives of marginalized and vulnerable individuals while transforming their communities in the process.
Award-winning collaborators—author Sandra Shields and photographer David Campion— will present a series of slides. Panelists include Dr. Martha Donnelly, scholar and expert on aging, quality of life, family and caregiver issues; Pat Tesan, parent whose family is featured in the book; and Vickie Cammack, Executive Director, PLAN Institute. Panel moderator: Hal Wake (CBC, Vancouver Writers' Festival)
Tuesday, January 31st 2006, 7:00pm, Vancouver Public Library – Alice MacKay Room, 350 West Georgia Street, Free Admission.