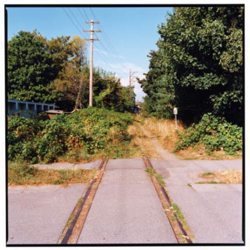 I remember the last time I heard the sound of crossing bells and the blast of the engine horn along the CPR's now-neglected Arbutus Line. On a damp, misty fall morning sometime around the turn of the new century, I was briefly inconvenienced at the 16th and Arbutus crossing. I say briefly because, by this time, only a single engine and one or two hopper cars were making their way down to the Molson brewery to maintain the CPR's right of way. But when those trains finally stopped running, I felt the way I did when the old foghorns were replaced with new electronic versions; a great sense of loss.
The CPR acquired what became known as "The Arbutus Line" from the Vancouver & Lulu Island Railway in 1901. Until 1958, the line was leased to the BC Electric Railway (BCER), which ran passenger services from Vancouver to Steveston. In its time, BCER "Interurban" cars carried people from downtown Vancouver to Steveston. But by 1958, all across North America, rails were replaced by rubber and, eventually, the gridlock we know and love today.
A few years ago, at about the same time Agfafilm decided to discontinue production of Ultra50 colour negative film, railcars were trundling down the CPR's Arbutus line for the last time. These two discontinued lines represent, in a small way, the end of something that added character and nuance to our world. Agfa Ultra 50 was one of many photo films whose warmth gave landscape and floral photography a unique and subtle character that was hard to put into words.
Ultra rails
After using Ultra50 for a floral series and landscape work, I stocked up before supplies ran out. This past August, I decided to use two of my last three rolls photographing the Arbutus line. Burns Bog was on fire again and the late summer sky was warmed and browned by the smoke. Like the rails sitting under brambles, it too was in a state of flux, between threat and regeneration.
I had never traveled the length of the line before so it was a perfect time to get to know it and it seemed a good match between film and subject. I couldn't find an exhaustive, formal series of photographs of the line so I decided on a consistent point of view using a 60mm lens coupled to a Hasselblad medium-format camera body. Starting from the Molson brewery by the Burrard Bridge, I headed south, stopping at key intersections that many will recognize. I chose as many straight-aways as possible where long stretches of overgrown tracks are bordered by the gardens of both the landless and the "crème de la crème", by homes of all sorts, by schools, businesses and homeless hangouts. At full scale, these telltale elements are revealed only at the periphery of the frame. It's a trip through many neighbourhoods with subtle character shifts occurring along the entire route.
Disappearing routes
By the end of the day, looking north along the tracks near the East Blvd section, I imagined being able to take a streetcar downtown and couldn't imagine an acceptable political or economic excuse why I couldn't. The old refurbished BC Electric streetcar currently traveling from Granville Island to Science World is a sorry excuse for a route and only intermittently runs. But put those cars on the Arbutus Line on a regular schedule and I'll bet they'd be full post-haste. We may even have to buy back some streetcars from collectors in the US. And -- imagine this -- we might need to locally design and build a new generation of streetcar. Hope springs eternal.
I don't believe the Arbutus corridor is the best route for RAV, but its resuscitation as a streetcar line would add the kind of meaningful transit diversity and a link to history that San Francisco has with its multi-format transit system (which incorporates underground routes, cable cars, regular buses and a historical streetcar system). I'd be happy to forego the increased value these images may have as historical documents after the property is developed if the alternative were to be able to hear the engine whistle and the bells of the crossing guards again. And I'd probably be visiting Steveston more often. I might even make some unscheduled stops along the way. And it would sound like things were right in my neighbourhood again.
Mark Mushet is a Vancouver-based photographer and writer, and the Photo / Art Editor of Vancouver Review.