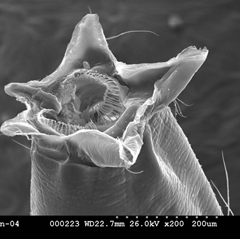 Immersed in the persistent hum of machinery, surrounded by jutting pipes and concrete walls, Elaine Humphrey sat in the dark trying to focus. A twist of a knob and she had what she wanted, a picture of a hidden world that most of us never get to see.
Then, in classic science fiction movie style, Humphrey opened a chamber the size of a grapefruit on her $160,000 electron microscope. And to her delight, out crawled an inch-long caterpillar. She had been fast enough in bombarding the surface of the soon-to-be butterfly with electrons to keep it alive while snapping a picture of its face at 300,000 times magnification.
Such hidden wonders are common at the University of British Columbia's world renowned bioimaging facility, where Humphrey has been director since 1996.
A must see
"At the moment I want head lice," says Humphrey, explaining that a local infestation of school children got wiped out before she could get there to sample the lice. "So, I'm having hard time," she adds with a smile.
A small woman with vibrant eyes, Humphrey has seen many astonishing things -- including gigantic millipede eyes, tarantula fangs, and seahorses that look like dragons close-up.
Consider, for example, the gallery of images that accompanies this article. This time of year we're all too familiar with the whine and sting of a hungry, full grown mosquito. But Humphrey offers here the sort of baby pictures you've probably never seen - mosquito larva enlarged tens of thousands of times.
Such pictures can be crucial to research by simply allowing scientists to see what they are working on. Imagine, for example, trying to understand how a parasite gets into a human cell. A magnified image can show the way to a breakthrough. For this reason, 650 people from all over the world pass through the bioimaging facility each year, most of them trained by Humphrey's sharp eye.
Sting winkle glands
It was the gland of a sea snail that got Humphrey going. While studying at South Hampton University in her native land of England, she lived on a boat docked on the local river. There, she made it her business to understand a sea snail that bores holes into oysters. Such "oyster drills" -- commonly called sting winkles or Ocenebra erinacea -- use a small gland to dissolve and scratch holes in an oyster shell. "This gland is so interesting," says Humphrey, "I needed to see it up close."
She therefore went about learning electron microscopy, a technique that overcomes the limitations of a light microscope, which due to the wavelength of light can only magnify objects around 1,000 times. Even in those days at South Hampton University, an electron microscope was pushing a magnification of 100,000 times. At this power, Humphrey could photograph the inside of sting winkle gland cells, ultimately discovering the presence of chemical named substance P (which we coincidently use to make saliva).
Meanwhile, Humphrey's husband had flown off to Vancouver to design atmospheric diving suits. "The bad guys blew up [his diving suit] in a James Bond movie with Roger Moore," says Humphrey, sharing what little she can recall about the contraption. Her Ph.D. completed, a jobless Humphrey eventually arrived in British Columbia. She walked into a UBC lab (later to become the bioimaging facility) and asked to take some pictures.
They said ok and she never left.
Building an imaging facility
The lab in those days only had one electron microscope, which still fills an entire room at the far end of the lab. It's temperamental, but still works. Often it is disassembled and reassembled by Humphrey using tiny Allen keys attached to the ends of bullet casings. "They ensure we don't lose the tiny keys."
One old microscope was not enough to satisfy Humphrey's curiosity. However, affording a new machine, which can cost upwards of $850,000 to buy let alone run, is extremely difficult for any modern laboratory. Humphrey's solution: She used her pictures to make two children's books -- 3D Bees and Micro Fleas and 3D Lungs and Micro Tongues. The money the books made helped buy new camera equipment, starting a chain-reaction of increasingly better photos.
Today, under Humphrey's direction, the bioimaging facility houses 11 microscopes. Sophisticated machines that require floating concrete floors and table tops cushioned with nitrogen gas. These microscopes can scan the surface of a cell at 500,000 times, look through a cell at 600,000 times, and even fluorescently detect a single protein floating within a cell. Four full-time technicians in addition to Humphrey keep them running, and each day 20-30 people dash around the facility snapping pictures.
Zooming in
On this day, Humphrey scans the room with pleasure, a cup of tea in her right hand, and points out some of the additional highlights. "This is a Ted Pella microwave," says Humphrey, leaning on what would be a regular microwave except for its two huge exhaust pipes. "It's five times more powerful than anything you could buy, but doesn't heat things up," she explains. Over to the side, she points out a machine capable of making liquid nitrogen into slush, a perfect consistency to instantly freeze biological samples.
A person with Humphrey's abilities tends to get interesting phone calls. For instance, when the B.C. Centre for Disease Control called to ask if they could bring over a new virus called SARS. "I asked if it was dangerous," says Humphrey, "and they said 'Not now.'" Some viruses are quite beautiful, with elegant crystalline structures that form various geometric shapes. So it's hard to refuse a request to take the first photos of a new virus. "A couple of weeks later, I'm hearing SARS this and SARS that, and I'm thinking, 'Oh no'," recalls Humphrey.
But, the Centre assured her it was safe, and for a woman who enjoys magnifying everything, Humphrey couldn't resist. On that day, the anticipation was thick. Humphrey was again holed up at a dark microscope, using electrons to peer into the world as yet unseen. "It's a little blob," laughs Humphrey in retrospect, while shaking her head at her luck. "You got it in your mind that SARS is a killer, but it looks very dull and boring."
About those baby mosquitos. Humphrey will be the first to tell you that "not every picture is beautiful", but no matter how much math you have or how many genes you identify, nothing will get people as interested as a photograph. "The world is meant to be seen."
Dave Secko is on staff at The Tyee with a special focus on science.