We are all here to stay. 
First Nations and Canadians are here to stay and must find ways to live together as neither is going away.
If we are all here to stay, we must settle past grievances, resolve the outstanding issues of aboriginal title, rights, compensation, and deal with the ongoing effects of colonialism so that our relationship can be based on peace and not violence. Big order.
On July 1, Canada celebrates its 150th birthday, and there are many Indigenous people in Canada who will not celebrate and in fact are resisting the celebrations. Why?
There are many reasons, but the main ones are that settlers came into Canada and took over our lands and resources without compensation, without beating us in war or entering into treaties that addressed the taking of the land. This has never been resolved.
First Nations were removed from our territories, put on small reserves, and had laws imposed on us that were contrary to who we are, our governance structures, laws and values. 
As Canada celebrates its 150th, there should be recognition that settlers would not have survived here without the help of First Nations people providing them with food, resources and the means to survive. 
There needs to be recognition that they have become a very rich country off our lands and resources and have not shared with First Nations, but must do so going forward.   
For First Nations people, the 150 years represents years of struggle against a country that seeks to be wealthy at the cost of our rights and the environment that sustains those rights.
It is a country that has tried to keep us down with paternalistic laws and policies and to not do anything or enough to deal with a dark past.
These struggles have consisted of court cases, defending the land, working in many forums from local to international, and continually raising our voices against the injustices we are fighting. 
Our voices are being heard and progress is being made, but not enough, and so the struggles continue.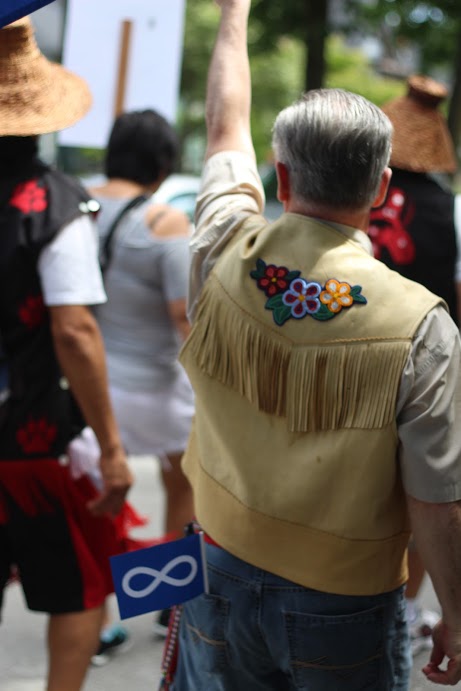 As First Nations, we are still here and will continue to be, for we are in our homelands, we are embedded in the land and we tread where our ancestors once trod. They started the fight and we will finish it.
When Canada celebrates its 150th, we know our governments have been around since time immemorial and that is something for us to celebrate. Canada is in its infancy with much to learn about First Nations peoples and how they have yet to settle fairly with us.
While Canada celebrates, there must be recognition that not only must there be commitments from governments, but there must be effective action. 
We heard all kinds of promises from Justin Trudeau and his party when they were campaigning — that there would be a nation-to-nation relationship, that they would live up to a promise of free, prior and informed consent for development on our land, and that there would be no other relationship as important as the one with First Nations. 
Empty promises. Words are so easy to say, but putting them into action is a whole different matter.
Are federal and provincial governments afraid of the power of First Nations governments and that we may in fact become too powerful? Are they afraid we will stop development that may in fact save the earth from climate change, drought and ill health? 
Are they afraid that recognizing, acknowledging and acting on past grievances and preparing for the future will be too costly for them or take something away from them?
I don't know why it is so difficult to work with First Nations in a good way, but I do know that I have dedicated my life, my energies, and my knowledge, with the strength of the ancestors, to protect what is important to us and will continue to do so. 
I have not seen enough progress to feel that I can rest easy. I will stand with the next generation to continue what our ancestors started. 
It is a shame that our children are not able to benefit from the fruits of our labour and instead have to step into the fight with less patience, more education and a stronger determination to bring an end to what has been going on for 150 years.
Those modern warriors are my hope.
I am a proud Hupacasath woman of the larger Nuu-chah-nulth Nation. This is my nation, where my allegiance lies. I may live in this country called Canada and carry a Canadian passport, but that has no meaning to me — yet.
We are all here to stay; how we live together is up to us. It is a big order, but one that can be achieved. This means we must end our current colonial relationship, and in its place, we must create a new one that respects our humanity and rights as Indigenous Peoples.
First Nations don't need reconciliation. We need peace on our lands — and this begins with our relationship to the land and to each other.
Canadians can learn from us how to live peacefully with us on our lands, to be in good relationship not only with First Nations but also with our lands and waters.
In the era of climate change, this relationship building will be critical to our well being and to our responses to the ecological, political, and economic crises that will come with a rapidly changing climate.
Canada can celebrate its 150th, but I won't be at the parade or fireworks, or celebrate in any way. It is not my party.