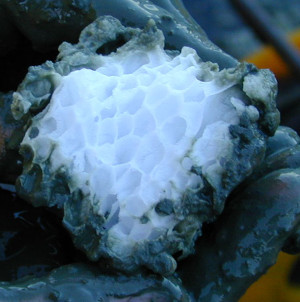 Over the last few years, China has annoyed some of its neighbours by dredging islands out of the South China Sea and claiming the whole region as its property. These steps have not much alarmed the West, apart from a few pundits looking for the Next Big Enemy.
But perhaps we really should be alarmed, because the real reason for China's interest could make global warming far worse than it's predicted to be. Coincidentally, B.C. Premier Christy Clark's ambitious plans to export liquid natural gas could go up in a puff of invisible methane.
When my wife and I taught English in Guangzhou in 1983, the air of South China's metropolis was rich in smoke from coal-burning factories. We saw shops where charcoal briquets for domestic cooking were made in conditions of Dickensian filth. (We enjoyed the luxury of a two-burner propane stove.) China was still in economic liftoff, and coal has fuelled its ascent ever since -- at a cost of some 2,000 miners' deaths each year.
But the Chinese knew even in 1983 that they needed much more energy, and had hired foreign oil companies to find it. We met British families living in Guangzhou hotels, where Mum and the kids stayed while Dad went out in a helicopter, searching for oil in the Nanhai, the South China Sea. Dad came home empty-handed, but the Chinese didn't give up.
An economy fuelled by coal and oil has sustained China's growing wealth. But it has also sustained smog levels that have killed its own people by the hundreds of thousands. Chinese made rich by burning fossil fuels are buying condos in Vancouver, where the air is clear and their kids have a reasonable life expectancy.
So it makes sense that China would be interested in cleaner energy at the lowest possible price. The Nanhai now offers the promise of some of that energy.
Fire ice off Hong Kong
A recent article in the South China Morning Post, a Hong Kong newspaper, reports that the China Geological Survey has discovered a gigantic resource just off the Pearl River delta near Hong Kong: "fire ice" that amounts to 100 to 150 billion cubic metres of natural gas -- more in one small field than B.C.'s estimated 96 billion cubic metres, much of which the Clark government wants to sell to China. 
"Fire ice" is better known as methane clathrates, a very strange material. It's a kind of ice that forms in the seabed and permafrost of the far north, and in the mud under tropical seas if the pressure is high enough. The ice traps methane, and a lot of it. Released into the atmosphere, methane is 20 to 30 times better at trapping heat than carbon dioxide. Clathrates are unstable; the warming atmosphere and ocean tend to melt the ice and free the methane, accelerating the pace of global warming.
A video by the U.S. Geological Survey shows what clathrates look like and how they behave. They hold so much methane that they contain twice the energy in all the other fossil fuels on the planet.
The Chinese have actually been looking at -- and looking for -- methane clathrates for at least a decade. In a 2007 Xinhua news agency article on China's dwindling fossil fuel reserves, a casual paragraph mentions the possibility of "flammable ice" as a kind of transition resource before switching entirely to renewable energy sources.
The Chinese first found clathrates in the South China Sea that year, and two years later found more in western Qinghai province -- the equivalent of 35 billion tonnes of oil.
Environmental problems? Heaven forbid
That 2009 article promised "prudent" development of clathrates, and said research was under way "to guarantee that the exploitation of the frozen natural gas does not cause environmental problems." No commercial efforts to extract clathrates have yet been made, but Japan is exploring the possibility.
Perhaps still more clathrates are buried under rocks and reefs like the Spratlys and the Paracels, but that's not why China claims the region. Its construction of artificial islands in the Nanhai is chiefly to protect the sea lanes through which most of its imported oil travels -- and according to the Bulletin of the Atomic Scientists, that oil is now 60 per cent of all the oil it burns.
This strategic concern helps to explain why China is ready to quarrel with Vietnam and the Philippines over who is to dominate the South China Sea. And it may also explain how B.C. -- and Alberta -- have been suckered into dreams of selling oil and gas to Asia.
Premier Christy Clark has been criticized for her dreams of vast wealth from B.C. natural gas, pumped to the coast, liquefied, and shipped to grateful Asian markets. Similarly, Alberta's anxiety to get the Northern Gateway pipeline to B.C. tidewater has met similar criticism. The expansion of the Trans Mountain pipeline to Burnaby has taken some knocks as well.
The pro-pipeline arguments have been jobs and prosperity and (relatively) clean energy replacing China's dirty coal. The anti-pipeline arguments have been aggravated climate change, environmental issues, and aboriginal rights. Neither side has considered that China and other Asian nations could get their energy closer and cheaper -- right on the doorstep of South China's energy-hungry factories.
The Chinese have enjoyed over 30 years of unprecedented growth, rescuing hundreds of millions of their own people from poverty and social disruption, and greatly helping hundreds of millions more. In the process, the rest of the world has come to depend on a prosperous China to keep its own economies running. Insane housing markets in Vancouver and Toronto have been a cheap price to pay for Canada to get in on the bonanza. Now we pray for Chinese growth not to sink below seven per cent, or we're all goners.
Hedging their bets
Smart money hedges its bets. China must have foreseen the limits that energy supply imposes on its growth, wealth, and stability. The Chinese understand climate change very well, and they hedge their bets in part by buying up farmland in Africa, just in case they need it to feed their own people in future droughts. Meanwhile, the China Geological Survey is scanning every square kilometre of the country in search of oil, natural gas, and whatever energy lurks in shale. Whatever it finds, it won't be enough.
So, like a big company looking for a better advertising campaign, China has invited energy offers from anxious energy marketers like B.C. and Alberta. Hungry ad agencies will put a lot of effort into winning a big account, at zero cost to the client. They show up with their best dog and pony show, perform their hearts out, and get a little applause: "Thank you very much. Nice presentation. We'll be in touch."
Then the company goes for the cheapest, most effective deal it can find, and tough luck for the losers. If that vast pool of clathrate energy just off Hong Kong and Guangzhou can be exploited, China will have no need for grinning Canadian politicians in hardhats, however eager they may be to "grow the economy." One Chinese expert says clathrates in the Nanhai could sustain China for the next 130 years.
If that estimate is accurate and extraction is feasible, China and other Asian countries can tell Christy Clark and Rachel Notley and Justin Trudeau, "Thank you very much. Nice presentation. We'll be in touch."
Then they'll get their energy from clathrates on their own territory, and it could be so cheap that renewable energy will be priced out of the market. Everyone will start drilling for clathrates, including in the Canadian Arctic, and never mind the climate disaster that will surely follow -- well before 130 years have passed.