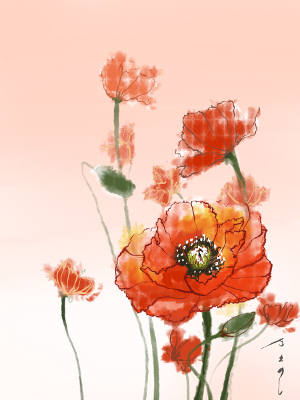 Sometimes it takes us thousands of years to recognize a disease when it seems like part of the human condition. In a world filled with supernatural beings, demonic possession makes more sense than, say, the ergot poisoning from mouldy flour that induces LSD-like hallucinations.
We are now slowly and hesitantly beginning to recognize another disease. We have likely known its symptoms as long as we've been primates. The Greeks had a word for it: nostalgia, homesickness, the sudden desire to run away from the killing ground and be safe at home. We have given it the clumsier name of post-traumatic stress disorder.
Over forty years ago, while the Vietnam War raged, PTSD was still barely understood. In World War I it had been "shell shock"; in World War II, "combat fatigue." It was in those days seen as a character flaw, an inner failing exposed under the harsh conditions of modern warfare.
With the Vietnam war very much on everyone's mind in the early 1970s, I wrote my Simon Fraser University master's thesis on "The Great War and the Canadian Novel, 1915-1926" -- a deservedly obscure period in our literature.
The books I read and analyzed were the products of a long century of European peace that had suddenly exploded. War to Europe and North America had been something waged against the lesser breeds, with upper-class officers gallantly leading working-class soldiers against dark-skinned savages -- a game, like those on the playing fields of Eton.
So Canadian war novels were propaganda, and they exalted war as a way to purge the old society of its effete and lazy self-indulgence. Even the most effete and self-indulgent, the novels argued, might redeem themselves in the next assault on the enemy's trenches. If they were killed, fine. If not, they could go home as better men, however wounded.
Novelists note 'hidden sickness'
A few novelists, however, noticed soldiers who came home with more than a barely perceptible limp. Bertrand Sinclair, one of Canada's best-selling authors, wrote Burned Bridges, in which his protagonist Wes Thompson returns suffering from "the hidden sickness of racked nerves in an unmaimed body."
Such veterans never talked about that hidden sickness. In Basil King's The City of Comrades, his hero Frank Melbury explains: "Day and night I think of what I saw and heard and did in those two years, but some other language must be coined before I can begin to speak of it."
He also mentions "returned soldiers on the lecture platform, telling part of the truth, and nothing but, but never the whole truth nor the most vital truth. I have talked with some of them when the lectures were over, and a flare in the eye has said, 'This is for public consumption; but you and I know that the realities are not to be put into words.'"
And in Robert Stead's Dennison Grant, his returned hero doesn't talk about the war with his friends except for "trivial things" or "some humorous incident." Instead, "He preferred to forget both the glories and the horrors of war."
The most dramatic postwar response is that of Rod Norquay, the hero of Bertrand Sinclair's The Inverted Pyramid. Returning home embittered by his experience, he suffers a kind of heart stoppage one night: "...by some supreme effort of a body dying if not already dead he twisted himself sidewise, set his feet on the floor, hauled himself erect by a bedpost . . . No pulse, scarcely a breath; speechless. He could not utter a sound."
Rod drives his failing body out of the room and stamps down a flight of stairs, more or less pop-starting his heart. Whether reality or hallucination, it's an effective image of a traumatized veteran trying to reclaim his life.
But these are about the only mentions of what we now call PTSD. In the 1970s, the half-crazed "Vietnam vet" became a convenient plot gimmick for TV melodramas -- those guys would do weird things for no good reason.
New name, new tactics
Apart from movies and TV, PTSD began to attract medical attention through the 1970s, becoming established in the third edition of the Diagnostic and Statistical Manual of Mental Disorders (DSM-III) in 1980. The military also began to study PTSD more carefully, though not always with the soldiers' best interests at heart.
In his 1988 book No More Heroes, military expert Richard Gabriel documented the problem of the terrified and traumatized soldier. In World War II, he tells us, army psychiatrists found that every American soldier who endured 30 consecutive days of combat showed signs of mental illness. The only exceptions were those already diagnosed as psychopaths; they were doing fine.
Gabriel reported that for years the army tried to develop a drug that would eliminate fear in ordinary soldiers, making them effectively psychopathic killing machines. Those experiments must have failed, because we still have PTSD.
If anything, we seem to have far more of it today than we did after World War II. A striking number of Canadian and American soldiers have come home from the Afghan and Iraq wars with serious mental issues.
In 2009 The Tyee reported that over 4,000 veterans were receiving benefits for PTSD or "operational stress injuries." More recently we've learned that at least 59 Canadian veterans and serving soldiers have killed themselves after serving in Afghanistan.
Not just soldiers
Last year the RCMP launched a five-year mental health strategy for its employees. Evidently that wasn't enough to help four current employees, who are suing the RCMP for PTSD suffered from harassment and sexual violence inflicted by their fellow-officers.
Similarly, the Vancouver Firefighters' Charitable Society gives considerable attention to PTSD and acute stress disorder (ASD) on its website. And a 2013 study of work-related PTSD found that rates in health care workers could range as high as 20 per cent. Among war correspondents, the rates are close to 30 per cent. All told, 10 per cent of American women and five per cent of men suffer PTSD at some point in their lives.
Strikingly, work-related PTSD rates in Europe are lower than North America's -- probably, the study suggests thanks to a good psychosocial work environment, good training, social support, and proper follow-up after critical events.
Stress-related health disorders are almost predictable in professions demanding physical courage and responsibility for life-or-death decisions. The culture of such professions prizes toughness (also called "professionalism"), stoicism, and the ability to "suck it up" and "soldier on." Any self-reported malaise may be seen as a fatal weakness: even if you're not malingering, you're not up to the demands.
Remember the living
In notoriously macho professions like soldiering, policing, and fire and rescue, such values are hard on men and likely even harder on the women who are otherwise highly qualified for such work. We might also consider a little extra psychological screening for the people who rise to the top in such professions: If they haven't had problems, that in itself may be a problem.
PTSD may help to explain not just veteran suicides and alcoholism, but also the ongoing wave of American police shootings, which as of Nov. 10 had reached 1,020 in 2015 alone. Every problem looks like a nail when your only tool is a hammer. When your tool is a sidearm and you're living under stress, every problem looks like a reason to fire.
On Remembrance Day we honour the suffering of Canadian men and women who fought and died so the rest of us could get on with our lives. We have been promising for a century to make this "a land fit for heroes" as a reward to them, and abjectly failing to do so.
Nor have we given much respect, much less honour, to those who returned with "racked nerves in an unmaimed body." If anything, we have only made matters worse for them: We have not just failed to recognize their pain, we have often punished them for expressing it.
If we still have any scrap of the idealism with which we entered a century of war, we need to recognize and care for all that century's victims.