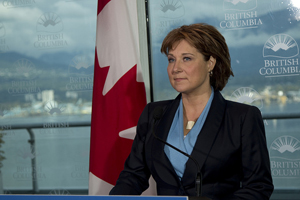 The information and privacy commissioner's report condemning the BC Liberal government isn't really about openness or freedom of information.
It's much bigger. Commissioner Elizabeth Denham's report is really about corruption and a fundamental threat to democracy.
The state has immense power, and politicians and their operatives are motivated to wield that power to protect their own interests.
Citizens, ultimately, are protected by the rule of law. If the state's agents put themselves above the law, citizens have lost the most important thing standing between them and oppression.
And Denham's report revealed that this government put itself above the law. You can and should read the full report.
But consider just the section on the premier's office and its approach to the Freedom of Information and Protection of Privacy Act.
The law says when an FOI request is received, the responsible person "must make every reasonable effort to assist applicants and to respond without delay to each applicant openly, accurately and completely."
In the premier's office, the person responsible was Evan Southern, also the director of issues management. He said he had one hour of FOI training before taking on the responsibility.
When an FOI request was received, Southern said, no matter how complex, he put nothing in writing. He asked the nine other people in the office individually -- not by email or on the phone -- if they had any documents that fell under the terms of the request. He accepted whatever they told him.
Southern said he wrote the names of people on Post-It notes as he spoke to them and then threw the notes away. That was the documentation.
The process is inherently ludicrous, an approach to FOI requests designed solely to leave no paper trail for future FOI requests. No evidence of who was asked, what they were asked for or when.
More importantly, the process broke the law. The office is required to respond openly, accurately and completely "without delay." Southern's refusal to use email meant time was lost until he happened to be able to have face-to-face conversations with people who might spend most of their time in the Vancouver office.
Not one email
Denham was reviewing a specific FOI request Southern had handled. The applicant had sought all emails sent by Michelle Cadario, Premier Christy Clark's deputy chief of staff, over eight days last November.
Cadario said there were no responsive records, not one email, and that's what the applicant was told.
But the same person filed a similar request seeking email records from Clark's chief of staff Dan Doyle. And those included emails from Cadario from the same period.
Cadario told commission investigators that she deleted all her sent emails every day. They qualified as "transitory documents," she said. Every single one of them. So she had nothing to provide.
Government policy says transitory documents don't need to be kept. The list of examples ranges from "announcements of social events" to "drafts and revisions that are not needed to document decisions."
Cadario claimed nothing she produces is significant enough to retain as she isn't involved in policy creation.
But Denham noted Cadario's job description includes providing strategic advice "to advance government's policy and legislative objectives." Commission investigators recovered emails that should have been retained and disclosed.
By deleting virtually all emails, Cadario broke the law, Denham found. Her "broad interpretation of transitory records has resulted in emails that she should have properly retained not being available" and made it impossible for the premier's office to fulfill its legal obligations.
The commissioner found similar violations of the law in the Transportation Ministry and the Advanced Education Ministry.
No accountability, no explanation
These are not "interpretations," as Transportation Minister Todd Stone tried to claim. The info and privacy commissioner, under the law, makes rulings. Government can appeal through an adjudication process involving a Supreme Court justice.
The government's response has been anemic. Clark ordered staff to stop "triple deleting" emails, a process that made it impossible for forensic experts to recover files. And she asked former privacy commissioner and deputy minister David Loukidelis to review the 11 recommendations in the report.
But to date, only a ministerial assistant found to have lied under oath about deleting emails was fired. No one else has been disciplined for breaking the law. Clark hasn't apologized. There have been two days of weaseling in Question Period.
There has been no accountability, no explanation for government inaction on years of reports setting out similar problems and abuses. Denham's report invites the conclusion that there was a widespread belief in government that they were above the law.
And if politicians and their appointees will break one law to protect their interests, they will break any law. The only test is whether they will get caught. (And without the whistleblower in this case, they wouldn't have been caught.)
This isn't really about freedom of information anymore. It's about the rights of all citizens to be able to count on the rule of law to curb abuse by the state.
And today, British Columbians have little reason to believe they have that protection.
*Photo caption clarified on Oct. 29 at 10:25 a.m.