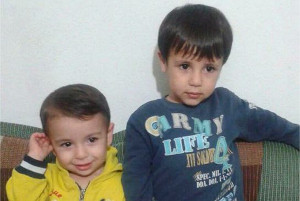 It might have been the shore at Spanish Banks, or the edge of a lake in Ontario's cottage country. It was every parent's nightmare. Alan Kurdi's little body on a Turkish beach might have been our kid's, in the moment when everything good in our life vanished.
I just looked away for a second --
I was sure he was safe --
I should have --
If only --
But no excuse will serve, no alibi will stand up. Alan is beyond all suffering, but he is also beyond forgiving us. "One" used to be pronounced "own," and "atonement" means to become "at one" again with those we have wronged. But we can never become at one with Alan Kurdi.
One toddler's death has become the image of hundreds of thousands of deaths. The whole horror of a century of Middle Eastern wars has suddenly been embodied, clothed in shorts and a red T-shirt, and gently washed onto a Turkish beach. Stalin observed that "One death is a tragedy; a million deaths are a statistic." But Alan's is that one death.
The world's response to the photograph was a kind of subduction quake on the web, a nine-point shock followed by world-circling tsunamis of anger and grief.
Canada's political terrain has focused those tsunamis on us. The Kurdi family, we soon learned, was one of ours: Alan's aunt Teema is a Canadian living in Coquitlam, who had been trying for months to get her brother Abdullah's family out of Syria and safely into Canada. We were the safe haven, where Alan and his big brother Ghalib might have grown up with every chance for a good life.
Failing the Kurdis, and ourselves
So our own good life turns to ashes when we realize our complicity in the death of Alan Kurdi. We have done far better than this in the past; we have failed not only the Kurdi family but ourselves.
After all, we were the country that took in tens of thousands of Hungarians after the 1956 uprising, and tens of thousands more Vietnamese boat people in the 1970s. Chileans, Czechs, Ugandan Ismailis, even American war resisters all found a welcome here -- and seized the chance to give back to their new homeland.
In those days, at least, we knew that doing good is more important than doing well. But somewhere along the way, perhaps as our own living standards began to fall, we decided that charity begins -- and ends -- at home. Doing good might be a hobby for billionaires like Bill Gates, but not for the likes of us, living as we did from paycheque to paycheque with mortgages to service.
So we elected a government that, we thought, could keep the paycheques coming while protecting us (on the cheap) from foreign threats.
Simply by dying, Alan Kurdi has refuted that government's pretences, and our own. We might like to plead extenuating circumstances, or blame others, but our government -- especially Immigration Minister Chris Alexander -- shows such arguments to be both self-serving and self-degrading. In a quarter of an hour on CBC-TV's Power and Politics on Tuesday, Alexander proved that well.
Yesterday, Alexander suspended his re-election campaign, ostensibly to get back to Ottawa and mind the store. On Thursday he showed up again on Power and Politics, less defensive but just as misleading (conflating Iraqi and Syrian refugees, for example). He must know his campaign is now badly damaged.
A self-laid trap for Harper
Nor has his boss Stephen Harper behaved much better. Harper had the common sense to cancel a good-news announcement in Surrey about federal funding for light-rail transit yesterday, but he still insists that bombing the Islamic State is the only way to deal with the refugee crisis now convulsing the world. How creating more refugees would do this went unexplained.
The Harper government has laid this trap for itself by committing Canada -- once an impartial, honest broker -- against Muslims in the Middle East. Harper could justify his position only by demonizing them again and again.
Remember Israel's war against Hezbollah in Lebanon in the summer of 2006? That was when Harper shrugged off the death of a Canadian UN observer, killed by Israeli artillery.
In case after case, Harper's government neglected Canadians in trouble overseas who happened to be Muslim, or even just Arab: Omar Khadr, of course, but also Ahmad Al Mati, Abdullah Almaki, and Muayyad Nureddin; their experiences and those of Maher Arar were documented by Kerry Pither. (Arar at least got an apology from Harper, and the RCMP have finally got round to charging Arar's Syrian torturer.)
Abousfian Abdelradik, another Canadian, was jailed and tortured for three years by the Sudanese government, then left stranded in Sudan for years despite his innocence. And of course we did nothing useful to help Canadian journalist Mohamed Fahmy during his imprisonment by the Egyptian government.
Or need we mention the Conservatives' niqab ban imposed on Muslim women who wish to become Canadian citizens?
Once, they say, is an accident. Twice is a coincidence. Three times, and it's enemy action. The Harper government appears on the evidence to be the enemy of Muslims who also happen to be Canadians -- or just want to become Canadians.
A default condition
In this, we have returned to a default condition in Canadian politics, the rejection of the outsider. From "no Irish need apply" after the Potato Famine, to the Chinese head tax, to the residential schools, to the barring of the Sikhs on the Komagata Maru, to the exclusion of Jewish refugees fleeing Nazi Germany, to the deportation and bare-faced robbery of B.C.'s Japanese Canadians after Pearl Harbor, something mean-spirited and spiteful has always lived in our politics.
Only gradually did we suppress it after the Second World War, and clearly we didn't kill it. The Conservative government has adroitly shifted that spite, and used it to involve us in a loser's role in the Great Muslim Civil War now raging in the Middle East and parts of Africa. Predictably, millions of Syrians and others in that war have seen no hope for their families but flight to uncertain havens.
We have been that haven for very few, but the Kurdi family had held some hope of being in that few. Instead, their hopes ended in the sea off the beach of Bodrum.
So we cannot atone for Alan Kurdi. But we can become at one with ourselves again by adopting wiser and more humane policies for some of the countless other Syrians desperate to save their children -- the sooner the better, and the more the better. Failing to do so will only give us reason to despise ourselves again as still more children's bodies wash ashore.