Do our digital homes deserve the same right to privacy as our brick-and-mortar homes?
This is one of the questions Canadians are asking after CBC News revealed that a government spy agency -- the Communications Security Establishment (CSE) -- targeted popular mobile browsers and apps, leaving millions at risk of having their private data hacked.
This is the latest in a long series of revelations about how the government has been spying on our private online activities on a massive scale -- without ever going to a judge to ask for a warrant.
Earlier this week, we launched a crowdsourced pro-privacy action plan, to tackle these and other concerns. The early reception has been positive, with the federal privacy commissioner stating that he "shared many of the views expressed by participants in this project."
As part of our crowdsourcing process, we presented participants with a range of privacy priorities, which we asked them to rank in order of preference. Top of Canadians' list was "require a warrant for government to spy on personal information," which barely edged out "end blanket surveillance" for the number one spot.
We drilled down further by asking in what circumstances should the government be allowed to access Canadians' personal information. Again we presented a range of options, and this time the result was overwhelming:
Over 93 per cent of participants said a warrant granted by a judge is a must when it comes to accessing your personal information. Independent studies, such as this one by the privacy commissioner and this one by Forum Research, reinforce these findings.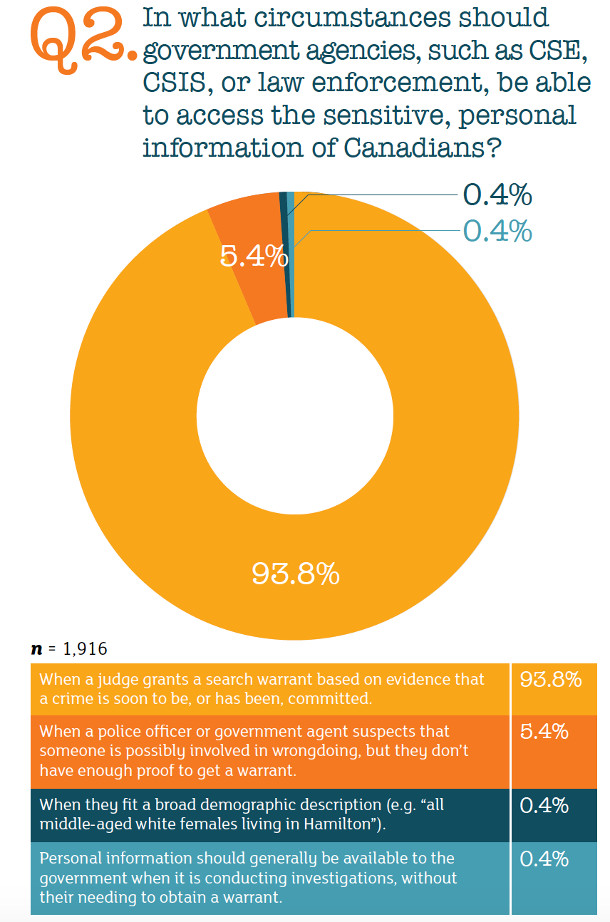 Warranted concerns
So, the desire of Canadians for strong warrant safeguards couldn't be clearer. But sadly, our political leaders have a lot of catching up to do. Under this government, our centuries-old system of warrant safeguards has been systematically undermined.
Here are five key examples that Canadians should be paying attention to:
First, Bill C-51 empowers the Canadian Security Intelligence Service (CSIS) to obtain sweeping amounts of personal information that Canadians provide to government agencies in the course of day-to-day life. Experts warn this would enable CSIS to "ransack the government records" of people they disagree with, in most cases without needing a warrant.
Second, Bill C-13, the government's spying bill passed last year, granted full legal immunity to telecom providers who hand the government their customers' personal information without a warrant -- a huge concern given that even a simple name and address can be hugely revealing when linked to an IP address.
Third, the government's CSE spy agency has been implicated in a long series of mass surveillance activities. These untargeted mass surveillance activities capture everybody in their dragnet without any requirement for CSE to obtain a warrant.
Fourth, security agencies were revealed to have made a staggering 1.2 million requests for Canadians' private information in a single 12-month period -- in the vast majority of cases without a warrant.
Fifth, and finally, a narrowly-divided Supreme Court ruled that a warrant is not required for police to search the smartphones of people they arrest.
Canadians' demands
In light of these worrying developments, and based on feedback from Canadians, we propose a series of common sense steps to restore privacy safeguards and ensure that a warrant is required every time the government wants to spy on your online activities. These include:
• Ending legal immunity for telecom providers who hand our private information to the government without a warrant.
• Making sure the government needs to meet a strong threshold of proof in order to search deeply revealing metadata about people's private internet activities.
• Preventing spy agencies from conducting blanket surveillance activities without a warrant.
• Mandatory reporting from government agencies about the number of times they seek to obtain Canadians' private information.
• Stronger privacy rules to force telecom companies to be much more transparent about their co-operation with warrantless government requests for information.
• Legislation to make clear that a search warrant is required for police to search the smartphones of people they arrest.
Readers interested in learning more about these steps can check out chapter two of our privacy plan.
Bottom line: we would never accept a police force empowered to search our homes or private possessions without a warrant. This gives us reassurance that an impartial judge, responsible for upholding our Charter rights, signs off on any search. So why should our digital homes be any different?
The recent trend toward weaker digital privacy is neither unstoppable nor irreversible. It's clear where Canadians stand. But decision-makers will not take action unless they are put under pressure. With online privacy and Bill C-51 shaping up to be major issues in this October's election, we finally have a chance to win the stronger privacy safeguards we all deserve.