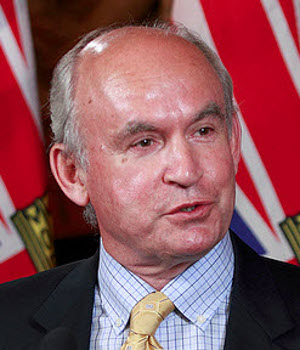 The public believes big political donations from corporations and unions buy special treatment from government.
The people writing those big cheques think so too. They spend the money expecting it to pay off in future.
The only people who don't believe that are the politicians getting the cash.
Maybe the Mount Polley mine disaster will finally force them to question the effect of unlimited contributions by special interests in this province.
Imperial Metals has given at least $233,000 to the BC Liberals since they have been in power. Billionaire Murray Edwards, a major shareholder, arranged a dinner in Calgary that raised more than $1 million from energy and mining companies for Christy Clark's Liberals.
Most people figure that money matters. That when someone who gives hundreds of thousands of dollars to a party calls a politician, they get access and a chance to ask for favours. That they are buying special treatment.
The people taking in all that cash, unsurprisingly, disagree.
Like Mines Minister Bill Bennett.
"It's really insulting for anybody to suggest that because we take donations from a group of corporations like the mining industry that we're going to cut them a break," he told Mike Smyth of the Province newspaper. "We can't be bought, OK?"
But most people think they can be bought, or at least influenced. Research has found 90 per cent of Canadians think people with money have a lot of influence over government. Last year, an Angus Reid poll found 70 per cent of British Columbians want union and corporate donations banned.
Political campaigns today run on lots and lots of money. Offending big donors could cost a party the next election.
Betting on the future
Even more significantly, the donors believe they are buying future benefits by backing the winning side.
They don't say that. They talk about supporting the democratic process, and ensuring the election of a government that will create an environment that advances the interests of their shareholders or, in the case of unions, their members.
But that's baloney.
Look at Imperial Metals' pattern of donations. The company consistently donated to the Liberals as long as the party was doing well in the polls.
That's understandable, given the Liberals' enthusiasm for making it easier and cheaper to develop and operate mines in the province. Shareholders would be well served by money spent to keep a Liberal government in power.
But then came the HST, the plunge in Liberal popularity and the possibility, then likelihood, of an NDP victory in 2013. Imperial Metals started to hedge its bets, with small donations to the New Democrats in 2010 and 2011 and much larger contributions in the run-up to the election. All in, the corporation gave about $43,000 to the New Democrats in pre-election donations, after years of contributing nothing.
The NDP policies hadn't changed. And Imperial Metals was still contributing much more money to the Liberals.
The logical conclusion is that Imperial Metals considered the donations a way of buying influence, or access, if an NDP government was elected.
Managers of corporations like Imperial Metals have a legal obligation to act in shareholders' best interests. Those managers and owners could not argue that an NDP government would be best for the company. The fact that they were contributing much more to the Liberals confirmed that.
They apparently were hoping to buy future favourable treatment.
The Imperial Metals management group wasn't alone. In 2009, the NDP reported $211,000 in contributions from corporate donors. For the 2013 campaign, corporations contributed $2.1 million, a tenfold increase.
The New Democrats didn't become champions of business. But they did look like they would win the election. So businesses contributed in hopes that they would get special treatment by the expected NDP government. There really is no other explanation for the jump in donations.
The Martin example
There are lots of other examples, but my favourite remains Paul Martin's campaign for the federal Liberal leadership in 2003. Martin pulled in an incredible $12.2 million, almost entirely in large donations, many from corporations or organizations that deal with or were regulated by government.
Martin, who had coveted the leadership for years and been collecting donations for his campaign since 1998, had the race won by late 2002, locking up delegates with the help of organizers like Mark Marissen and Dave Basi.
But the donations kept pouring in long after victory was assured, including more than $1 million in the three weeks before his coronation.
The only explanation, especially for corporations required to act in shareholders' interests, was an expectation that there would be future benefits when Martin was in power. (Or that failing to donate would bring reprisals.)
If donors believe they are buying special access or treatment with their donations, it's hardly surprising the public shares that view.
I can't read politicians' minds. Maybe Bennett would be no quicker to return a phone call from Murray Edwards because he has given a lot of money.
But I know people and the way organizations work. If Edwards is known as a pal of the premier, someone who can deliver millions in donations over the life of a government, at least some government employees will be unable to entirely forget that connection when faced with a subjective decision affecting his interests.
B.C. remains one of three provinces that allow unlimited political donations from corporations and unions, in both provincial and municipal elections.
The Mount Polley disaster gave concrete form to the general public suspicion that big donors had big influence. It should be the spark that brings an end to big donations to political parties.