As authorities scramble to clean up one of Canada's worst industrial disasters following the Mount Polley mine breach, cuts to mine and dam inspections since 2001 combined with Imperial Metals Corporation's at least $233,710 in BC Liberal Party donations since 2003 is adding insult to injury for some.
The campaign donations are slightly less than the $300,000 in fines the B.C. government has threatened the company with if it fails to comply with conditions for cleaning up the breach, which caused 10 million cubic metres of water and five million cubic metres of tailing solids to spill into the Cariboo region watershed on Monday.
"Companies that have given large donations to the BC Liberals walk away with nothing more than slaps on the wrist for various regulatory infractions," said Dermod Travis, executive director of IntegrityBC, a nonpartisan transparency watchdog.
"There is an ongoing suspicion from the public that these donations aren't being made by companies that just want to be good corporate citizens, but that they want to ensure their voice is heard in the regulatory process... it adds to that cynicism."
Despite three sets of downstream water samples announced Thursday, the government has not yet released toxicity samples of sediments and solids that spilled from a tailings dam, which held hundreds of tonnes of arsenic, mercury, lead and cobalt.
Breakdown of contributions
According to Elections BC's contributions registry, Imperial Metals and its various B.C. mine subsidiaries -- Mount Polley Mining Corp., Red Chris Development Co. and Huckleberry Mines Ltd. -- donated a total of $277,120 to various political parties and candidate campaigns since 2003, the earliest data available.
Out of that quarter-million in partisan financing, $233,710 went to the BC Liberals or its candidates, representing more than 84 per cent of its contributions.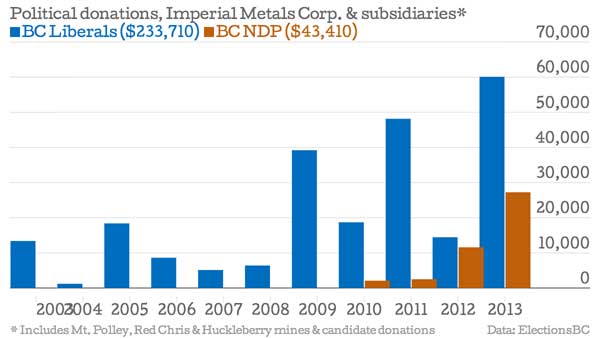 Imperial Metals Corp. also gifted $3,000 to the 2009 re-election campaign of today's Minister of Energy and Mines, Bill Bennett, who told reporters on Wednesday that his government will "determine how this happened" and was "devoting every possible resource to this issue that we can muster."
"If the company has made some mistakes and are the cause of what happened, they will have to acknowledge that and they will have to bear the cost and responsibility for that," Bennett added. Imperial Metals also gave $2,500 for Premier Christy Clark's party leadership race in 2011, but hedged its bets and also gave to rivals George Abbott and Kevin Falcon.
Starting in 2010, the company and its mines also gave a total of $43,410 in donations to the BC New Democratic Party, ramping those up two years later as opinion polls began to suggest the Official Opposition could win last year's election, including $2,500 to current NDP head John Horgan's leadership campaign.
The political contributions go even higher if one searches for donations from Imperial Metals' majority shareholder, Murray Edwards, and his firms Resorts of the Canadian Rockies ($40,972 to the BC Liberals since 2003) and Ensign Drilling Partnership ($15,000 to the BC Liberals).
Inspections drop
For now, IntegrityBC's Travis argues that it is "incumbent" on the government to disclose all of its communications with Imperial Metals so the public can ensure there was no conflict of interest or regulatory favours -- particularly as the donations coincide with cuts to inspections over the years.
As The Tyee reported on Thursday, since the BC Liberals took office in 2001, mine inspections plummeted by nearly half in the province. In a 2010 internal memo, a senior environment ministry engineer warned that staff cuts would lead to "negative results, which in the field of dam safety are represented by dam failures," and called for increased funding and a more consistent approach to dam inspections, since the oversight of tailings impoundments is delegated to the mines ministry.
According to the Chief Inspector of Mines' annual reports, as the number of mine inspections dropped from 2,021 visits in 2001 to a decade-low of 309 in 2004, so too did the number of investigations pursued -- from 19 in 2001 to only three in 2004, an 84 per cent drop.
By the last year of available data, 2012, ministry visits to mine sites rose back up to slightly more than half the original number, or 1,163. But only 875 of those visits were actually inspections, the reports reveal.
Likewise, from 2001 to 2004 ministry inspectors issued more than 92 per cent fewer environmental orders, despite a rise in "dangerous or unusual occurrences" specifically associated with tailings ponds during that period, from five such incidents in 2001, to nine and seven in 2003 and 2004, respectively.
Repeated interview requests with Energy and Mines Minister Bill Bennett were declined, and his ministry spokespeople would not comment on the donations.
The Ministry of Environment has also declined Tyee interview requests, but emailed to say it was investigating the accident and had issued several warnings about Mount Polley mine in the months preceding the disaster. In May, the ministry warned Imperial Metals that the water level behind its earthen tailings dam was too high.