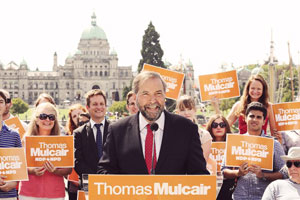 "How wonderful that we have met with a paradox. Now we have some hope of making progress." -- Niels Bohr, Danish physicist
While New Democrats cry in their beer in Nova Scotia after last week's stunningly disastrous election fall from power to third place, and in British Columbia after blowing a "sure thing" election, federal NDP leader Tom Mulcair might want to drink champagne.
That's because despite the loss of party allies, the NDP nationally almost always suffers in provinces run by NDP governments.
Indeed, the paradox of provincial power means Mulcair's NDP Members of Parliament in B.C. and Nova Scotia just saw their seats get a lot safer in the 2015 federal election.
The evidence? Look back to the watershed 1988 federal election in B.C., fought over the Free Trade Agreement with the United States brought in by Conservative Prime Minister Brian Mulroney.
The NDP in B.C. took 19 of the province's then 32 seats, leaving the Conservatives with 12 and the Liberals just one.
But in 1991, the BC NDP took power provincially under Mike Harcourt and the federal NDP went into a steep decline. The 1993 federal election saw the NDP devastated in B.C., dropping from 19 seats to just two, after two years of the Harcourt administration.
The next federal election in 1997 came with then-NDP premier Glen Clark in power for a year -- with the national party claiming just three seats in B.C.
The 2000 federal vote occurred with unpopular ex-NDP premier Ujjal Dosanjh polling in the low 20 per cent range -- and only two NDP MPs were elected.
But once the BC NDP was demolished provincially in 2001, federal fortunes quickly improved. The federal NDP took five seats in 2004, doubled to 10 in 2006, nine in 2008 and won 12 in the 2011 election.
The same paradoxical pattern plagued the federal NDP when the revered Dave Barrett led the provincial NDP to form B.C.'s first social democratic government in 1972.
The federal NDP went from winning seven of 23 seats in 1968 despite new prime minister Pierre Trudeau's popularity and 11 seats in B.C. in the 1972 national vote to just two seats in 1974.
That fall from grace came as Barrett's government implemented sweeping and at the time often unpopular changes, such as introducing public auto insurance and the Agricultural Land Reserve. They survived but the NDP government didn't.
With Barrett vanquished by Social Credit premier Bill Bennett, the federal NDP bounced back to collect eight seats in the 1979 election.
Dexter's fall
If B.C. is any example, the federal NDP in Nova Scotia would have been similarly disadvantaged by the unpopular provincial government led by NDP premier Darrell Dexter that was trounced Oct. 8, dropping from 31 seats to just seven and into third party status after only one four-year term.
It's also worth looking at the contrast between Dexter and outgoing BC NDP leader Adrian Dix.
Dexter was an affable, TV-friendly leader who seemed destined to win a second term in 2011, riding high in the polls and with a huge $25-billion federal contract to build new warships announced that would bring thousands of jobs to Nova Scotia.
But Dexter broke an NDP promise not to raise taxes, hiking the Harmonized Sales Tax by two per cent in 2010 to Canada's highest rate to deal with an inherited deficit and increasing power rates.
And after it was revealed after the shipyard deal that Nova Scotia was providing Irving Shipbuilding with a $260-million potentially forgivable loan to upgrade its facilities, the good news turned to bad for Dexter.
Add in an MLA expense scandal that began before he took office along with other local issues and presto -- no more NDP government. Embarrassingly, it marked the first time in 130 years that a government was defeated after just one term.
A fickle electorate
While Sun News political commentator Warren Kinsella, a diehard Liberal, makes the outlandish claim that the Nova Scotia election results were Tom Mulcair's fault and "wouldn't have happened if [Jack] Layton was still federal leader," the reality is that the NDP government committed political suicide unaided by the national party.
Veteran pollster Mario Canseco of Insights West also doubts Kinsella's analysis.
"I don't agree with Warren. There's been a tendency from Tories and Grits to deify Layton in an effort to make Mulcair seem weak," he said via email. "I don't think there's much anyone could have done about Dexter."
Kinsella is hardly neutral on Mulcair, calling him variously "a disgrace," "unfit to be prime minister," and "gutless."
"Mulcair can remain a more attractive option without carrying any burden from the provincial defeats," Canseco says. "B.C. shows that the federal party chose wisely by not selecting Brian Topp as leader, and aside from looking at Nova Scotia as a historic failed re-election, I see it more as a sign of a fickle electorate who have sent their government to third place twice in a row-- the Progressive Conservatives in 2009 and now the NDP in 2013."
Too moderate?
Other commentators like Tom Walkom of the Toronto Star more interestingly point to the moderate approach favoured by Dexter and proposed by Dix -- "Change for the better. One practical step at a time" -- to argue that left-wing voters were disillusioned and unenthusiastically stayed home, leading to both NDP defeats.
It's an arguable case, particularly in Nova Scotia after four years of NDP governing, but one which has to be tempered with the reality that Dix, who I supported, pledged from his leadership campaign on to raise corporate taxes, reinstitute a capital tax on financial institutions, oppose the Enbridge Northern Gateway pipeline and address social inequality. None of those positions were ever described as moderate either by the BC Liberals or business.
The Manitoba NDP experience is also telling. The provincial party is enjoying its fourth consecutive term, proving it has the campaign smarts, staying power and governing ability to succeed like the NDP previously in Saskatchewan, whereas B.C., Ontario and Nova Scotia have mostly failed.
But the federal NDP's fortunes during those four terms in Manitoba have been less than stellar, though not as roller coaster as B.C.'s. Manitoba has elected between one and four NDP MPs of its current 14 seats during the provincial party's tenure, first under Gary Doer starting in 1999 and then Greg Selinger in 2009, both regarded as moderates.
Regardless of the moderation debate -- and it's a critical one for the NDP -- what is unequivocal is that the federal NDP may have dodged two bullets in 2015's election by seeing its provincial wings in B.C. and Nova Scotia relegated to opposition, not government.