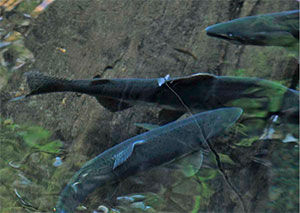 [Editor's note: This Tyee special series in co-operation with the Environmental Law Centre at the University of Victoria reveals what leading experts in environmental law say are needed improvements for protecting natural B.C. To read all their recommendations, download the free electronic publication Maintaining Natural British Columbia for Our Children: Selected Law Reform Proposals. Today: securing the future of British Columbia's iconic salmon and other fish species.]
The federal Fisheries Act -- first enacted in 1868 -- has been one of Canada's strongest environmental protection laws. The act has been effective because it's done more than simply protect individual fish -- it was one of the first laws to recognize larger ecological processes and protect the habitat that species depend upon. However, Ottawa recently weakened Fisheries Act's habitat protection.
It is critically important that the province now step in to attempt to fill the regulatory gap and protect fish habitat.
For years, Section 35 of the Fisheries Act prohibited "harmful alteration, disruption or destruction" (HADD) of fish habitat. Where a proposed activity could harm, alter, disrupt or destroy the waters and ecosystems where fish live, habitat officers had to approve the project before the work commenced. Those approvals often involved environmental assessment and measures to compensate for habitat loss.
Although officers had discretion to allow fish habitat to be harmed or destroyed, Section 35 preserved much habitat -- and required the creation of much new habitat in compensation. This beloved federal law prevented hundreds of kilometres of riparian habitat from being paved, rip-rapped, seeded for lawn or otherwise degraded.
However, the era of comprehensive habitat protection ended abruptly in June 2012 when the federal government amended the Fisheries Act. Its omnibus budget bill, C-38:
1. Merged the HADD provision and the prohibition against killing fish into one prohibition against "serious harm to fish that are part of a commercial, recreational or aboriginal fishery, or to fish that support such a fishery;" and
2. Narrowly defined "serious harm to fish," for legal purposes, as "death of fish or any permanent alteration to, or destruction of, fish habitat."
These Fisheries Act amendments mean that federal authorization is only required for potential impacts on commercial, recreational or aboriginal fisheries, or to fish that support such a fishery. And the level of harm that triggers an authorization requirement is now much higher.
Many activities that have an impact on other fish and fish habitat -- including non-lethal impacts and non-permanent habitat destruction -- will not be scrutinized.
But perhaps most damaging, Ottawa recently chopped budgets for habitat field offices and staff positions in Fisheries and Oceans Canada (DFO). DFO's budget was reduced by $79 million just months after the introduction of Bill C-38. This will mean losing half of the habitat staff in B.C. that assess the impact of land development on fish and fish habitat. Half as many human resources will be deployable on behalf of fish during environmental assessment processes.
This gutting of fish protection laws and staff has left many asking how the provincial government might fill the regulatory gap and protect fish habitat. This question is timely because the province has spent a number of years working on modernizing one of its oldest laws, the Water Act. The provincial review of best practices in water- and riparian-habitat management is pointing to progressive, community-involved, watershed-scale approaches that work elsewhere.
A number of B.C. laws could be amended to limit the disturbance of fish habitat. At the same time, well-focused amendments could foster community-based ecological planning and create a new generation of habitat stewards. Although not a complete replacement for federal oversight, shoring up these provincial legal tools may help fill the hole in habitat protection that Bill C-38 created.
The province of British Columbia should:
Implement Water Management Plans (WMPs) across the province.
Part 4 of the Water Act gives the minister the authority to designate areas for the development of a Water Management Plan (WMP) if a WMP will address conflicts between water users, conflicts between water users and in-stream flow requirements, and risks to water quality. The minister may also consider concerns about fish, fish habitat and other environmental matters. If adopted by regulation, WMPs can require statutory decision makers such as local governments and provincial agencies to consider fish habitat when making decisions.
Applying WMPs across the province could be a comprehensive approach to ecosystem-based planning that addresses the protection of broader ecological processes, including fish life processes. Amending Section 65 of the Water Act to require all statutory decision makers to ensure their decisions conform to a WMP -- and extending WMPs to include forestry-related decisions -- could effectively replace the lost federal HADD provisions.
Reform the Riparian Areas Regulation and expand its application to all regional districts in B.C.
The Fish Protection Act's Riparian Areas Regulation (RAR) requires that development proposals within 30 metres of fish-bearing water bodies must be assessed by a qualified professional to determine the proposed development's impact on fish. The professional determines a streamside protection and enhancement area for the potentially affected location which becomes a condition of development approval. The Cohen Commission Inquiry into the Decline of Sockeye Salmon in the Fraser River identified numerous failings of this regulation that require fixing.
While the application of RAR has been widely criticized, its premise is sound: protect the riparian habitat that fish depend upon, and fish health will improve. However, at present the RAR applies only to areas within 14 regional districts and their member municipalities. The province should expand the application of the RAR to all regional districts and municipalities in the province, to ecosystem health in general, and make RAR protections more effective.
Apply Section 9 of the Water Act as a replacement for HADD assessments.
Section 9 of the Water Act empowers provincial water management staff to approve proposals to make changes in and about a stream. The Water Act Regulation goes on to require persons making changes in and about streams to protect habitat by complying with terms and conditions imposed by the habitat officer for the timing of the change, minimum in-stream flows, removal and addition of material, the salvage or protection of fish, and restoration.
The Water Act Regulation defines "habitat" as the areas in and about a stream, and includes spawning grounds, nursery, rearing, food supply and migration areas, as well as the quantity and quality of water on which fish or wildlife depend directly or indirectly for their life processes. Section 9 approvals could be applied in a way that would replace HADD assessments and also take into account other ecosystem values.
In a province where salmon are an icon of our way of life and where respect for ecological integrity is a common value, action should be taken to restore comprehensive protection for fish habitat.
For more information see:
Oliver Brandes, Keith Ferguson, Michael M'Gonigle and Calvin Sandborn. At A Watershed: Ecological Governance and Sustainable Water Management in Canada The POLIS Project on Ecological Governance
Bill C-38 and Offloading Fisheries onto the Provinces West Coast Environmental Law.
Final Report of the Cohen Commission of Inquiry into the Decline of Sockeye Salmon in the Fraser River