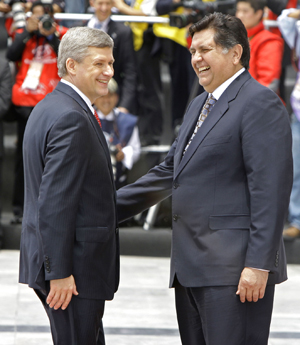 Journalists across the country spent last week gorging on the low-hanging fruit offered by Stephen Harper and Natural Resources Minister Joe Oliver, whose pre-emptive verbal assault on the public hearings into the Northern Gateway pipeline proposal set a new benchmark for unintended irony. "Growing concern has been expressed to me about the use of foreign money to really overload the public-consultation phase," Harper told journalists on Friday, Jan. 6, four days before the Review Panel opened its doors in Kitimat; the following Monday, 24 hours before citizens were allowed to opine, Oliver wrote off their potential concerns in an open letter deriding "environmental and other radical groups that would seek to block this opportunity to diversify our trade. Their goal is to stop any major project no matter what the cost to Canadian families in lost jobs and economic growth."
Political interference aside, the piles of foreign money in Enbridge's account ledger are so high, and the industrial projects supported by First Nations groups who oppose the Northern Gateway so major, that it seems impossible for Harper and Oliver not to have foreseen the media using their logic against them; as the communications coordinator of one radical group told me with a head-scratch, "They're just not that stupid." Who knows? Perhaps they calculated that the average Canadian is that stupid, or that voters would change the channel and flip the page before the obvious retorts came flooding in.
Either way, the episode provoked a powerful sense of déjà vu -- or rather, ya visto, for it was in Peru that I first watched this script unfold.
The other letter
In Oct. 2007, Peru's then-president Alan García penned an open letter to his country that would set the tone of political discourse for the rest of his four years in office. Published under the title "The Syndrome of the Dog in the Manger," García adapted Aesop's fable to his own Amazonian predicament: a jungle full of untapped treasures, blocked by "second-class" citizens who stubbornly resisted industrial development in their back yard. "Many resources aren't being traded, invested in, or generating employment," García wrote. "And all this because of the taboo of outdated ideologies, because of idleness and indolence, or the law of the dog in the manger who says, 'If I don't eat, no one else eats either.'"
García avoided using the words "indigenous" or "native" in his article, but he left no doubt over whom he was comparing to dogs or labelling outright as "second-class citizens." The timing of his polemic was hardly accidental: Canada and the U.S. were on the verge of finalizing free trade agreements with Peru, and our resource extraction companies (the TSX alone hosts 60 per cent of the world's mining companies) promised tens of billions of dollars in foreign investment -- if only the right laws were in place to protect their interests.
It turned out the Dog-in-the-Manger article was simply preparing the ground for those laws. Soon after it came out, García won congressional approval to impose a series of presidential decrees; among other things, these undebated decrees gutted Peru's environmental regulations and reduced from two thirds to one half the proportion of a native community's approval required for multinationals to operate on their land.
The thinking in Lima's presidential palace and corporate boardrooms at the time was clearly that the best way to deal with fractious natives was to trample over them. This had worked for the past five centuries, after all. That logic remained undeterred in April 2009, when every single tribe in the Peruvian Amazon joined a historic uprising to shut down highways, river ports and oil facilities in over half the country to protest the decrees. On June 5, 2009, after two months of half-hearted negotiations, the army descended on the uprising's most troublesome blockade and sprayed bullets into a crowd of 2,000 Awajun protestors. Amazingly, only three died, but another 82 wound up in the hospital with bullet wounds in their backs.
Peru's foreign influences
I flew to Peru soon after that and was astonished at how unapologetic García remained, in large part because the protesters had defended themselves to the tune of 24 dead soldiers -- "a genocide of the police" was how García saw it. He did, however, shift the blame somewhat. Instead of dogs and second-class citizens, it was now "foreign agents" who were responsible for putting Peru's development on hold.
"Who does it suit for Peru not to use its gas, not to find more oil, to be unable to better exploit its minerals?" he asked. "International communists," that was who -- a thinly veiled reference to García's Bolivian neighbour Evo Morales and Venezuela's Hugo Chavez, both of whom eschew free trade with North America. The natives, for their part, wasted no time in explaining who they saw as the foreign agents: Canada, the U.S., and all those multinationals whose industrial leases now cover three quarters of the Peruvian Amazon.
Over the next year, I went from Lima to the desolate stretch of highway in northwestern Peru where the army opened fire, and then on to the riverside communities where the protesters live. One of the men who welcomed me, Joel Shimpukat, still has an arrest warrant against him for helping to organize the blockade; at one point, local authorities had published his photo in the newspaper and labeled him as one of the foreign agents, because unlike most Amazon natives Shimpukat has a thick moustache. But despite a few drops of Spanish blood somewhere in his bloodline, Shimpukat was a respected Awajun leader who grew up on the banks of the Marañon river.
"We are not against all development," he told me more than once in quiet frustration. "But we cannot allow the land and water we depend on to be contaminated or destroyed. Why can't the government talk to us before allowing these projects to go ahead?"
His comments echoed those of Alejandra Alayza, the fiery researcher for a Peruvian NGO called Network for Globalization with Equity (REDGE by its Spanish acronym), whom I met in Lima. "Every time we talk about regulating foreign investment," she told me, "the government calls us radicals. It's as though the most rational way to trade with other countries is to prostitute ourselves and let them take whatever they want."
Another Amazonian leader I met, Zebelio Kayap, took me on a tour of the Cenepa river, a remote and stunning tributary of the Marañon that eventually merges with the Amazon River itself. Gesturing at the dense emerald foliage surrounding the river, he asked, "If the Awajun weren't here, how long do you think it would take our government to mow all this down?" A few hundred kilometres upstream, the Vancouver-based gold mining company Dorato was already busy exploring for gold with the help of helicopters loaned from the Peruvian military. It was Dorato's unwelcome activities, Kayap explained, that had provoked the tribes of Cenepa into joining the doomed blockade
There were also many Awajun who welcomed the prospect of cash payments from the multinationals. The intensely rancorous community debates that arose on this subject were a spectacle to behold, often coming close to blows; at other times, in quiet corners and empty rooms up and down the Amazon, I would be accosted by men with sick wives or uneducated children who whispered that, much as they hated to admit it, they'd be willing to accept the presence of companies like Dorato if it meant an end to their suffering. This tension went all the way to the top, with several prominent native leaders signing declarations of solidarity with corporations and the government alike. Invariably, these signatures were trotted out in press releases, which were quickly followed by more press releases from a different group of chiefs who angrily insisted: "You don't represent our people, we do!"
The descent from dissent
Two years later, it's déjà vu all over again. There's Enbridge posting full-page adverts in The Globe and Mail to announce all the native friends they've made; there's Gitxan hereditary chief Elmer Derrick, locked out of his office for signing on with Enbridge; there's Stephen Harper, speaking for all the world as though Alan García had moved to Ottawa and started whispering in his ear.
Given our substantial role in Peru's recent drama, it seems morbidly fitting that Canada should now be staging a third world show of its own. Now it is our own beleaguered Indians, living in a part of the country most Canadians will never see, who have become the last obstacle in the path of oil barons who, as Oscar Wilde put it, know the price of everything and the value of nothing. Instead of civilized discourse, our news reports deliver all-or-nothing rhetoric from both sides of the table. The possibility that there might be another route by which Enbridge could get its oil to China is nowhere to be heard. More alarming still, dissent is smeared as illegitimate at best and possibly criminal -- it isn't far from "radical" to "terrorist," especially considering that at least eight First Nations have already promised widespread civil disobedience should construction ever begin on the Northern Gateway.
How much lower can we sink? The communications coordinator I mentioned earlier, the one who Joe Oliver would say works for a "radical group," asked me not to mention any names because the group's director (who has decades of experience fighting Big Oil) recently warned all employees to start preparing for the vicious smear campaign that comes next -- hacked email accounts, bugged phone lines, spies posing as volunteers, cars following them at night, all this and more could very well lie around the corner.
Come on. That kind of stuff would never happen here.