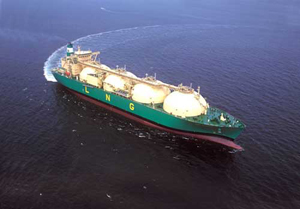 Among the denim-clad crowd at the Inuvik Petroleum Show, two well-dressed Koreans stand out like sore thumbs. Curious, I sit down with them at lunch.
"We're from Kogas," they say. "The Korea Gas Corporation." Why have they come here, to the Northwest Territories?
They go on to explain that South Korea lacks domestic oil, gas and coal reserves. It's a challenging situation for an industrialized country with a population of 50 million.
Kogas is the world's largest importer of liquified natural gas (LNG) which is produced by cooling the gas to minus 162 degrees celsius. This reduces the volume by a factor of 600, making long-range transport possible in purpose-built tankers.
Captive market wants new sources
South Korea receives most of its natural gas from Qatar and Oman. As a captive market, it pays more than twice the North American price -- and is keen to diversify its sources.
Canada is the world's third largest producer of natural gas, after the United States and Russia. It also has a supply surplus because of a controversial technique called "fracking" whereby massive quantities of chemical-laced water are injected into boreholes under pressure, thus cracking shale and releasing previously inaccessible gas.
Kogas has already bought into the shale gas bonanza in northeastern British Columbia, acquiring $1.1 billion of EnCana's assets in February 2010. The challenge, now, is to move the gas to the Pacific Ocean and onwards to South Korea.
It helps that Encana holds a 30 per cent share in a proposed $3 billion LNG terminal at Kitimat, B.C., which will be supplied by new 36-inch pipeline. Back in June 2009, Kogas agreed to take up to 40 per cent of the production from the terminal.
Unlike Encana's proposed bitumen pipeline from Alberta, the gas pipeline has already passed provincial and federal environmental impact assessments. Earlier this month, the National Energy Board began hearings on an application for an export license that if granted, would allow Canadian natural gas to be sold outside North America for the first time.
"This is all very interesting," I tell the two Koreans. "But if I were you, I'd be thinking about liquifying gas from the Mackenzie Delta and shipping it around Alaska and through the Bering Strait."
The Koreans look at each other and smile.
Global warming opens new passages
In December 2010, Kogas spent $30 million for a 20 per cent share of a gas discovery on the northern edge of the Mackenzie Delta. In January 2011, CEO Kangsoo Choo travelled to the Northwest Territories to scope out the coastal hamlet of Tuktoyaktuk, on the Beaufort Sea of the Arctic Ocean, as the site for an LNG terminal.
By ship, South Korea is about the same distance from the Northwest Territories as it is from Qatar, and the sea-ice along the Alaskan coast is melting quickly. The thickest, hardest "multiyear" ice has already disappeared from that side of the Arctic Ocean, rendering it accessible to icebreakers throughout the year. Samsung Heavy Industries, a South Korean company which has already built more than 70 LNG tankers, is busy developing plans for LNG icebreakers.
None of this would even be considered if the Mackenzie Valley Pipeline were moving forward. But when the federal government approved the pipeline in March 2011, it ruled out subsidizing its construction.
With prices depressed by the glut of shale gas further south, Imperial Oil and the other companies behind the pipeline cannot justify the $16 billion cost. This leaves upwards of ten trillion cubic feet of natural gas trapped in the Mackenzie Delta.
Pros and cons
But would shipping that gas to Asia be good for Canada?
If you take the view that natural resources are worth nothing unless they're sold, it make sense to take advantage of our only sales opportunity.
If you're concerned about energy security, the glut of shale gas should allay your concerns -- that, and the fact that gas is becoming a globally traded commodity.
If you're concerned about the environment, natural gas leaks cause much less long term damage than oil spills, because the gas either vaporizes or explodes.
You wouldn't want to live within the "blast zone" of an LNG terminal, and yes, the localized effects of natural gas extraction are often devastating. But if it comes down to a choice between oil tankers and LNG tankers, gas wins every time.
And as the Koreans are quick to remind me, natural gas is the cleanest burning fossil fuel, with carbon dioxide emissions well below oil or coal.
I respond that the energy used in liquification, transportation and re-gasification pushes the life-cycle emissions of LNG about 30 per cent higher than those for conventional natural gas.
The Koreans don't contest the point. They see LNG as the least bad option, since shipping oil or coal also generates higher life-cycle emissions.
With South Korea ranking just 29th in terms of per capita greenhouse gas production, who are we in Canada (ranked 3rd) to criticize them?
Most of the participants at the Inuvik Petroleum Show show little concern for climate change. They just want to see the Mackenzie Valley Pipeline built and are hoping the federal government will at least come through with a loan guarantee.
The Koreans are waiting for a decision, too, while hoping for a different outcome.
"We're looking, not shopping," one of them whispers. "Not shopping -- yet."