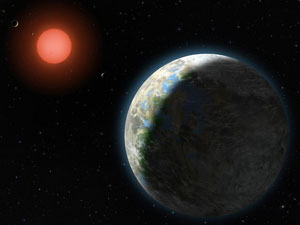 Science websites lit up last week with the news that astronomers have found the first earthlike planet orbiting within the "life zone" of its star.
Before you Google "interstellar emigration," with visions of Pandora and sexy blue giants dancing before you, take a deep breath and get a grip.
The planet in question orbits a red dwarf called Gliese 581, 20 light-years away. The planet itself is Gliese 581g, the sixth world found in the star's system. It's as close to its sun as Mercury is to ours, which is close enough to permit liquid water on its surface.
It doesn't really sound like a nice place. It's three times the mass of Earth, so you'd weigh about three times what you do here. What's more, 581g is tidally locked, with one side always facing its star and the other facing the dark of outer space. You'd have to find a place to live in its twilight zone.
I'm delighted that we've found this planet, and the hundreds of other worlds orbiting other stars. As a kid growing up on the pulp science-fiction magazines of the 1940s and '50s, I wrote my first SF story, about an interstellar expedition, when I was 11.
Half a century of delusion
But the implication of the reports on Gliese 581g is that this is a place worth travelling to and maybe even colonizing. That's what happens when kids grow up for half a century on stories that just retell the European conquest of this planet.
Back in the 1980s, my editor suggested I write a space opera. I did, but it wasn't easy. For the life of me, I couldn't imagine an advanced civilization that would bother to travel between stars. Better to send just information. Then your interstellar pen pals could grow their own humans from our genome, and you could grow your own aliens right here at home. I did include an interstellar invasion, by a species that was out to convert everyone else to its own religion. In other words, the species was crazy.
Nonetheless, SF is still full of star fleets, galactic empires, and aliens who are a lot like us. And we still dream of starships spreading human beings to exotic worlds.
We're kidding ourselves. The Scottish SF writer Charles Stross, probably the best writer in the genre today, has demolished the whole idea of Star Trek-style interstellar travel -- just by crunching the numbers.
420 years on a BC ferry
In a post on his blog in 2007, Stross calculated that it would take 420 years to send a ship the four light-years from Earth to Proxima Centauri at one per cent of the speed of light. Each astronaut would live in a space the size of a trailer home for life. Moving that astronaut would require about 21.6 megatons of energy, and another 380 megatons to move the trailer home.
Within such tiny spaces, about 200 people would have to reproduce themselves, educate their children, and repeat the process. If a starship launched in 2050, it wouldn't arrive until the year 2470. Don't even think about the space and energy needed to transport 420 years' worth of shampoo and conditioner.
"And remember," said Stross back in 2007, "this is only what it takes to go to Proxima Centauri, our nearest neighbour. Gliese 581 is five times as far away."
So we're absolutely right to look for exoplanets orbiting other stars -- but not because we're house-hunting. Whether those planets are gas giants or airless rocks or something in between, we'll never land on them or set up colonies. If we did have the energy and technology to do so, we'd be better off building space habitats designed perfectly for our needs, orbiting conveniently close to downtown Earth.
But the more we learn about those worlds, the more we'll know about our own. In 2003, two American scientists published Rare Earth, arguing that planets like ours are rare indeed. And so, therefore, is complex life.
If we go into deep space, we're not going to find the wookies of Star Wars or the prawns of District 9. At best, we might find something like bacteria under the sands of Mars, or plankton in the deep oceans of Europa.
And when we realize we really have nowhere else to go, we might start to take proper care of this literally priceless planet.