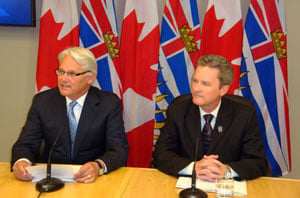 "Secrecy and a free, democratic government don't mix." -- Harry Truman, U.S. president 1945-53
The B.C. Liberal government has got a secret.
Actually, many secrets -- all of them about who knew what and when regarding the sudden imposition of the Harmonized Sales Tax on July 23, 2009 -- just two months after a provincial election when the B.C. Liberals strongly denied the HST was being considered.
As of last week -- thanks only to Freedom of Information requests filed by the Victoria press gallery that took over a year to obtain -- we now do know that B.C. Finance Minister Colin Hansen received a lengthy briefing note on the HST on March 12, 2009 that said the HST could lead to five years of higher unemployment and lower economic growth.
Yet Hansen and Premier Gordon Campbell said in July 2009 that the HST was "The single biggest thing we can do to improve B.C.'s economy."
And we know that three senior staff in the Public Affairs Bureau -- the government's highly politicized communications branch -- were copied on a March 25 email between four finance ministry staff about the possibility that B.C. would get questions about the HST after it was reported that Ontario would implement its own HST.
"We have prepared a note for the minister on this," the email that was sent to PAB officers Rena Kendall-Craden, Gordon Keast and Sherri Patterson states.
But there's far more we don't yet know -- thanks to the government censoring key parts of the FOI dozens of times.
Truth blanked out
One censored email dated March 18, 2009 -- before the Ontario HST announcement -- was sent by Glen Armstrong, the then-acting assistant deputy minister of finance, to Doug Foster, finance's director of strategic initiatives.
"Doug, we have a BN [briefing note] with the Minister on harmonization." Then a section is blanked out, followed by: "I'd like an update from you on what you know so we can send up some supplementary information. It's an important piece."
Other subsequent emails between Armstrong and Foster are completely blanked out by the government as allegedly privileged information.
Then, after the Ontario HST announcement, comes a March 27, 2009 email from Armstrong to finance ministry tax policy advisor Paul Flanagan:
"We will have to update the BN for the Minister based on the MOU [Ontario-federal memorandum of understanding]. We should think about any questions/clarifications we have for the feds re: new rules so we can provide an update next week."
Once again a section that appears eight lines or longer is blanked out.
Then on April 6, 2009 Armstrong sends another email on the subject of "harmonization" to three finance staff -- but an opening section of up to 10 lines is censored, followed by: "Can you pull something together for discussion after my holiday?"
Other emails released by FOI show correspondence back and forth with federal finance officials in Ottawa about HST details before the election.
Censors' sorry excuses
Government staff censoring the documents cited three sections of the FOI Act for not releasing full details.
Those sections which allow withholding information are:
"Section 13: Policy advice or recommendations
"Section 16: Disclosure harmful to intergovernmental relations or negotiations
"Section 17: Disclosure harmful to the financial or economic interests of a public body"
Given that the HST has already been imposed, there's no reason to censor the documents -- and Campbell and Hansen could release the information immediately, if they wanted to.
It's obvious they won't -- unless forced to by public pressure -- because it will only make them even less convincing in their already tattered HST tale.
Hansen on the record
And the now-released HST emails sent prior to the election show that Hansen clearly misled the B.C. legislature and public when he answered questions from NDP opposition finance critic Bruce Ralston in finance ministry estimates debate on Nov. 23, 2009.
Ralston asks: "There was no discussion either by the minister or his officials of the implementation of an HST. Is that the minister's position then?"
Hansen: "That is correct."
Ralston even goes further, giving Hansen another chance to clarify.
Ralston: "I understand that the minister has made his position very clear -- no discussion with any of his officials, no public comment, no decision taken between January and May. Was there any discussion at any point with the premier about Ontario and its implementation of the HST, the investment climate and the reasons why British Columbia might want to reconsider its position?"
Hansen: "No."
Ralston: "And by discussion, I mean personal contact, face-to-face, or any exchange of memos at the deputy minister level or through the email network or anything. There's simply no discussion at any level between the minister of finance, his officials and the premier and his office and his officials about the HST between January, when it was first raised publicly in Ontario, and the end of May. Is that the minister's position?"
Hansen: "That is correct."
No, it was not.
Several finance ministry officials -- possibly some sitting beside Hansen to provide answers -- and several PAB staff all knew that wasn't true.
And the only way voters ever found out was through much-delayed FOI requests -- at no point did Hansen come forward after that debate to correct the public record.
End the cover-up
Hansen continues to insist he wasn't aware of any HST discussion prior to the election -- that he doesn't recall reading the HST briefing note staff prepared for him.
Unbelievable.
What's more, when the Freedom of Information and Privacy Association and the NDP filed separate FOI requests to obtain any finance ministry discussions about the HST prior to the election they were both told there were "no responsive records" to release.
Again, now we know otherwise and both FIPA and the NDP have filed complaints with the Freedom of Information Commissioner.
When it comes to covering up the true story of how the HST was imposed, the B.C. Liberal government is now left wearing a fig leaf in a hurricane.