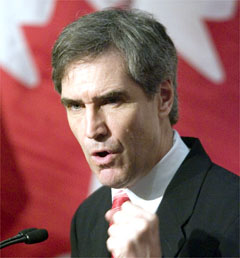 Modern western literature is littered with romantic imagery of the expatriate. Raised on the moveable feast that is the writing of Fitzgerald, Hemingway and Stein, we have come to see expatriate life as exciting, enriching and adventurous at best, idle and decadent at worse. But this fictionalizing through the lives of a handful of fiction writers has obscured what expatriate life means for the rest of us, both its rewards and, most importantly, its costs. For those, like myself, living life beyond our home and native lands -- or those contemplating such a life -- what shall we dream, if not drinking and debauchery on the streets of Montmartre? And in chasing our visions, however noble or naïve, what price might we ultimately have to pay?
These questions, more often fodder for writers and philosophers, have taken on a political dimension in Canada with the ascendance of Liberal leader Michael Ignatieff. Having lived decades abroad before returning home to seek political office, critics allege Ignatieff has few ties to the country, and is just as likely to leave, than stay, if he were to lose the next election. His defenders dismiss these claims —- he is here for good, they say, returning to Canada like his father before him to give back with public service. And that usually is the extent of the discussion -— pundits are concerned with the raw politics of the thing, not reflection. Yet, despite his success as a writer, academic and journalist abroad, when asked about his homecoming in a recent interview, Ignatieff interestingly speaks first and foremost of the price of living as an expatriate.
"The price of expatriation rose for me over time. . . It didn't go down. I began to feel it very strongly. I had a wonderful run in London, but it was a run, and I felt it had come to an end. I missed not belonging. I began to feel, not a stranger, but. . . coming home gave me a sense of being at home."
If political grandstanding was the game, certainly one could do better than that. But Ignatieff is more somber than anything; identifying, instead, a sense of the expatriate's feeling of displacement and longing. Maybe even loneliness, though the word does not really capture the sentiment. The expatriate's calling, after all, is a kind of longing, though not necessarily for home, nor out of loneliness, but for something else found beyond -— knowledge, culture, experience, adventure, travel for travel's sake -— some of that or maybe none of that. Yet, as Ignatieff suggests, sometimes that longing cuts the other way. Sometimes it transforms both the path traveled and the traveler over time, driving him further home, rather than further astray.
Orwell's 'idle' expats
George Orwell, another writer and expatriate, was also transformed by his emotional and political struggles with an isolated existence abroad. The true cost of those struggles, we can only surmise, though Orwell's later repugnancy for the expatriate life altogether -— or at least a certain kind of it -- gives some shape to demons with which he wrestled, or that he had imagined so. Inside the Whale, his 1940 review of Henry Miller, was scathing of the apathetic life Miller and his generation of writers had chosen and Orwell attributed their "idle" and "disreputable" character to their living abroad -— this was a "necessary result of expatriation" he wrote.
Whether Orwell knew it or not, he was perpetuating the image of expatriate made famous by the American writers in Paris; the one he hated and the one that would haunt him those dark days of late 1939 when war with Hitler's Germany was no long an inevitability but a reality. "The 'democratic vistas' have ended in barbed wire" he lamented. In times of peace, passive living drew Orwell's quiet disdain, but in times of war it was apostasy: idleness, apathy, and decadence all posed a threat to the clear thinking and activism necessary to resist the march of fascism in Europe. Yet, the expatriate chattering class embodied all three; their attitude nothing more than a sleepy acceptance of the coming "epoch of fear, tyranny, and regimentation". For Orwell, the true price of expatriation was deeply political; the cost of a life of apathy and decadence meant an inevitable triumph for the enemies of freedom.
Even so, Orwell had once lived as an expatriate. He was not 20 years old when he boarded a ship destined for the shores of Burma to take up a job with the British Imperial Civil Service. Biographers speculate over the true motive for his trip, though it was probably a combination of things; certainly romantic visions of Asia and the prestige of the foreign service were part of what beckoned him beyond the river banks of Eton.
Yet, those days in Burma proved difficult, perhaps the most difficult in his life, with the young Orwell often desolate and torn between his duties as a colonial officer and his growing distaste for the Imperial project.
Burmese Days remains as Orwell's sustained meditation -- albeit fictionalized -- on those years abroad. Its lead character John Flory, like Orwell, was transformed by his sense of alienation in an expatriate community. Yet, Flory remains ambivalent about the possibilities of expatriate life, even remarking at one point to Elizabeth, whom he desired to court: "how you could love this country if you were not alone". Did Flory speak to Orwell's own longing and lost hopes for the possibilities of expatriate existence? For his failure to remake his life in Burma with someone, somehow, and actively challenge the injustices of the system in which he felt trapped?
'Leave the safe harbour'
Mark Twain once wryly quipped that when a man experiences a great failure or disappointment in his life, he either kills himself, or he travels. Of course, Twain was no stranger to travel nor the expatriate life, and those familiar with his story will know he was writing here more from personal experience than sardonic wit. Within years of first receiving recognition as a writer, Twain had already lived and traveled in Europe and the Middle East, writing about it in Innocents Abroad, his best-selling work during his life.
But Twain's most extensive travels were borne of personal failure. His publishing company, in which he had staked his family fortunes in 1884, was bankrupt less than a decade after he founded it. This misfortune foisted exile, and expatriate life, on Twain and family, as he took to lecturing around the world for the next decade to satisfy his debts.
Loss of business, home, and fortune troubled Twain, but it was loss of something else that truly damaged and reduced him during this time abroad -- his daughter Susy. Remaining in America as her parents traveled, she contracted meningitis and died of a fever only months before Twain was to return. Among his children he was closest to her and we need not look further than his creative dearth over the next several years to measure the depths of his devastation, accentuated, sadly, by guilt and regret at missing Susy's last years. "In my despair and unassuageable misery" he would later write to a close friend, "I upbraid myself for ever parting with her."
These personal tragedies no doubt underlined Twain's ambivalence about expatriate life. Despite acknowledging its burdens and living its hardships, he still implored others to "leave the safe harbor" and famously wrote of travel as the best cure for ignorance. Yes, living as an expatriate had its rewards. But Twain, better than most, understood its costs; that the act of seeking, of leaving the safe harbor, meant that not only the explorer, but also what he was leaving behind, was no longer safe.
To ramble is to gamble
And perhaps here lies the expatriate's greatest price and greatest fear too: The idea that the home you leave, the people and places where you belong, will no longer be yours if you decide to finally return.
As an expatriate, I have always felt that the sense of a home, of belonging somewhere else, provides one with the foundation and strength to travel, to explore, to risk things, and keep moving. We may dream of distant lands, but those dreams are forged out of the bedrock of lived experience among family, among those with whom we are kindred, with whom we belong.
The risk of losing all that for the thrills and uncertainties of the road is the gamble the expatriate takes. Is it worthwhile? Ignatieff's political future rests on his ability to answer that question for Canadians. For the rest of us still living abroad, our future rests on answering that question for ourselves.