On her first visit to Chronically Queer, a support group for queer people who are disabled and/or chronically ill, a circle of open chairs greeted Harmony Bongat.
Only water was provided, because sharing food often limits accessibility through potential allergies, smells and other factors. As the dozen members disclosed their names and pronouns, Bongat wondered what she had to say.
Bongat's journey to joining the group started when she acquired a disability during adulthood. The world of disability was new to her, and she lacked friends who shared her experience.
"Some of them had mental health issues and were neurodivergent, but certainly didn't identify as that intersection," Bongat says. She was looking for support in navigating the frustrations of advocating for herself in a medical system full of barriers.
When a friend found Chronically Queer online, she initially felt cautious about attending. She'd had experience with Alcoholics Anonymous in the past and didn't "fall in line" with the ways AA approached addiction. But Chronically Queer felt different.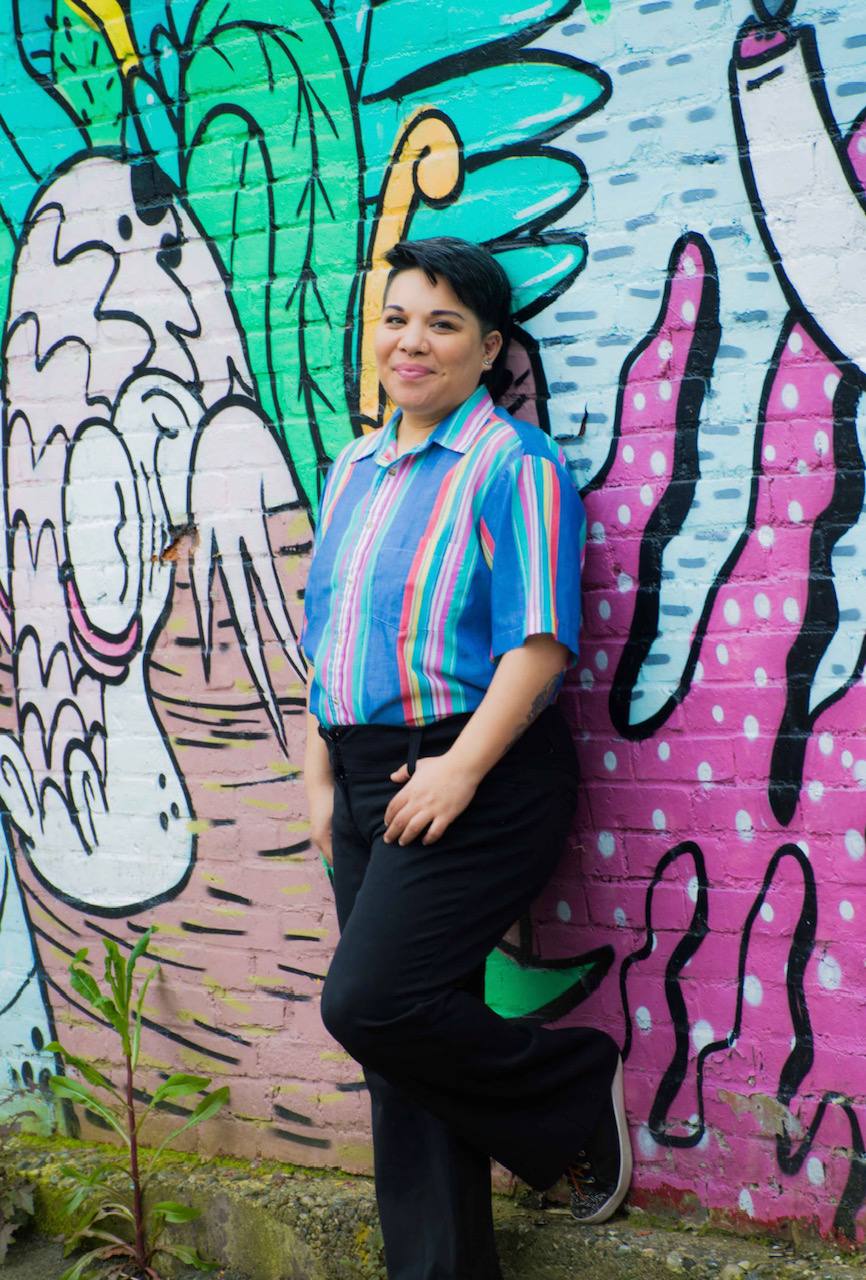 "I was used to having to come out and reveal [my disabilities] in order to take up space within a disability-centric location," she says.
The group didn't require members to disclose their medical information, and the discussion felt more casual than what she expected. The less rigid structure helped the members get close; they go to events together, and even host a large party for Halloween at a member's house.
Today, Bongat has been attending for over five years, and is a co-facilitator.
A sense of belonging
Peer support groups offer a more-accessible option for individuals seeking communities with similar lived experiences. Peer Support Canada, for example, recognizes that peer support groups can offer help in Canada's current mental health system.
Conventional mental health care often includes barriers such as high costs or waitlists — and the risk of inadequate or unaffirming care. Peer support groups, while not a substitute for medical care or a complete substitute for therapy, often provide a space where individuals can create a sense of belonging and assurance.
Rev. Catt Webb, a Chronically Queer member for its five years, says not enough disabled people achieve "places of power" to help the community with their mental health.
"A lot of places where people are seeking support are from people that do not have a lived experience," they say. "So we're expected to follow an able-bodied, mentally healthy way to achieve mental health."
Ordained last year, Webb provides ceremonies, coaching and classes to help other disabled people navigate their diagnoses, and queer people navigate their spiritual selves. Similar to how Chronically Queer has opened a space for disabled queer folks, Webb hopes to do the same with their practice.
"A lot of queers tend to be magic workers, witches, pagans [and] animus heathens," they say. "They're not getting the bedside support that they need to get better."
Combatting ableism in queer spaces
Chronically Queer has also offered space for Donna Dykeman, a long-time Vancouver activist, to remain connected with Vancouver's queer community.
Dykeman, a disabled cisgender queer femme who often walks her dog Honeybee around the Strathcona area, started her journey in activism in Vancouver in the late 1970s, when she found herself in awe of the work done in the women's movement.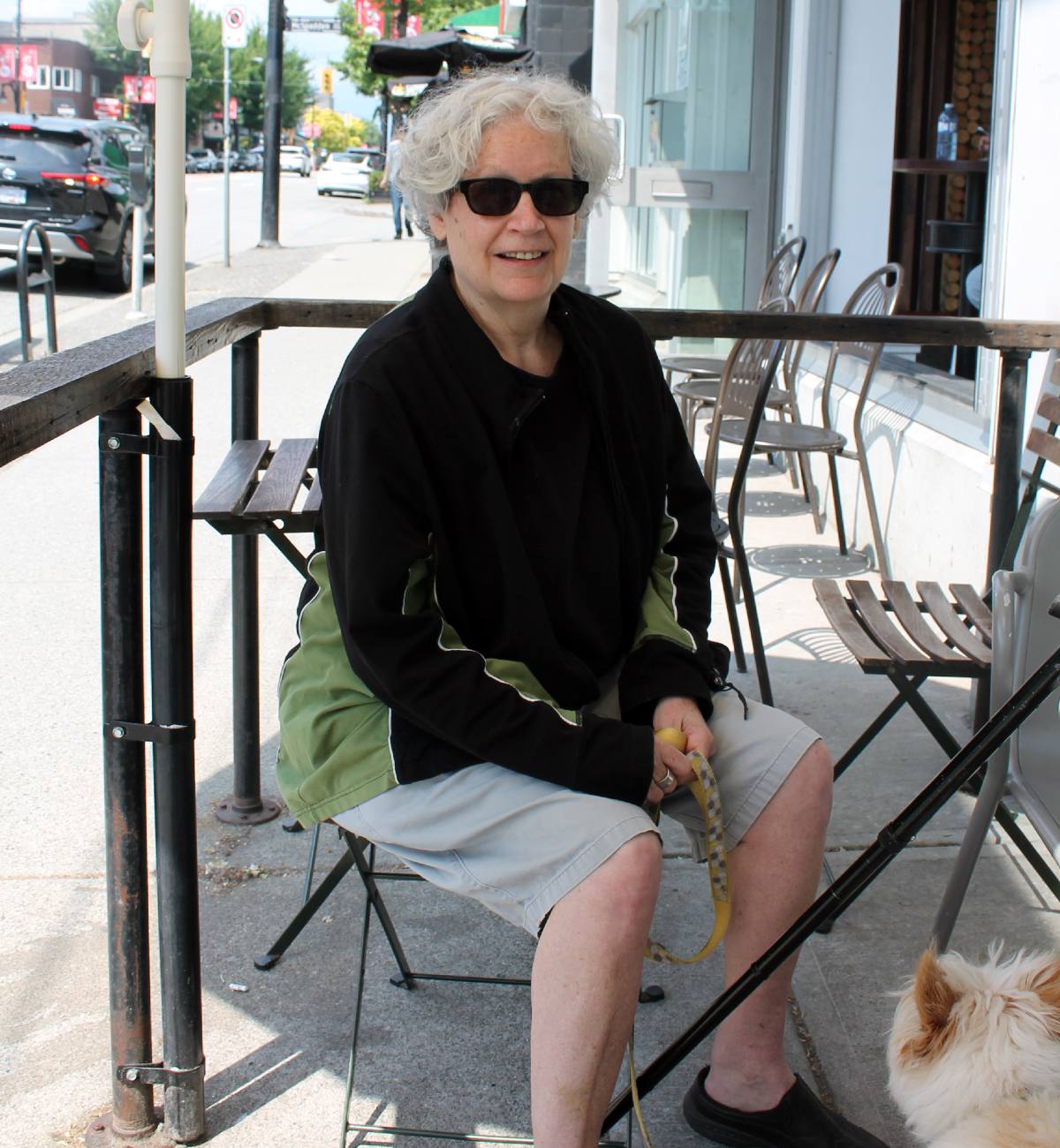 Then a teenager, Dykeman soon discovered the movement was rife with discrimination. They tended to dismiss people who "had a slightly different identity," which included younger people, gender diverse people and people of colour, she says.
In the '80s, she recalls, queer Canadians banded together to fight sexual censorship — including Vancouver's own Little Sister's Book & Art Emporium, which fought physical and legal battles. The historic bookstore faced its first bombing in 1978 and constantly had their imports affected through "systemic targeting" by Canadian customs.
"Canada customs blocked anything they perceived as porn, which is what they called all LGBTQ2S+ [content]," Dykeman says.
In the early 2000s, Qmunity, then called the Centre, created the support group Dykeman and others today call Chronically Queer. As she advocates for accessibility in addition to queer acceptance, Dykeman has been part of Chronically Queer for many years, going back to when the group met on Davie Street.
Chronically Queer is now run by the Live Educate Transform Society, formerly known as Creating Accessible Neighbourhoods. LET'S founder and executive director Heather McCain has facilitated the group since 2018, and recently appointed Harmony Bongat as an official co-facilitator.
The group seeks to provide a space where members can explore their intersecting identities and find camaraderie while doing so.
"Every time I thought I found a chosen family, or I thought I found a group within which I could be myself, it ended up not meeting the requirements I needed," Bongat says. Chronically Queer was the place that finally fit.
As a co-facilitator, she helps manage "cross-talking" by giving all members a chance to speak. She knows that many disabled people "need that extra push" to comfortably discuss what's on their mind. For her, the group is a place where she can continue exploring advocacy for many aspects of her life: ethnicity, disability and queerness.
The group's history hasn't been without its speed bumps. LET'S took ownership of the group when Chronically Queer "pulled away from Qmunity" after the handling of the group's participation in Vancouver's 2019 Pride parade, Bongat says.
That year, the Vancouver Pride Society hired LET'S to provide accessibility audits for various Pride events on a multi-year contract. Since McCain facilitated Chronically Queer, they asked members if they wanted to participate. As part of Qmunity, 15 Chronically Queer members marched in the parade. But Qmunity failed to provide proper accommodations for the group, Bongat says.
While they provided a vehicle some members could use to follow the parade route, the vehicle carried a loud sound system, which meant members with autism were unable to participate. She also says that facing Qmunity's insistence that members wear pink shirts, a colour that didn't affirm some members' gender, was a "difficult fight."
McCain, with the help of other peer support group members, wrote a letter to Qmunity addressing their concerns. The three-page letter, dated Feb. 10, 2020, addressed the "ongoing ableism" faced by Chronically Queer and other groups. The letter followed a prior eight-page report about the Pride parade experience, which was initially met with a promise to do better from the executive director at the time.
"We worked with several [executive directors]," McCain says. "Unfortunately, because of a constant turnover of [Qmunity] staff, it was hard to get any consistency on it." McCain came away from deliberations knowing that Qmunity did not prioritize accommodations for people with disabilities. 
The letter served as a final scope of Qmunity's priorities to recognize Chronically Queer as "equal members, address the issues and keep Chronically Queer under the Qmunity Banner." Eventually, however, the group voted to leave Qmunity, and LET'S started hosting Chronically Queer.   
Anoop Gill, Qmunity's current co-executive director of programs and services, says that while she and many of the current staff were not with the organization during the incident, she is "appalled and shocked" to hear about the ignored feedback. She says that they have a "new leadership team."
"It is a reasonable expectation for our peer groups to ask Qmunity or their leadership around how they want to be supported," Gill says.
The organization now has a specific staff person assigned to each peer support group it hosts. Qmunity supports groups closely during the onboarding process, and switches to quarterly check-ins once the groups grow and find their footing. Qmunity also provides check-ins with staff who require any accommodations. These happen weekly, depending on a staff member's supervision structure. Their occupation, environment and health safety committee reviews all accommodations made for staff.
"It is our expectation that we do our best within our resources to accommodate staff and their access needs." Gill said in an email.
Although Qmunity has a history of inaccessible spaces, Gill adds, such as its Bute Street location with a flight of 23 stairs, accessibility is part of its strategic plan. Drop-ins have been moved off-site to accessible spaces and they provide diversity training. She references their program for neurodiverse youth, where finding staff appropriately trained to support this demographic "was very essential."
"We have a lot more intention and resources towards peer groups today than I'm sure we had in the past," Gill says.
Some positives for Chronically Queer arose in the aftermath of the split; the transition to LET'S allowed the group to "open a dialogue" about how ableism impacts them, Bongat says. The group felt a greater sense of solidarity, and the group's membership grew.
Rebuilding, and hybrid meetings
Chronically Queer resumed in-person meetings on July 12, after being virtual-only since 2020. They are testing out the reception towards hybrid meetings. Pre-pandemic, the group used to draw between 20 and 30 members.
On the third floor of the South Burnaby Neighbourhood House, past the accessible washroom, lies the group's meeting room. There are two folding tables covered with plush toys and other small knick-knacks used for stimming — self-regulatory body movements. Chairs surround the table on all sides.
"What we're hoping is to build the numbers back up, because a lot of people were burned out on Zoom," McCain says.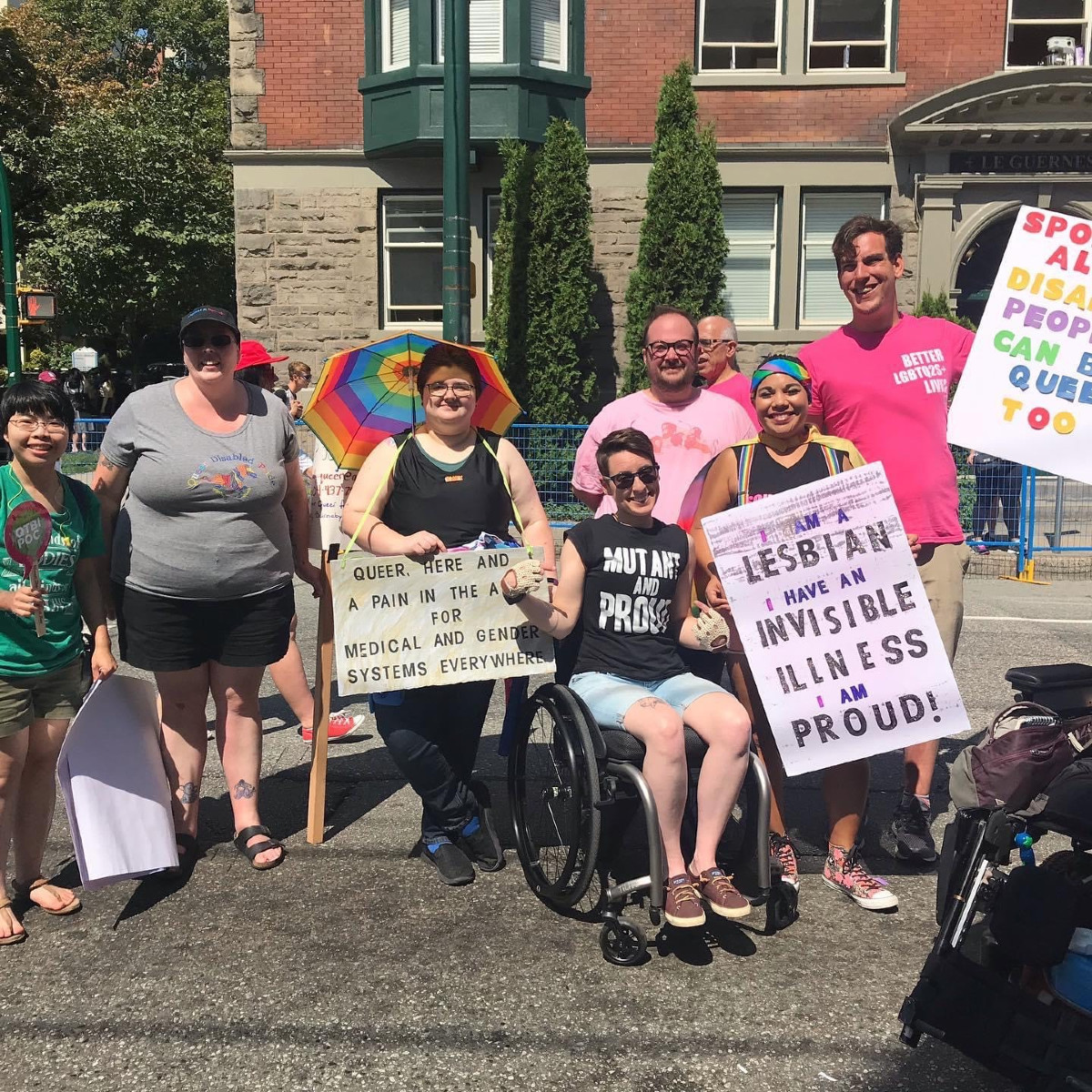 Hybrid meetings will allow people to seek in-person connections while keeping the group open for those who cannot physically join, such as Dykeman, who plans on attending virtually. This also allows the group to be open to people from across B.C., not just within Metro Vancouver.
The assortment of items they set up for in-person meetings, McCain says, help make attendees feel as comfortable as possible. They apply the same principle to the low sensory booths they run at various B.C. Pride events, such as Victoria's Pride festival, which provide a restful break from festivities.
McCain debuted as a grand marshal in Vancouver's Pride parade this year, a position that was offered in recognition of their accessibility work with Chronically Queer and LET'S.
Thanks to LET'S accessibility audit, this year's parade changed its route, opting for a path that includes wider sidewalks, more shade and fewer hills. In other words, it's been a four-year journey from facing ableism to taking a leadership role.  
"We're really excited that Chronically Queer and LET'S will be at the front of the parade," McCain told The Tyee in July. On Aug. 6, there was McCain, leading the parade.