Ignacio's first home in Canada was a dusty grey farmhouse with a mound of garbage leaning against a big, steel gate. He was shocked to find farmworkers' beds placed directly on the floor, without frames. Once, he said, a rat bit a colleague's ear while he slept.
Ignacio left that farm about eight months after arriving. The employer was denying him wages and forcing staff to do dangerous work, he said. The Tyee has agreed to use a pseudonym to protect Ignacio from potential retaliation.
Ignacio is at a different farm now. On a sunny May afternoon, he shares a lunch of tacos filled with lengua — beef tongue — with the dozen-odd other workers who share the house where he's now living. It's a bit crowded, but here, Ignacio says workers have almost everything they need, and their employer treats them well.
But he has never forgotten his first farm. It's only a two-minute drive away from where he lives today.
Ignacio is one of more than 10,000 migrant farmworkers, mostly from Latin America, who come to B.C. each year to help harvest the province's bounty.
But consular officials and non-profits say many of those workers live in housing that doesn't meet the province's own regulations — and in some cases is dangerous.
Workers have reported infestations of vermin, inadequate plumbing and cramped quarters that have facilitated the spread of communicable disease, particularly COVID-19.
Industry groups and advocates alike say these farms have largely escaped consequences because of inadequate oversight of the agricultural stream of the temporary foreign worker in B.C., an area of shared federal and provincial responsibility. Foreign governments and charities say they have had to effectively fill in the gaps left by Canadian institutions either unable or unwilling to enforce their own laws.
"It's just a regulatory and policy mess," said Robyn Bunn, a spokeswoman for Radical Action with Migrants in Agriculture.
'They don't have mattresses. The workers sleep on the floor'
Unlike other companies who hire temporary foreign workers, farms are required to provide housing for those workers, usually on their properties.
But Berenice Díaz Ceballos, Mexico's consul general in Vancouver, believes a majority of the homes Mexican nationals are living in in Canada do not meet the most basic standards.
The consulate's staff have run their own inspections of farmworker housing since 2017. Ceballos estimates as many as 60 to 70 per cent of the homes they have inspected do not meet B.C.'s own regulatory standards for workers.
"I could stay here for the whole afternoon if you want, but really bad situations," Ceballos said in an interview. She said workers had found homes where there were infestations of rats and six to eight workers in a space meant for two or three.
"They don't have mattresses. The workers sleep on the floor. In other cases, there is a very worrisome situation where there are no emergency exits or sprinklers inside of the housing," Ceballos said.
The consulate is not the only organization with those concerns. Non-profit groups like Radical Action with Migrants in Agriculture have warned for years that many employers aren't following the requirements set by the provincial government.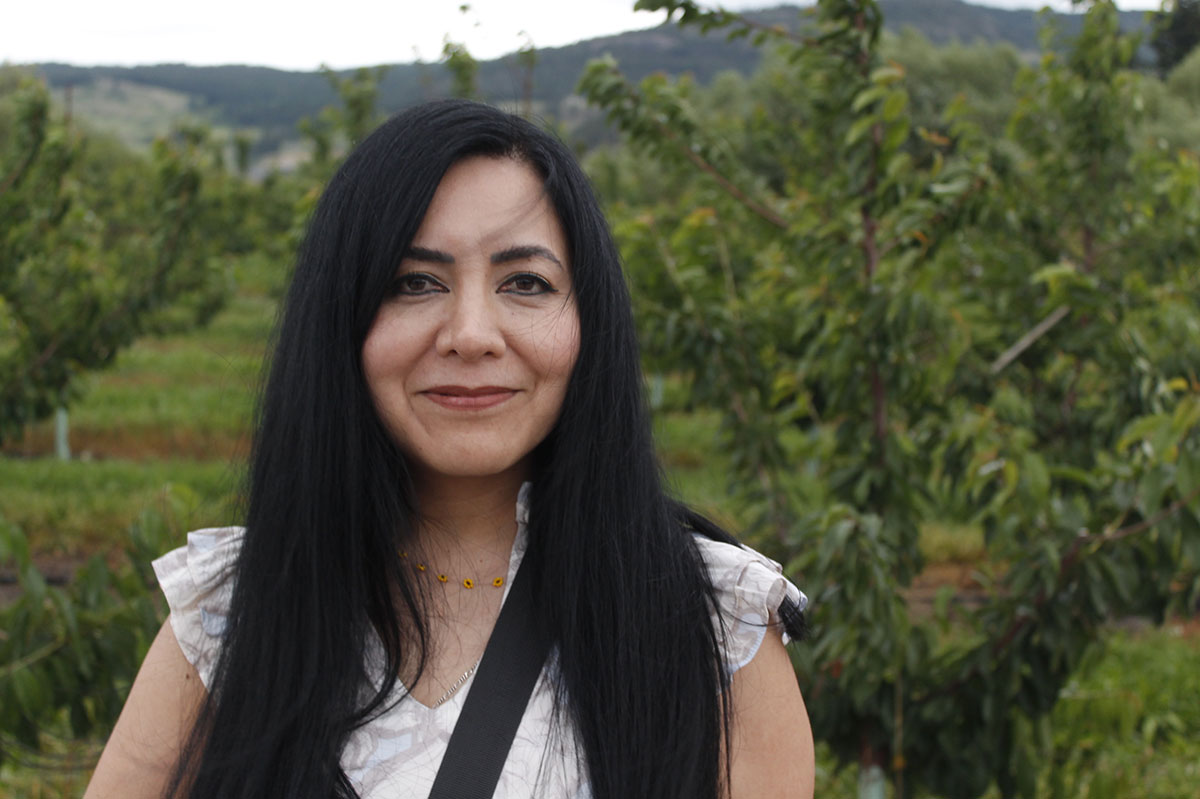 Perla Villegas, an outreach worker with RAMA and a lawyer by training, says she has found workers living in former barns, sheds and even converted chicken coops. Often, she said, such buildings may lack insulation, heating or other basic amenities they are supposed to have under law.
"Let's say, in 100 houses you can find three nice, beautiful homes," said Villegas, who has visited more than 150 farms across the province. "The rest of them, 20 per cent of them are maybe good. And the remaining 77 per cent are horrible." She recalls one farm where as many as 70 workers were living in a single house.
"There were only two showers working. Only two showers in each house!" Villegas said.
Hurdles to building on ALR land
Reg Ens is the general manager for the Western Agricultural Labour Initiative, a subsidiary company of the BC Agricultural Council that acts on behalf of employers to hire migrant farmworkers. The initiative helps oversee the regulatory regime for the province's farms. It and the BC Agricultural Council curate a list of approved home inspectors that farmers have to use before workers can arrive.
Ens says the Mexican consulate's findings are likely influenced by the fact they were targeted inspections searching for problems. But Ens agrees the inspection regime needs an overhaul.
He attributes the problem to the complexity of the rules and guidelines around creating new housing on B.C. farms, and what he describes as a grossly ineffectual oversight regime on the part of the B.C. government that allows bad actors to escape reprimand.
"The employers we represent realize that if we don't have effective oversights and trust in the program — it's a privilege the program exists. And if it's our people who are abusing it, they should be dealt with severely and quickly," Ens said.

In British Columbia, most productive farmland is part of the Agricultural Land Reserve, a decades-old program meant to protect that space from development.
But Ens said these same provisions also make it difficult for farmers to build new permanent structures on farms to house workers.
Farmers who want to do that have to submit an application to their local municipality. Then, the municipality has to forward that application on to the Agricultural Land Commission.
The process, Ens said, is meant to make sure that unscrupulous farmers don't build housing on their land only to turn around and use it as market housing. But the result is that it can take farmers years just to get a housing project approved. Last year, the commission reported it approved just 16 developments for temporary migrant farmworker housing.
"One employer that I know has been trying to replace some of his older facilities, and he's been working at this I believe for three years now just to get regulatory approval. It still hasn't got there," Ens said.
The result, Bunn said, is that some farmers get creative and convert existing buildings that were never meant for humans to live in.
"We're talking about sheds, garages, chicken coops, grain silos — storage facilities, basically, being repurposed for habitation," Bunn said. Meanwhile, farmers who want to invest in new, permanent structures are blocked.
"Even for employers who would like to build shiny new farmworker housing for their workers, they can't," Bunn said.
Meanwhile, farmers who want to skirt the rules are rarely punished.
More housing inspections needed
Migrant worker housing is required to be approved by licensed third-party inspectors before the workers arrive. The homes are supposed to have basic amenities, such as heating, and there are rules for how much space must be allotted for each person.
But these inspections happen before workers arrive, meaning the inspector may not necessarily see what the actual living setting looks like.
And while the housing is a government responsibility, no one is exactly sure which branch of government is in charge.
In theory, B.C.'s Ministry of Housing oversees the regulations that govern industrial work camps. But the province's Ministry of Agriculture inspected farms during the COVID-19 pandemic. Then there's the B.C. Ministry of Labour, whose Employment Standards Branch is supposed to make sure farms follow labour standards set by the province.
And those are just the provincial ministries involved. Federally, the Ministry of Immigration and Citizenship Services plays a role in the Temporary Foreign Worker Program. So does Employment and Social Development Canada, which has jurisdiction over the program.
But none of those ministries do any kind of routine inspection to make sure housing standards are adequate on these farms.
Instead, that task has largely fallen to non-profits and the Mexican consulate. When they find violations, Cebellos said, the consulate prepares a report and asks the employer to fix it. Inspectors also look for other abuses, Cebellos said, like evidence of wage theft, dangerous working conditions and signs of physical abuse. That has made her deeply unpopular among some employers, a few of whom have threatened legal action against her, she said.
"I can tell you that I'm not the most popular kid on the block," she said.
But the Mexican government has no legal authority in Canada to punish employers. The most they can do is forward their findings to the relevant Canadian authorities.
"Much more needs to be done by the provincial authorities, and also by the employers," Cebellos said.
The consulate does have the power to move its nationals to other farms, Cebellos said, and has also "blacklisted" dozens of farms in B.C. it believes have violated the rules numerous times. But Cebellos said those farms can easily hire workers from Guatemala, Honduras or another country the following year.
Cebellos believes a good first step to address these issues would be frequent, random inspections of farms — a rare instance in which businesses, advocates and consular officials all agree.
Ens said the Western Agricultural Labour Initiative approached the provincial government and asked it to run regular inspections of the farms in his program. But he said they rejected the idea because they were worried about costs.
The Tyee requested an interview with the agriculture minister. In a written, unattributed statement, the ministry said it did not have any regulatory role with housing and that it is in "regular contact" with the Mexican consulate.
Villegas said the crisis around housing speaks to a broader failure in the Temporary Foreign Worker Program.
While there are many government bodies involved, Villegas said, government inspectors rarely actually visit farms to make sure employment and housing rules are followed.
"In all the research that I've been doing since 2019, never ever have I seen an inspector," Villegas said.