It's been a wretched, rainy spring on the south coast, but today the sun shines on this group of 20-odd people with matching headphones in False Creek.
At the head of the pack is Christopher Hauschildt. He's got a gentle way about him and speaks in tones that beckon you in, but the subject of the audio broadcast to those headphones places a hard expression on his face. Tailing the group is Andrew Mark.
As Hauschildt sets the pace for the group, Mark matches that of the slowest among them, acting as a safety net to catch anyone overcome by the challenging stories they're listening to.
Both are members of the Walk with Me team, Hauchildt as a research administrative co-ordinator and Mark as a researcher.
Walk with Me takes a fittingly unique approach to education about and research on the toxic drug crisis, coming as it does from an art gallery.
Participants are handed headsets, each connected to an old iPod Nano, to hear some of the stories that form the history of the toxic drug crisis.
The stories come like waves. As one crashes, another comes into motion. They describe a cycle of trauma — the residential school survivor whose experience with violence from the people who ran the school washes over the listener as a new voice speaks to their childhood abuse at the hands of their parents and other grown-ups, themselves survivors of residential schools. People speak of battling drug use and of feeling a toxicity within themselves, implanted by the cycles of violence that begin in residential schools and foster homes. 
The stories are hard to hear. But there's something about walking that turns an auditory experience into something that's felt more on a physical level, organizers of the project say. As muscles pull bones into motion, the heart circulates the stories through the body.
"I think it's very complementary to the stories that we're listening to. They're hard to listen to, so the movement helps you to move the emotion through your body," says Elder Barb Whyte, a health advocate and traditional knowledge keeper working with the project. 
Sharon Karsten, the project's director, agrees: "It almost becomes a part of you to walk with these stories."
Rural and remote communities are hit just as hard
The project is based on Vancouver Island and most walks have happened there. It originated in the Comox Valley, where the toxic drug crisis often flies under the radar of more Vancouver-centric media and public discourse.
While the straight numbers of toxic drug deaths may seem lower, rural and remote communities are often hit just as hard on a per capita basis. The Comox Valley's 48.6 deaths per 100,000 people last year, the 58.8 in Penticton and the 110.5 in Terrace are well over the 40.1 in Surrey or the 25.6 in Burnaby.
It was this impact that drove Karsten to get involved and launch the Walk with Me project in 2019.
Walk with Me focuses on those directly connected to the crisis — those with lived experience of homelessness and drug use, family members who have lost loved ones and frontline workers.
The first tier of the group's research involves roughly two-hour sessions with one to 10 participants to talk about broader questions, such as how the crisis has impacted participants and their community.
Subsequent tiers take a closer look at a more specific area, such as identifying gaps and strengths in local systems of care.
The group also brings the walks to acute care and mental health and substance use settings to talk about how Island Health can better serve the people most affected by the toxic drug crisis.
"From those conversations, again, come some really interesting responses that might otherwise not have emerged. So our job is to communicate the key recommendations from that work to the leaders in Island Health," she says, adding that this work also applies to local groups and governments in the Comox Valley and elsewhere.
The research is then turned into policy reports — including one published in recent weeks on support systems in the Comox Valley.
The input from participants doesn't only inform the Comox Valley report, but is featured prominently in them. Many sections, such as those titled "Enormity of loss" and "Stigma in the system," consist primarily of excerpts from Walk with Me talking circles.
This follows the philosophy of community-engaged research, which seeks to correct the path of what has typically been an extractive process. Where research can be paternalistic, a fleeting experience in which a researcher comes to a community with a preset intention, Walk with Me and others who practice community-engaged research try to ensure a more reciprocal process that involves continuous engagement of — and takes the lead from — its participants.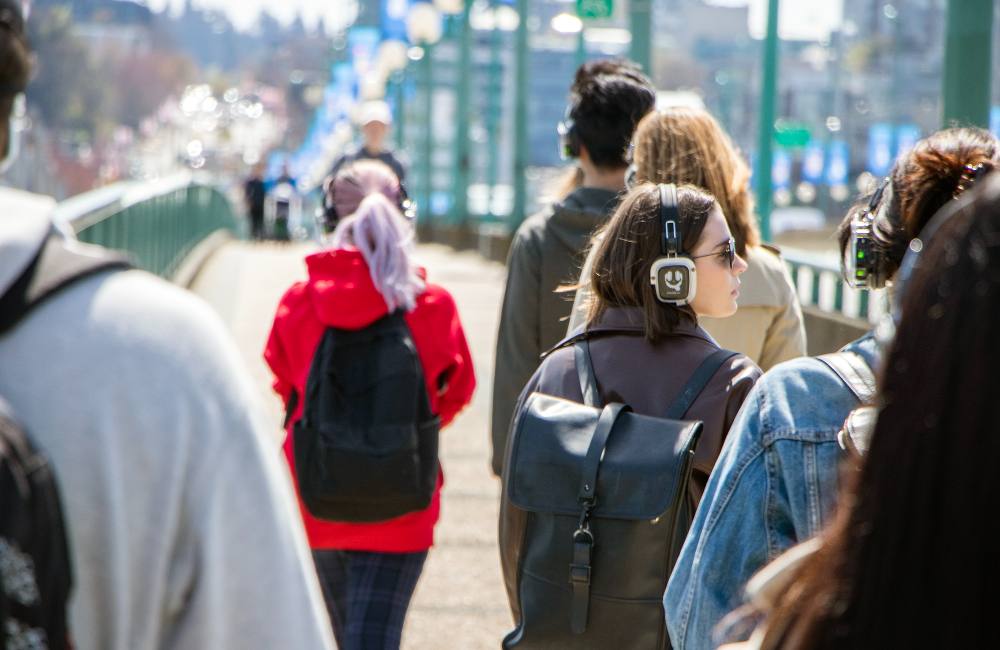 What it means to walk together
On this day in late April, organizers have brought the project to Vancouver, leading a group in a circuit around False Creek.
The walking component of the program is, as Hauschildt calls it, an "accidental genius." It began with the pandemic and public health restrictions, a way to keep sharing these stories in settings that were safe as a group, but it became an intrinsic part of the project.
"The restrictions ended up producing an experience that we now own," Karsten says.
"Rather than seeing the restrictions as a limiting factor, the walking is part of how we process heavy stories together. So what started as a necessity became a core part of who we are and how we experience the work and the stories together."
But while the walk pushes the stories to permeate the body, Hauschildt notes they can settle in and simmer below the skin. He warns ahead of the walk: some people become overwhelmed with grief from the stories in the moment, but for some it might be days later that the emotions stirred up by the experience resurface.
Whyte adds the freedom of movement from walking with the stories combine with the intimacy of hearing those stories in headphones to add multiple dimensions to the experience.
"It's an awesome combination of being able to move and have that space and freedom to be able to move your body at the same time, but to be very intimate with the stories that you're hearing because it's just you listening to it on that headphone," Whyte says.
It's far from uncommon to move through the city in the solitary bubble offered by headphones. But this experience, Hauschildt says, is different, almost a contradiction, as a group of 20 travels together, all listening to the same audio at the same time.
"I think the experience of walking together, but privately, is a really beautiful thing," he says.
"There's also this thing that I experience oftentimes when I hear the stories time and time again of people who have passed away that I've known. There's this beautiful thing where I'm walking where it feels like they're just behind my shoulder, just out of my vision, and it's about as close as you can get to somebody without them actually being there. It's so personal and intimate."
'A symptom of a broken socioeconomic system'
The impact of the experience is immediately seen after the False Creek walk — each event ends with a talking circle. In a room in the Creekside Community Recreation Centre, it's a sober moment. Participants speak with gratitude to the organizers of the event, expressing awe of the stories they've heard.
By telling individual stories, Walk with Me hopes to convey the enormity of trauma and poverty in a person's life and how trauma begets trauma. But in doing so, it also unveils the deeply systemic nature of the toxic drug crisis, of substance use disorders and mental health issues — and their roots in colonialism.
And organizers of the project want to use that to show how the rugged individualism that's entrenched in neoliberalism perpetuates the issues.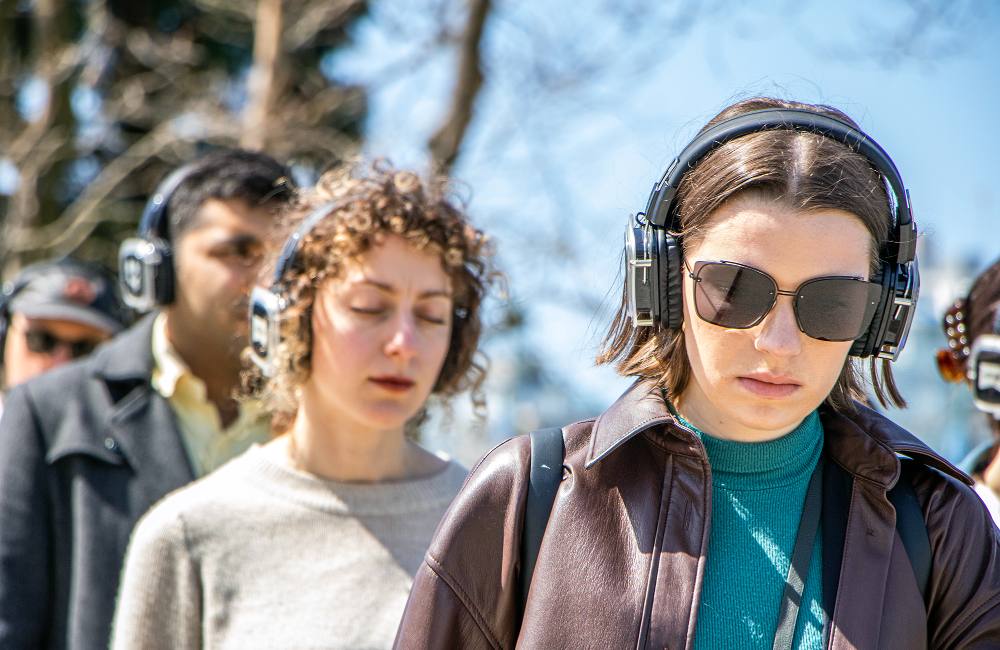 A report published this year by Simon Fraser University's Community-Engaged Research Initiative states Walk with Me's goal is to position the toxic drug crisis as "not only a public health crisis, but a symptom of a broken socioeconomic system."
While the public health approach to the crisis has brought innovations to the way British Columbians see drug use, shifting it, to some degree, from a criminal issue to one of health, the crisis has persisted.
As of March 31, toxic drugs have killed 12,026 people since 2016, the year they were declared a public health emergency. 
Despite increasing health-care interventions, including mass distribution of naloxone kits, approvals of overdose prevention and supervised consumption sites, and a restrictive, medicalized implementation of safe supply, the per capita numbers have trended upwards ever since.
The sole exceptions are 2019 — when the actual number of people who died dropped significantly for the year, before returning to numbers never seen before in 2020 — and 2022, when a flattening of the actual number of deaths meant a slight decrease in the per capita rate of deaths.
"While the public health arguments have paved the way for the emergence of a less punitive, more compassionate approach to the drug poisoning crisis, we understand the crisis to be more multifaceted and structural than can be addressed within the public health system alone," the CERi report reads.
Centering community wisdom
In contrast with the individualized perspective that still dominates the societal view of the toxic drug crisis, Karsten says Walk with Me is a "collectivist practice."
"We're realizing that, as individuals, we cannot make progress in reducing the number of deaths. We must come together. We must draw on the wisdom of our communities and of, in particular, people at the heart of this crisis to make any progress forward," Karsten says.
Hauschildt, himself a person with lived experience of substance use disorders and homelessness, says that point about listening to those at the heart of the issue — those he describes as having a "master's degree in lived experience" — is essential to breaking the code to the crisis and to breaking from the current approach.
"Oftentimes I encounter other systems or institutions who will incorporate peers or even elders in a more tokenistic kind of box-checking way," he says. "But the value societally, community-wise, that is created by allowing space for people with lived and living experience to participate in these discussions can never be undervalued."
CERi's research and engagement co-ordinator Tara Mahoney says it's only natural for a project stemming from an art gallery to embody the values of community-engaged research, which seeks to centre the community the research is working in and "is rooted in relationships." 
Mahoney points to a quote from Karsten, who, in the CERi report, describes art galleries as "community hubs."
"It makes complete sense. Because this crisis is so difficult and devastating in a lot of ways. And how humans process those things is through art, often, and art has a way of making you feel better somehow, or at least, they can express things that you can't express in other ways," Mahoney says.
For some who may be resistant to the reality of people who live within the toxic drug crisis, Hauschildt says, it's ultimately the bare humanity of the stories that can inspire a change in heart.
"I have often been rather surprised by some people's reactions," he says.
"I feel like when people sit and listen to somebody's recounting of their life and their experiences and why they've gotten to the place that they are — after 40 minutes of that, when people come back, very frequently, there is a tonne of respect and human connection that has sort of dissolved their preconceived notions. 
"It's been very infrequently that people respond with anything but respect or connection to humanity."