In a quiet patch of woods between a busy Vancouver construction site and a neighbourhood filled with multimillion-dollar homes, Adam and Shannon found a peaceful place to live.
Adam had moved to this part of Vancouver's Vanier Park after living in a wooded area next to the south end of the Burrard Bridge for about eight years.
When the Squamish Nation began construction on a major new housing development, he moved one block west and built a home out of tents, tarps and wood in a forested part of Vanier Park. He and his partner Shannon have lived in the shelter for the last eight months. It's a pleasant park — 17 hectares with views across to West Vancouver and the city's West End.
A few steps down the hill is the shelter of their neighbour, a cabin-like dwelling that includes homemade steps down to a small pond where ducks swim and crows caw in the trees above. Bikes, carts and discarded items are visible amidst the undergrowth.
Neighbourhood residents have accused Shannon, Adam and their neighbour of spoiling this green space and even driving away a resident eagle.
After two fires, park rangers have now moved in to evict the three residents. Elvira Lount, a Kitsilano resident who had written about her concerns about the camp, later posted her thanks to the Vancouver Board of Parks and Recreation for telling the homeless people to "pack up and leave."
But supporters of the three encampment residents say the eviction violates a memorandum of understanding the park board signed in 2021. According to that MOU, the park board committed to enforce a bylaw prohibiting permanent structures only when "suitable spaces are available for people to move to."
Adam said he had only ever been offered a room in a single-room occupancy building, or century-old hotels where residents live in small rooms with no bathroom or kitchen of their own. He said he visits friends who live in SROs, and he does not want to live in one. Shannon said she had lived in an SRO before, but like many other SRO residents, she believes the water in the aging buildings is not safe to drink or bathe in.
Shannon said she doesn't feel comfortable living in a homeless shelter either, and prefers to stay away from the east side of the city.
The Vancouver Board of Parks and Recreation says residents of the encampment have been offered indoor shelter 19 times since Nov. 4. The parks board believes those offers fulfil the terms of the memorandum of understanding. Staff confirmed that encampment residents have been offered SRO rooms and shelter spaces.
"Encouragingly, the individuals sheltering at the park have recently requested to have a conversation with the city's Homelessness Services team for further support," parks board staff wrote in an email to The Tyee.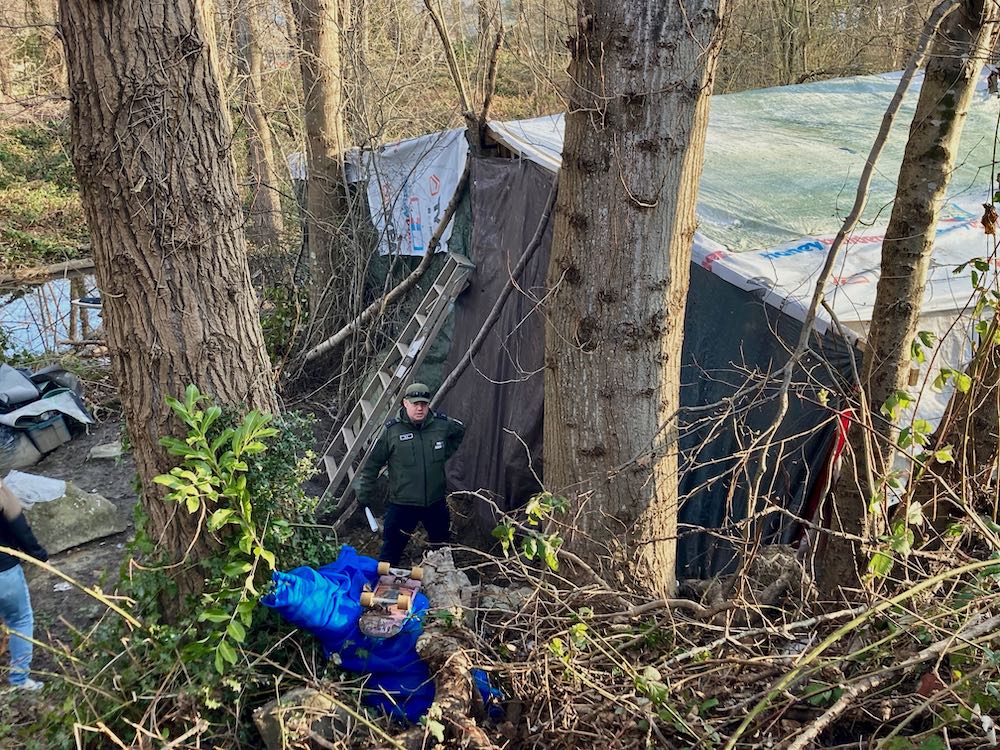 In reaction to court rulings that affirmed people's right to camp overnight on public lands when there were no alternative places to shelter, Vancouver Park Board commissioners passed a new bylaw in 2020. It allows overnight tenting in parks for people who are experiencing homelessness, but only if tents are removed by 8 a.m. The bylaw also states that tents can't be left unattended and prohibits campfires and propane stoves.
A 2022 court judgment found that the shelter being offered to residents in encampments was often inadequate or unavailable, putting a halt to the park board's efforts to end a larger camp at CRAB Park in Gastown. That tent city is still in place, although the park board has limited its spread.
As The Tyee was speaking to Shannon and Adam on Wednesday, park rangers noticed a new fire starting in a pile of discarded items several metres away from the structures. One ranger told The Tyee that he had seen an older man with a dog near the fire who "took off up the hill as soon as he saw me."
Tricia Barker, a former park board commissioner who is frequently in the Kits Point neighbourhood to work with several clients, said residents were mostly concerned about the risk of fire. According to media reports, park rangers removed around a dozen propane tanks on Tuesday.
Vanier Park is a point of contention for nearby Kits Points residents, many of whom have been loudly opposed to the Squamish Nation's plan to build high-density housing on land the nation owns near the Burrard Bridge.
Residents recently protested the construction of a new road through part of Vanier Park that is part of the development plan and rallied with signs proclaiming "parks are for people."
Barker said she was surprised to find that most residents she spoke to had not complained about the small encampment, even though it had been there for months. "I think the neighbourhood has been so tolerant of these people," Barker said.
Adam and Shannon said their spot had provided a quiet place for them to live, and they don't want to leave.
"We're very accustomed to this and we're just going to keep doing this," Adam said.
"It's not your Downtown Eastside," said Shannon. "It's slower, calmer."