It's been 23 years since Sheila told her social worker a story involving explosive allegations of sexual abuse by a Prince George B.C. provincial court judge and an RCMP officer against vulnerable underaged girls.
In 2004, David Ramsay, the provincial court judge who at times presided over life-altering decisions of the girls he sexually and violently abused, pled guilty and was sentenced to seven years in prison, where he died in 2008.
But nearly 20 years later, those alleging harm and their supporters say Prince George RCMP officers that were also accused of sexual abuse and harassment — as many as 10 implicated through the Ramsay investigation — were never properly investigated.
"If a judge was found guilty of doing that to us women, young ladies at the time, why wouldn't they want to push further into investigating?" asks Sheila, the woman who shared her story with a social worker. (The Tyee is using a pseudonym in order to protect her privacy.)
"You have young, vulnerable women who have stated that these things have happened to them. Regardless if they are entrenched in addiction or on the streets, once it's been found that this judge was guilty of these acts, why wouldn't they investigate these RCMP officers?"
It's a question that's been repeated for years — by the women, some of whom shared their stories even earlier than Sheila, in the 1990s, by their families and by other officers within the RCMP who have pushed for a proper investigation.
Two decades later, B.C.'s Ministry of Public Safety and Solicitor General announced on March 8 that the Alberta Serious Incident Response Team will lead an investigation into the historic misconduct allegations and failure of RCMP to properly investigate them.
For those who told their stories and pushed for accountability, the news brings renewed feelings of both hope and apprehension.
"For there to be any accountability, I can't even explain what that would feel like, not only for myself, but for those that are still entrenched and those that have passed," Sheila says. Initially, she says she numbed her trauma with drugs. And though she's been sober 15 years, she still lives with constant anxiety, reliving her experiences throughout the night.
"I would have a sense of being able to actually just sleep, knowing that there's justice," she says.
'I'm very jaded'
Kara Myers was a young adult working with youth in residential care homes when two girls in their early teens told her about police officers who picked them up off the streets under the guise of arresting them and solicited sex in exchange for not laying charges.
"I was fairly young and they trusted me," she says. "They could say pretty much anything to me. But they also knew that there were boundaries there."
She knew, when she first heard the girls' stories implicating the local officers in about 1998, that she had to report them. She shared the allegations with her superiors. For two years, she heard nothing, she says. Then, in about 2000, police started investigating Ramsay. In 2003, they sent several BC RCMP officers to Prince George to look into the allegations against local RCMP officers. Myers worked with them to connect with the girls.
But too much time had passed, she says, and the officers implicated in the Ramsay investigation were never charged. Twenty years later, she worries the renewed investigation will lead nowhere. Three of the five girls who accused Ramsay have since died. Evidence has gone missing. Memories fade.
"I have very little faith," she says. "I'm very jaded."
One of the girls who shared her story with Myers was Celynn, a young woman with Cree ancestry. In the years that followed the Ramsay decision, Celynn gave multiple statements to police, says her father, Bob Sandbach. Every time she came forward, she was treated as a "hostile witness," and detained in a prison cell, sometimes for days, he says.
In 2007, at age 22, Celynn died just weeks after giving her final statement to police. After years of hoping for justice, Sandbach was told by the RCMP that his daughter's statements were unreliable and that there would never be charges against the officers.
"They didn't believe her. It was up to her to prove to them that she was telling the truth," he says. But in the years since Celynn's death, more evidence has emerged to support her story, he says.
Video evidence uncovered
The allegations might have just disappeared if it hadn't been for a random discovery in the basement of Lisa Mackenzie's Kamloops home.
Mackenzie, who grew up in Prince George, had returned there as a young RCMP recruit in 2003. She'd heard a little about the Ramsay case but was initially unaware that some of her fellow officers, including a man she would briefly marry, were also implicated in the allegations of abuse.
She began dating Joseph Kohut, a more senior officer, shortly after moving to Prince George. In May 2004, just weeks before Ramsay pled guilty, Kohut moved to the Kamloops detachment. They hastily married later that year so Mackenzie could transfer with him.
By January 2005, Kohut had been suspended from his job and the couple had split, Mackenzie says.
"When he got suspended, I even said to him, 'What did you get suspended for?' He wouldn't tell me," she says. "Then all the allegations came out."
Kohut was suspended from March to December 2005, according to court documents. After a phased return to work in 2006, he went on permanent sick leave starting November 2007 and was deemed psychologically unfit for duty the following month.
Kohut and another former Prince George RCMP officer, Justin Harris, have both filed lawsuits against the attorney general of Canada and B.C.'s public safety minister over the RCMP's investigation into their conduct, saying it impacted their mental health and their ability to work. The Tyee's attempts to reach the former officers through their lawyers were unsuccessful.
Kohut filed his lawsuit in 2007. The case would continue until 2014, when his last-minute application to postpone the trial was denied by the court. According to Kohut's application, investigations by RCMP into his conduct between 2004 to 2006 were carried out "negligently and in bad faith" and allegations against him ultimately deemed unsubstantiated.
Despite attempts by the force to discharge him, he remained on sick leave, with full salary, until at least 2014, according to the filings.
According to Harris's statement of claim, which was filed in 2008, at least four and up to 10 police officers were implicated by the witnesses that came forward against Ramsay. Starting in 2000 and continuing until 2004, investigators interviewed the young women multiple times.
But Harris's lawsuit describes inconsistent statements from the girls. While a code of conduct review found that some of the allegations were substantiated, according to Harris's statement, in November 2005 special prosecutors in charge of the criminal case declined to lay charges because of insufficient evidence.
Under the Royal Canadian Mounted Police Act, the force has one year from the time it learns about allegations of misconduct to complete an investigation. Because the force failed to complete its investigation within that window, the continued inquiry should not have occurred, Harris argued.
Neither Harris nor Kohut returned to active duty.
Just months after the criminal case was dropped, in January 2006, Mackenzie was cleaning the home she had shared with Kohut, who had since moved out. In the basement, she stumbled across some videotapes. Popping one into the videorecorder, she found what she believes may have been a piece of missed evidence.
One video, she says, seemed to show Kohut and another officer, neither of them in uniform, pulling up to a young Indigenous girl and asking to see her breasts. Mackenzie recognized the girl from her time in Prince George, only she appeared younger — the recordings were apparently years old.
Setting one of the tapes aside — Kohut recording his previous ex-wife, who appeared intoxicated, while he made derogatory statements about her — she called another officer, a staff sergeant who was also a neighbour and off duty at the time, to report the tapes. The officer told her to put them back and not tell anyone. She did, assuming that an on-duty officer would come to collect them.
"I found the tapes, I reported them," she says. "It wasn't like I agreed to hide them from anybody. I thought someone would come and deal with them."
But a day or two later, she got a call at work letting her know that Kohut had gone to the house the couple had previously shared and kicked in the door. Mackenzie, who lived with her young son, busied herself with securing the home and making complaints to the detachment about what she saw as domestic violence.
"At that time, to be honest with you, I wasn't even thinking of the tapes. All I could think of is, my house just got broken into," she says. It was several days before she realized most of the tapes, except for the one of Kohut's ex-wife, were missing.
Mackenzie was soon told the Crown had declined to pursue charges against Kohut. She asked for a file number and other details about the RCMP's investigation into the break-in. They were never provided, she says.
A report that 'eviscerates the RCMP from top to bottom'
Another five years passed before Mackenzie raised the issue again. Garry Kerr was a veteran officer in charge of the serious crime and drug units who had moved from Prince George to the Kamloops detachment in 2011. She didn't know him well, but she trusted him.
Mackenzie went to Kerr's office and told him the story. "He's like, 'You're joking, right?'" she remembers.
Kerr was disturbed enough by Mackenzie's allegations that he contacted an RCMP criminal operations officer — someone he says was second in command for the province — to report it. It was August 2011 and the officer assured Kerr that an investigation would begin immediately.
"Then there was nothing," he says.
In December, Kerr and Mackenzie travelled to Vancouver, where Kerr had hired a lawyer. In the lawyer's office, they provided statements to senior RCMP officers. Mackenzie handed over the remaining piece of evidence — the tape she'd set aside of Kohut's ex-wife, which she had planned to return to the woman. She'd only watched a few minutes of the tape and thought it could contain further evidence.
But when the officers left that day, they didn't take the tape, Kerr says. "It took the RCMP almost seven months to come and pick it up, which defies any logical explanation," he says.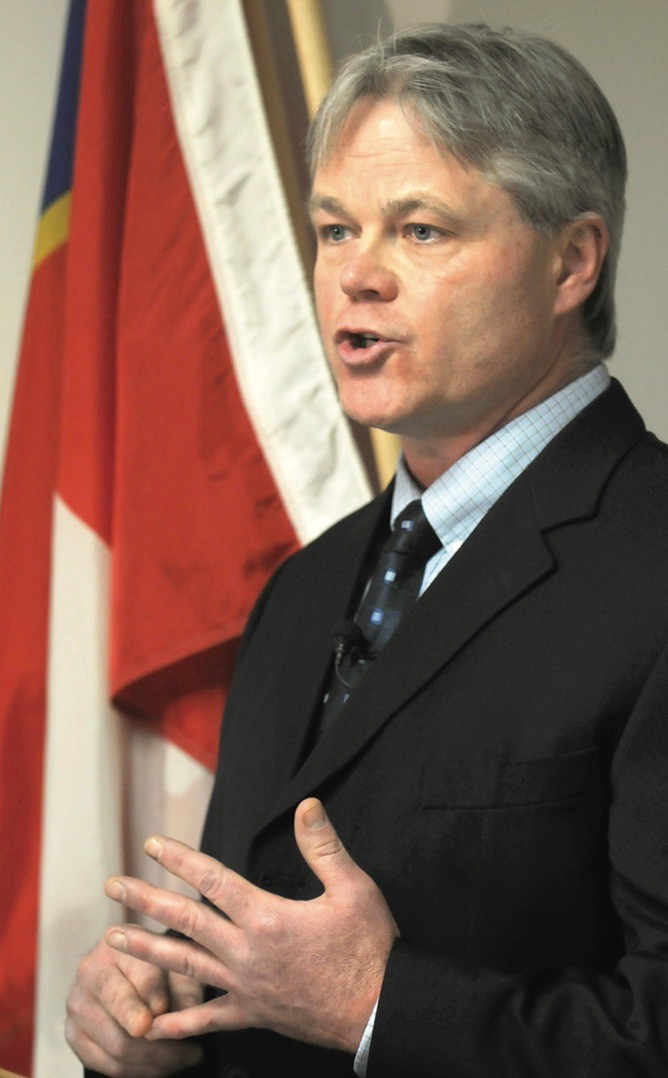 In 2012, Kerr retired and moved to Vancouver Island. For years, he didn't hear anything about the investigation. Finally, in 2015, he wrote a letter to the RCMP's then-commissioner, Bob Paulson. A couple days later, he got a call from the criminal operations officer, who offered to come to the Island to meet in person. They met in a coffee shop.
"What he relayed to me was that there had been a very extensive RCMP investigation," Kerr says. "He told me the investigation wasn't quite complete, but he said up to this point, it doesn't look like there's going to be any charges or anything come out of it."
Weeks later, the criminal operations officer called Kerr again, requesting another meeting. They met in the same coffee shop. Kerr says the officer insisted there had been an extensive and thorough investigation, and Crown counsel had determined there was "nothing criminal." No charges would be laid, he confirmed.
"He said the entire matter was closed. He said, 'It's done, the investigation is over,'" Kerr says.
But Kerr had questions. He wanted to know which of the province's Crown counsel offices had reviewed the files and he asked for a file number. He was told the officer couldn't provide either. "Which is ridiculous," he says.
"I knew obviously something wasn't right," Kerr says. He filed a complaint with the Civilian Review and Complaints Commission for the RCMP, the RCMP's oversight body, which sent investigators from Ontario. Then another long wait began.
It wasn't until 2021, a decade after his original complaint, that Kerr began making inquiries with the CRCC. That March, he received a 33-page CRCC investigation report that had been sitting on former RCMP commissioner Brenda Lucki's desk for three years.
The report "eviscerates the RCMP from top to bottom, from the commissioner on down," he says.
"Simply stated, there never was any investigation," he says. "They tried to bury it. They really tried to silence me in the first few months when I brought the information forward. There never was any investigation. They hadn't even gone so far as to take a file number."
He sat on the report for several months before deciding to share it with the media. In November, the Toronto Star reported on it and the Vancouver Sun followed in February, bringing renewed interest in the decades-old allegations.
Kerr declined to share the report with The Tyee. He says it now sits with the BC First Nations Justice Council, a group tasked with transforming B.C.'s justice system to create better outcomes for Indigenous people. He says it's time that First Nations drove the process and he's leaving the decision about whether to release it publicly up to them.
The Tyee was unable to connect with the BC First Nations Justice Council for an interview. But in a statement issued in February, the council said it is "appalled but not surprised" at the lack of a thorough investigation by RCMP.
"First Nations people and in particular, our women and girls, are still being targeted and abused without fear of penalty or prosecution," director Judith Sayers said, calling the apparent complacency exhibited by RCMP and lack of investigation "reprehensible."
The BC Assembly of First Nations also issued a statement after the province's announcement about a renewed investigation, saying it needs to include Indigenous representation.
"First Nations people in Prince George have been the target of violence, racism and discrimination by the RCMP for decades," Regional Chief Terry Teegee said. "If the province is going to be serious about its commitments to reconciliation, it needs to ensure that these RCMP officers face real justice."
In a statement, the RCMP said it will provide the Alberta Serious Incident Response Team with complete access to files dating back to June 2004. It added that it's "very concerned" about the recent allegations of inaction against the force and said it was not able to publicly disclose the work it has done to move the CRCC recommendations forward because of ongoing investigations and civil lawsuits.
An RCMP website that logs the force's responses to CRCC recommendations shows that, nearly five years after the report was received by the commissioner, responses to all recommendations but one remain "in progress."
The only completed recommendation is that the commissioner provide a written apology to the complainant for the "untimely and incomplete response." Kerr received that apology in November 2021.
Today, he says knowing that Indigenous groups intend to continue pushing for a response gives him renewed hope for a proper investigation.
"I do have every reason to be optimistic that First Nations are going to hold the RCMP accountable," he says. He adds that he'll be there, backing them. "I gave them my absolute commitment that I will be there to see this through to the end."
'That's all I got anymore, is hope'
Despite some ups and downs, Kerr says he had a good career with the RCMP. But in his 32 years with the force, he says he never saw anything like the failed investigation into the allegations of sexual misconduct by Prince George RCMP. "Not even close," he adds.
"It's hard for me to even find the right words," he says. "I've been asked the question a thousand times, 'Why did the RCMP not do an investigation?' The answer is, I don't know."
Mackenzie also says she enjoyed police work and dealing with the public. In her cruiser, she could get away from the politics at the detachment. But her experience also wore her down. In 2019, she filed a lawsuit alleging years of harassment while working in Kamloops. Last year, she retired from the force.
"This has been my life for 20 years. I'm tired," she says. "But at the same time, it isn't about me. It's about these girls and it's about them reviewing it and doing the proper investigation."
In the years since Celynn's death, Sandbach has committed to being a voice for his daughter. He kept her statements and her journals. He took Toastmasters classes in order to better tell her story. Though he struggled with PTSD and anxiety in the years following her death, he's never stopped hoping for some accountability.
He says he's cautiously optimistic about the news of a renewed investigation.
"I hope. That's all I got anymore, is hope. That's been dashed so many times," he says. "I hope something comes of this."