A ship breaking business on the east coast of Vancouver Island has been caught acting in contravention of B.C.'s Environmental Management Act several times in the last year, but has not yet been punished for it.
The same business is also being sued by its local government, the Comox Valley Regional District, for allegedly violating district bylaws.
The owner of the site, Deep Water Recovery Ltd., says it has never been shown test results that say it was out of compliance under provincial environmental regulations and that it has done nothing wrong under B.C.'s laws.
When the Comox Valley Regional District's suit goes to court, the province's lack of action may help Deep Water Recovery's case, according to Bryce Casavant, director of conservation intelligence at the environmental organization Pacific Wild, and an expert on provincial environmental enforcement. Pacific Wild advocates to protect ecosystems throughout the northwest Pacific region and Great Bear Rainforest.
The province's "lackadaisical enforcement" approach, Casavant said, could be used as a legal defence in the court case, along the lines of, "So you know Mr. Judge, if they're not taking it seriously, why should you?"
Deep Water Recovery Ltd. takes apart old vessels, mainly barges, and sorts the materials for scrap recycling or waste.
Dismantling vessels at the end of their lives is known as ship breaking, a global industry that recycles large amounts of steel. According to the non-profit NGO Shipbreaking Platform, which advocates for a safe, just and clean industry, 443 ocean-going commercial ships and offshore units, like oil rigs, were sold for ship breaking in 2022.
Deep Water Recovery first requested permission from the province to haul a barge out of the water in late 2019.
Since then the company has been pushing up against regional and provincial rules. The Tyee has previously reported on a lack of specific domestic regulations around ship breaking in Canada, and the lawsuit between Deep Water Recovery and the Comox Valley Regional District.
In the latest turn of events the company was found to be out of compliance four times in 2022 under B.C.'s Environmental Management Act and Hazardous Waste Regulations — which is punishable with up to $3 million in fines or a year and a half of jail time, according to reports posted on the Natural Resource Compliance and Enforcement Database.
The company received three warnings for improper discharge of waste, and one advisory for improperly labelling containers used to store waste oil. Raw sewage and heavy metals like copper, lead, zinc and cadmium that exceeded what's allowable in B.C. waters were being discharged on site and ending up in the ocean.
The province is also currently considering whether to issue a Pollution Prevention Order or Pollution Abatement Order due to the materials that were dumped on site and that ended up in the ocean. This could land the company an additional $300,000 fine and/or six months in jail and require them to undergo site testing and construction to prevent pollution or remediate pollution.
The business sits in Union Bay, which opens up onto the waterway of Baynes Sound, a 40-kilometre-long channel on the east coast of Vancouver Island that is responsible for half of B.C.'s shellfish.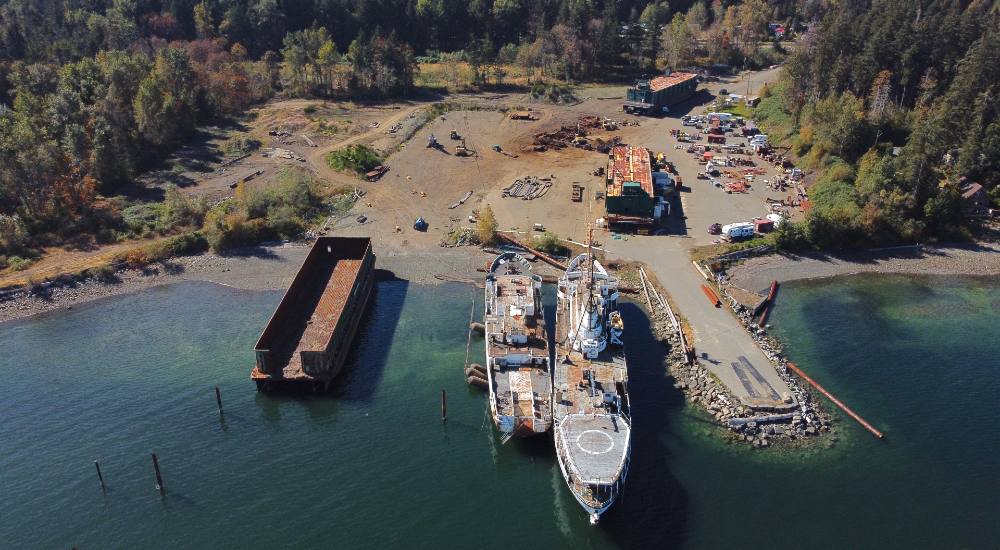 Deep Water Recovery operates on the territory of the K'ómoks First Nation. The nation uses Baynes Sound for economic, food, social and ceremonial purposes.
Because of the "potentially devastating" risks posed by the business and its lack of an environmental plan, the nation is opposed to ship breaking in Union Bay, according to a press release from December 2021.
When contacted for an update no representatives for the nation were made available, but The Tyee was told the nation was monitoring the situation and following up internally.
None of the spills seems to have accumulated in shellfish in the area, according to the Canadian Food Inspection Agency. In an email to The Tyee the regulator said shellfish harvested near industrial sites are regularly tested for biotoxins like heavy metals and harmful bacteria from feces and that 2022 tests from Baynes Sound were clean.
When asked why the province had not taken enforcement actions against Deep Water Recovery, the Ministry of Environment and Climate Change Strategy replied with a statement that said, "We are taking steps to ensure all applicable laws and regulations within our jurisdiction are being followed appropriately" and that "we are working together with other regulatory agencies... to ensure the environment and human health are protected." 
When contacted for comment company owner Mark Jurisich said provincial regulators never actually came to his site. He alleged the province's reports were "political" because he'd been told regulators were "under a lot of political pressure." 
A report from April 2022, two from September 2022 and one from December 2022 explain what regulators saw and tested for when they were on site in detail.
Drone footage taken in November 2022 by a local resident also appears to show a leaking, iridescent substance that looks like oil.
In an email the Canadian Coast Guard confirmed it was aware of the spill coming from a ship moored at Deep Water Recovery that was in the process of being pulled up on land for deconstruction. Spill pollution was "minimized" by sorbent booms deployed on site and the province was notified about the spill as "the lead agency for spills of a land-based origin," the Coast Guard said in an email.
"There was no petrol spill here at all," Jurisich told The Tyee. "The Coast Guard did not come here. Environment [and Climate Change] Canada, a federal agency, did come here and said 'there's nothing here.'"
Environment and Climate Change Canada told The Tyee it is responsible for protecting waterways frequented by fish. Its enforcement officers have visited Deep Water Recovery on "multiple occasions" to verify compliance under the Fisheries Act, it said in an emailed statement. "We are continuing to monitor the site for potential incidents of non-compliance and will act accordingly as required," it added, noting it continues to work with provincial and other federal partners to verify compliance.*
A cross-hatch of jurisdiction
Ship breaking falls under three levels of jurisdiction.
Ships moored offshore fall under federal jurisdiction, the foreshore belongs to the province and upland is Comox Valley Regional District's area. Governments will defer to whichever level has jurisdiction in an area, as noted by the Coast Guard, a federal body, which deferred to provincial authority on land-based spills.
Jurisich challenges the validity of the work done by all provincial regulators and the three warnings and one advisory they issued.
"Accusing me of something doesn't mean anything. Show me where we are out of compliance, show me the effluent, show me your water testing," he said. "There are no results showing that we are out of compliance." 
He added the Natural Resource Compliance and Enforcement Database reports did not "show the science." 
"Our attorneys say 'at the end of the day Mark, the law is the law and you haven't done anything wrong. If you were you would have been shut down. Particularly with the amount of pressure and exposure that you are under right now,'" he says. "That has not happened."
Pacific Wild's Casavant has worked as a B.C. conservation officer and holds a PhD in provincial environmental law enforcement and its relationship to B.C. society. He is not involved with Deep Water Recovery or the politicians, regulators or advocacy groups who oppose the operation, but has read emails and documents obtained through freedom of information laws about the business. The Tyee reported on those documents last summer.
"By not acting, [the province] is sanctioning," Casavant says. "If I was the property owner in court I'd say, 'the province hasn't done anything yet. They gave me some warnings and say they're working with me."
Deep Water Recovery is playing multiple levels of jurisdiction against one another to its own benefit, he says, adding that he saw this strategy employed by other industries during the decade he worked as a B.C. conservation officer.
In his interview with The Tyee, Jurisich declined to answer questions and told The Tyee to email him instead.
Corporate registry documents list Deep Water Recovery's directors as Andrew Bohn, based in Port Vila, Vanuatu, and Mark Jurisich, based in Courtenay, B.C.
The public shouldn't stand for the lack of provincial enforcement, Casavant says.
Deep Water Recovery has never officially asked the province to use its Crown tenure for ship breaking, and as a result has avoided paying environmental bonds that would cover the cost of cleanup, Casavant says.
"They've paid low deposits, around $25,000," he says. The potential for environmental damage could easily exceed that, believes Casavat, who notes that because Deep Water Recovery Ltd. is "a largely foreign-owned company, they could walk away and stick us the cost of cleanup." 
'There needs to be a message': Casavant
A provincial lease like the one granted to Deep Water Recovery costs around $50,000 per year, which could be thought of as income for the province, he says. But "due to non-compliance and a complete disregard of the terms and conditions within the lease," taxpayers are now losing money because regulators are continuously having to interact with Deep Water Recovery, he says.
"This is not a cash-positive endeavour anymore," Casavant says. "We're essentially subsidizing the ship breaking."
In Casavant's view, the province should immediately put a lien on the vessels and start taking progressive enforcement.
That means issuing a warning and then taking enforcement action if they don't comply, he says, adding that could include getting an injunction to stop work or ceasing the tenure and kicking the company out.
The province should also send in the Conservation Officer Service, which acts as an industry policing body, he says.
The company needs to be "dealt with aggressively," Casavant says. "There needs to be a message that this type of behaviour is not tolerated here." 
Drone footage of Deep Water Recovery's site posted in late January shows one half-dismantled sailboat, two large ships, three barges and a dozen trucks, excavators and trailers.
Some of these vessels contain hazardous materials.
The Miller Freeman, which Deep Water Recovery has been working to pull out of the water since August 2022, was noted as containing asbestos in several places throughout the ship in its last sale. "Do not release fibres by cutting, crushing, sanding, disassembling or otherwise altering," notes the auction house's description of the boat.
Jurisich did not respond to an email that included a question about whether Deep Water Recovery was pulling the Miller Freeman out of the water to disassemble it.
Hazardous materials are common in older ships that have reached the end of their life, Nicola Mulinaris, senior communications and policy advisor with the non-profit NGO Shipbreaking Platform previously told The Tyee.
Older vessels can contain PCBs, asbestos, hazardous chemicals and heavy metals. "It depends on the type of vessel and when it was built but basically every floating vessel that's reached the end of its life is considered hazardous material," Mulinaris says.
The high risks posed by the ship breaking industry make the provincial response all the more puzzling, Casavant says.
He's seen kayak companies or sailboat owners who want to power wash algae off their vessels go through more rigamarole than Deep Water Recovery has had to deal with, he says.
Without taking action B.C. is sending the message that companies can freely ignore regulations, he adds.
"We're open for non-compliance," he says.
* Story updated on Tuesday, Feb. 21 at 4:05 p.m. to include details received from Environment and Climate Change Canada after publishing.